Green energy stocks aren't just shares of environmentally healthy companies, they are potentially some of the most lucrative stocks you can own.
The simple fact is the world needs energy, and renewable energy - or "green energy" - is essential to meeting global demands. But as green energy becomes more competitive with traditional fossil fuels, its potential grows even more.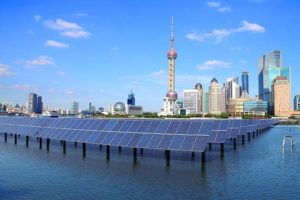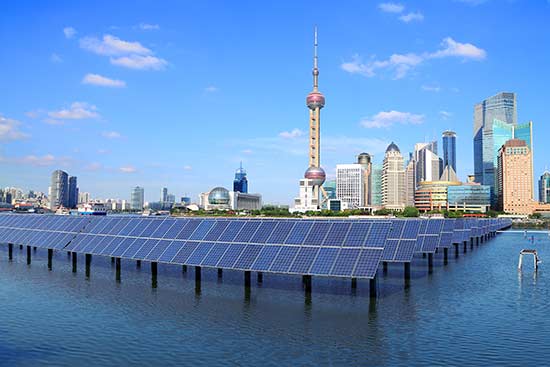 The groundbreaking technology in solar and wind energy is staggering, and investors can still get in on these alternative energy stocks early.
Just look at what's going on in China.
China is already the worlds' largest solar energy producer, but its growth potential from here is still incredible. One research firm projects China's solar industry can grow another 700% by 2040.
With that sort of growth still ahead for the renewable energy industry, you can still get in early on the best green energy stocks in 2018...
China Is a Solar Energy Powerhouse
China already leads the world in solar energy production, but its growth potential is still staggering.
Back in 2016, China set ambitious goals for solar energy production for its five-year plan.
China's five-year plan vowed to produce 105 gigawatts of solar power by 2020. At the time, that was committing to very large goals: tripling the production of solar power in China every single year for five years straight.
China already smashed that goal this year.
The World's First "Universal Fuel": Physicists have known about an unlimited source of free fuel for over 100 years. See where the big money is headed right here...
China's solar production reached 112 gigawatts this year and doubled the solar production gain of any other country to do it.
And China's incredible growth didn't happen by accident. The government has made a serious push to move the country toward renewable energy sources.
China just completed development of both the world's biggest solar farm and the world's largest floating solar farm. Its biggest solar farm takes up 12 square miles, approximately the size of Macau. The combined farms generate sufficient electricity to power 215,000 houses, or a city the size of Richmond, Va.
Plus, China has vowed to put an additional $360 billion toward energy from renewable sources by 2020.
But its future growth is what creates such a once-in-a-lifetime profit opportunity...
Solar Power's Potential Growth Is Astonishing
The global solar industry is poised to explode in growth.
IRENA forecasts that global renewable energy production will double by 2030.
That isn't an accident. As the costs of solar energy drop below the costs for traditional energy sources, countries across the world will readily switch to the cheaper, more efficient energy.
You see, solar energy is "free"; there's no costly extraction process or need to transport it across the world. It's only a matter of developing the technology to harness the power of the sun.
And the cost of that technology is drastically dropping.
Currently, solar power sells for 1/150th of the cost during the 1970s. In fact, the cost has dropped 10% over the last 12 months.
Money Morning Global Energy Strategist Dr. Kent Moors points out that solar energy has at last hit grid parity in most of the world.
Even in the United States, at least 29 states have seen solar power achieve grid parity with traditional energy sources like natural gas and coal.
As more and more countries shift to solar power, we'll see more cases like China's.
Just consider the staggering potential...
China uses about 5.9 trillion kWh of electricity a year. That's by far the highest level of any country worldwide. It's nearly double the electricity produced in the United States, which stands at 3.9 trillion kWh annually.
But solar energy makes up only 5% of China's energy output, compared to coal's 59%.
China is already the global leader in solar energy when solar energy accounts for 5% of its country's energy mix.
Imagine what will happen when solar power earns a larger market share.
If solar power - which China is aggressively pushing as a replacement for coal - takes just 50% of coal's share the growth potential is unbelievable.
Wood Mackenzie projects that generation of solar power in China will soar by more than 700% by the time 2035 rolls around.
That means investors looking for the best green energy stocks are still early to the party if they act right now.
And to help make it easy, we've uncovered the top green energy stock to own in 2018, one that capitalizes on China's incredible solar growth potential...
The Best Green Energy Stock to Buy in 2018
[mmpazkzone name="in-story" network="9794" site="307044" id="137008" type="4"]
JinkoSolar Holding Co. Ltd. (NYSE: JKS) is a China solar energy company that began manufacturing solar wafers and photovoltaic cells (PV) back in 2006.
The company is one of the world's premier solar concerns, and it is now available to investors at a major discount.
JKS is currently trading at $18.44, which is 25% below its 2018 high of $25.05 on Jan. 2.
But this "sale" on JKS shares won't last long.
In just over 10 years, JinkoSolar has expanded to become the world's third-largest producer of PV cells by capacity.
And it's only growing from there.
In Q1 2017, the company became the first producer of PV cells to ship over two gigawatts in one quarter. Astoundingly, it beat that record the very next quarter with a shipment of 2.8 gigawatts.
Considering the growth in the industry producing Chinese solar cells, these records aren't surprising. But JKS has also proven to be one of the best solar manufacturers in the business.
Money Morning Global Energy Strategist Dr. Kent Moors believes that JinkoSolar is perfectly positioned for gains thanks to its positive relations with the Chinese government and its existing global operations.
This means that JKS is poised to continue its growth alongside that 700% solar industry growth forecast from China.
And since China is already manufacturing 60% of the PV cells in the world, the company is ideally positioned to take on additional growth as more and more consumers, businesses, and governments make the switch to solar energy.
In fact, the EIA still forecasts that the United States will increase its solar production by more than 500% over the next two decades.
With or without a tariff, the United States will continue to import solar panels and other PV technology, which will be a boon for a company like JKS and investors who choose to invest in solar stock.
Energy's $48 Trillion Holy Grail: A shocking discovery has unlocked a 36,000-year supply of free energy. Not only is this fuel source endless, it's ready to use immediately. The U.S. Department of Defense just invested $7 billion in a single day, igniting an early-stage "energy boom" that will likely mint millionaires at a dizzying clip. Find out exactly how to play it here...
Follow Money Morning on Twitter @moneymorning, Facebook, and LinkedIn.