What goes up must come down, and that's what's about to happen to the stock market, according to JPMorgan Chase & Co. (NYSE: JPM) co-President Daniel Pinto.
In an interview with Bloomberg on March 8, 2018, Pinto said we could see a deep stock market correction "between 20% to 40%, depending on the valuation."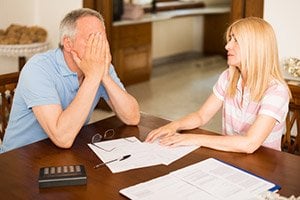 But a 40% correction may even be too conservative…
And unfortunately, the majority of folks don't see what's coming…
For those who do know what's ahead, they still aren't preparing the right way.
The "safe" investments we see people rushing toward will actually be the first to fail in a true crash.
Traditional "safe havens," like bonds or high-dividend REITs, could become worthless.
These are what we call "landmine investments."
If you're smart, they won't be in your portfolio.
That's because America is heading for an economic collapse that's 10 years in the making. Soon, there will be a new financial bloodbath.
You Must Act Now: America is headed for an economic disaster bigger than anything since the Great Depression. If you lost out when the markets crashed in 2008, then you are going to want to see this special presentation…
But today, we're going to show you how to save yourself and your family…
In The Great Reckoning Survival Guide: How to Protect Yourself & Your Family from the Coming Crisis, it shows you not just how to survive… but how to thrive.
This book reveals all the dirty details of how we got to this point – the history, the statistics – it even includes interviews from our exclusive network of financial insiders…
…who have been expecting (and trying to warn people about) "The Great Reckoning" for more than a decade.
The first chapter alone could save you over $100,000.
Follow Money Morning on Facebook, Twitter, and LinkedIn.