Many investors believe that share-price appreciation is the only way to profit from investing. However, dividend investing has some distinct advantages over only counting on stock price gains.
That's why we're bringing you the three top dividend stocks to buy in 2018.
Money Morning Chief Investment Strategist Keith Fitz-Gerald says gains from dividend stocks are essentially an entirely additional income stream for investors.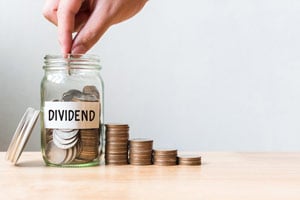 "If you want income right now, quarter after quarter or even month after month, dividends can be extremely powerful income generators to secure your 'second salary,'" he says.
Here's a closer look at the advantages of dividend stocks and the three top dividend stocks to watch right now...
Dividend Stocks Can Provide Stable Portfolio Growth
One of the big misconceptions about investing is that gains are solely dependent on selling stocks for more than you paid.
While this is a core part of successful investing, there are substantial downsides. When you add up the cost of tax liabilities, brokerage fees, and the losses from your losing investments, there's always a possibility you have net loss instead of a gain.
Dividend stocks, however, have the potential to both maximize your potential profits and mitigate the possibility of loss.
Don't Miss This Shot at a $78,000 Windfall: This tiny firm is about to make the entire world wire-free. As its game-changing technology revolutionizes the global power structure, its stock could hand investors a massive return. Learn more...
Certain dividends are also taxed at a lower rate, protecting a portion of your income. That's the case with qualified dividends, which are dividends on a stock that you have held for a minimum of 60 days before the ex-dividend date.
Instead of being taxed at the regular income rate, qualified dividends are taxed at much lower rates - up to nearly 50% less, depending on your tax bracket. When you earn qualified dividends, you are not only gaining a regular stream of income - you're preventing Uncle Sam from eating away at your profits.
Additionally, dividend stock investing is another way to protect your portfolio from uncertain economic trends.
Holding dividend stocks is excellent insurance against market corrections or manipulation of interest rates by the U.S. Federal Reserve, which tends to punish income investors and savers.
As Keith puts it, dividend stocks are "fantastic insurance against market corrections, and they're indispensable when the Fed is punishing savers and income investors by keeping interest rates near zero."
With these benefits in mind, the only question is knowing how to choose dividend stocks that are going to provide the strongest returns. According to Keith, there are more than 200 solid dividend stocks on Nasdaq alone.
With all this in mind, the Money Morning team has assembled a list of the best dividend stocks from the hottest dividend stocks currently on the market. Not only can these stocks produce income with significant dividends - some have a yield of more than 15% - but they also have the potential for significant growth.
And that's vital to ensure that they remain reliable dividend investments long into the future. As Keith puts it, "a company's ability to keep paying and increasing its dividend is just as important in the long term" as high yields are.
Here are our top three dividend stocks to boost your income and profit potential...
Top Dividend Stocks to Buy, No. 3: Lockheed Martin Corp.
Lockheed Martin Corp. (NYSE: LMT) is one the world's most profitable and largest defense companies. For investors, this translates into strong growth and fantastic dividend returns...
Lockheed currently produces $47.2 billion in sales and has a profit margin of 10.37%. This generates a net profit of over $5 billion per year. Last year, Lockheed announced that it planned to increase its projected profits by an additional 5%.
LMT is currently paying out a hefty dividend of $2.00 per share - a dividend yield of 2.40%. That means, for each share of this company's stock you own, you will receive a dividend payout of $2 every quarter.
And the company's stock is exhibiting tremendous growth. In the past year alone, LMT shares have grown by 26.46%.
LMT currently trades at $332.56. However, analysts see the stock heading to $457 per share - a gain of over 37%.
While this is a fantastic return, our top two dividend stock picks could bring even better gains...
[mmpazkzone name="in-story" network="9794" site="307044" id="137008" type="4"]
Top Dividend Stocks to Buy, No. 2: Arlington Asset Investment Corp.
Arlington Asset Investment Corp. (NYSE: AI) is a Virginia-based investment company that focuses on managing and purchasing government debt.
As the nation's deficit continues to grow, this little-known company has become incredibly lucrative. AI holds nearly $5 billion of national debt in its portfolio and has a profit margin of 38.8%.
And these strong figures are proving a boon to shareholders. Right now, AI's dividend yield is an incredible 19.15%.
Not only is this dividend yield astounding, but Keith believes that it could continue to grow.
"This stability is exactly what you'd expect from a business gathering income through U.S. government-backed mortgages," Keith says. "It may not be the most exciting field, but it sure pays the bills, as you'll see from this company's quarterly dividend income stream."
With the company's dividend up 92% since 2010, Keith is definitely on to something.
After AI, here is our favorite dividend stock to buy now...
Top Dividend Stocks to Buy, No. 1: ABB Ltd.
ABB Ltd. (NYSE ADR: ABB) is a Swiss holding company that specializes in electrification, automation, robotics, and power grids.
According to Keith, ABB is well-positioned to be a "technology leader," with more than 55% of the company's sales coming from digitally enabled devices and software.
"Not many investors realize this, but more than 55% of ABB's sales are already from software and digitally enabled devices," says Keith.
With this kind of growth on the table, there are plenty of reasons to be excited about ABB's income potential.
ABB currently trades at $24.18, and its dividend yield is 3.16%, or $0.76. That may not seem like much, but compare it to an industry giant like Johnson & Johnson (NYSE: JNJ), which only pays a dividend of $0.84 yet costs $132.77 a share.
Keith is a believer in the maxim that "Price is what you pay, but value is what you get." It's clear that ABB delivers value.
And if you're looking for even more winners, we have you covered...
Critical: FCC Approves Revolutionary Device (This Changes Everything)
A tiny company's game-changing device has just been approved by the FCC... and it's set to spark the most monumental technological transformation you'll ever see.
This is the only device of its kind to receive this historic approval, and the floodgates are set to open any minute.
With one tiny company at the heart of this revolution, even a small stake could reward you with astronomical gains.
You need to hurry if you want to find out how to take advantage of this ground-floor profit opportunity...
Follow Money Morning on Twitter @moneymorning, Facebook, and LinkedIn.