Shares of Ford Motor Co. (NYSE: F) got a boost Wednesday after a rare "double upgrade" from Morgan Stanley (NYSE: MS).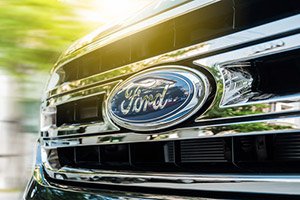 After four years of bearish ratings for Ford stock, Morgan Stanley analyst Adam Jonas pushed the stock's rating up two notches, calling it "overweight" – an indication that it's undervalued. He set a price target of $15, compared to Tuesday's closing price of $10.78.
Perhaps Morgan Stanley's analysts have been reading Money Morning, because we've been telling people not to count Ford out for over a year.
In January of last year, Money Morning Executive Editor Bill Patalon recommended using an "accumulation mindset" toward Ford stock, buying a little bit at a time.
"If it pulls back, put a few more bucks in," Bill said. "Look to hold it for the long term."
He knew Wall Street was underestimating this sleeping giant. You see, analysts didn't understand that Ford was no longer a car company.
"It's a technology company," Bill said.
At the time, Bill was especially impressed with Jim Hackett's leadership of Ford's new Smart Mobility unit. That's the team responsible for bringing Ford into the 21st century, making inroads into emerging fields like connected cars, self-driving technology, and ride sharing.
Hackett, it turns out, is no stranger to bringing organizations out of the doldrums…
Looking to Revive a Once-Proud Brand, Ford Found the Right Leader
Jim Hackett spent two decades as CEO of Michigan-based office furniture company Steelcase Inc. (NYSE: SCS). When he took over, the American workplace was shifting away from cubicles, and the company looked on the verge of extinction, with $70 million in annual losses.
Thanks to Hackett's ingenuity and willingness to embrace new technology, Steelcase was posting $80 million in annual profits by the time he left in 2014.
Hackett then went to work for his alma mater, University of Michigan, and performed similar wonders for its ailing football program.
Critical: A tiny company's revolutionary device has just been approved by the FCC – and even a small stake could reward you with astronomical gains. Find out how to take advantage of this ground-floor profit opportunity…
In what Bill calls "one of the coaching coups of the decade," Hackett somehow lured top-tier coach Jim Harbaugh from the NFL, and the revamped Wolverines promptly delivered a Citrus Bowl victory over No. 19-ranked Florida in the 2015 season.
So while Wall Street was dismissing Ford as a dinosaur, Bill saw its move to put Hackett in charge of Smart Mobility as a sign of rejuvenation.
Again, it's tempting to think that some industry players must be Money Morning readers. Because soon after Bill's segment, Ford went even further by naming Hackett as its new CEO.
Since then, Hackett has outlined a plan to shift resources away from less profitable divisions and into the company's big moneymakers, as well as to redesign factories with new technology to make them run more efficiently.
But he's also preparing for big changes in the vehicles themselves…
110 Years After the Model T, Ford Stock Will Benefit from the Next Auto Revolution
It's no surprise Hackett's plan also emphasizes the types of new technologies that will change the way we think about cars.
He clearly knows what Bill told readers a year ago: we will always have vehicles, but the form of those vehicles and the ownership structures around them may change dramatically. Instead of sticking its head in the sand, as older companies often do in the face of a shifting technological landscape, Ford is meeting the challenges head on.
Specifically, Hackett's plan cuts investment in internal combustion engines by a third, adding that money on top of a $4.5 billion pool that's going into the development of 13 new electric vehicles to debut in the next three years. In that time, Ford also plans to have Internet connectivity in 100% of its U.S. cars and 90% of its international models.
Confirming Bill's opinion – and now Morgan Stanley's – our VQScore™ system gives Ford its highest score of 4, indicating that it's undervalued.
Other indicators are favorable, too. Ford's 5.8 price-to-earnings ratio is 46% below the industry average, and earnings per share were up 30% in the last quarter from a year earlier, before Hackett even took the helm.
If you've taken Bill's advice and accumulated Ford shares gradually over the last year, we're clearly seeing indications that your shares are ready to take off.
If you haven't bought into Ford yet, its current price is a great entry point, as the rest of the investing world is starting to catch on to what Bill saw last year.
This Tiny Device Could Make You a Millionaire This Month!
Congress is mandating that 3.36 million Americans secure a powerful new technology, and April 1 is when enforcement begins. This mad dash is set to create $2 billion in new wealth.
And we've determined that only one small company can fulfill this immense and imminent demand.
And after March 31, it could announce a 3,982% sales surge "out of the blue."
Click here to learn how to get in on the ground floor while there is still time!
Follow Money Morning on Twitter @moneymorning, Facebook, and LinkedIn.
Join the conversation. Click here to jump to comments…
About the Author
Stephen Mack has been writing about economics and finance since 2011. He contributed material for the best-selling books Aftershock and The Aftershock Investor. He lives in Baltimore, Maryland.