TransCanada Corp. (NYSE: TRP) just achieved a perfect Money Morning stock VQScore™, making it a profit powder keg waiting to ignite...
TransCanada is a Canadian oil and gas pipeline company, most famous for its development of the Keystone XL pipeline connecting Canadian oil fields to major hubs in the United States.
While energy investors are familiar with the company, you may not realize how much potential TransCanada stock has for your portfolio.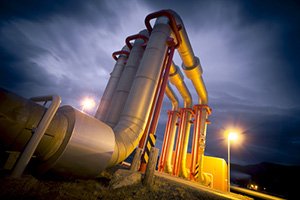 TransCanada's Keystone Pipeline system brings 20% of Canada's oil exports to the United States, but its natural gas pipelines are even more essential...
The company's pipelines already transport 25% of North America's natural gas every single day. And with 653 billion cubic feet of gas storage capacity, TransCanada is primed to take on much more. In fact, U.S. continental natural gas production is expected to surge 471% in 2018 alone, according to the EIA.
On top of that, the company is expanding into Mexico by adding five new natural gas pipelines. This $3.5 billion investment will help the company profit, as Mexican natural gas production is expected to double by 2020.
Plus, the company's $86 billion in assets helps it reward shareholders with a lucrative dividend program. TRP has raised its dividend for 18 straight years, giving payouts of $2.20 per share for a 5.01% yield, double the S&P 500 average.
Don't Miss This Shot at a $78,000 Windfall: This tiny firm is about to make the entire world wire-free. As its game-changing technology revolutionizes the global power structure, its stock could hand investors a massive return. Learn more...
And TransCanada already has plans to hike dividends by 10% annually through 2021.
Best of all, TransCanada stock earned a 4 VQScore, the best rating possible in Money Morning's propriety stock valuation system.
Here's exactly how profitable this company is, and why it's one of the best stocks you can buy right now...
The Timing Is Perfect to Buy into TransCanada Stock
While TRP is well-positioned to grow along with North America's energy demands, the company is also incredibly well-run. That means its billions of dollars of growth are turned into profits for you...
It's easy to forget, but when you're buying a stock, you're not just buying a ticker that you hope will be worth more later - you're buying a stake in a company. That means you're getting a slice of its profits, debts, its potential, and to even have a say in the company's operations.
And TransCanada is a massively profitable company...
Last year, the company raked in a profit of $7.6 billion thanks to its world-beating operating profit margin of 33.76%. That's more than double the average profit margin of companies in the S&P 500.
Plus, by buying into TRP now, you're getting more bang for your buck.
TransCanada's current P/E ratio is just 16.45. That means you're paying just 16 times the company's earnings, while other investors are forking over an average 26 times the earnings of S&P 500 companies, some of which aren't even profitable.
You're paying less and getting more, and that's how investors get rich.
And TransCanada is not the only stock we love right now. Make sure you check out our list of the 25 best stocks on the market right now...
Critical - This Changes Everything: A tiny company's game-changing device has just been approved by the FCC... and it's set to spark the most monumental technological transformation you'll ever see. This is the only device of its kind to receive this historic approval, and the floodgates are set to open any minute. With one tiny company at the heart of this revolution, even a small stake could reward you with astronomical gains. You need to hurry if you want to find out how to take advantage of this ground-floor profit opportunity. Click here now...
Follow Money Morning on Twitter @moneymorning, Facebook, and LinkedIn.