Members of the Federal Reserve's Open Market Committee will meet Wednesday (March 21), which will help boost gold prices in 2018...
Gold prices have been stuck in a tight range between $1,310 and $1,325 over the last week, but the Fed meeting this week could propel them higher.
Before the last several Fed rate hikes, gold corrected modestly in the weeks before, then jumped higher once traders and investors felt more comfortable "buying the news."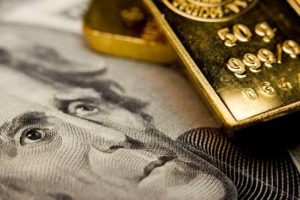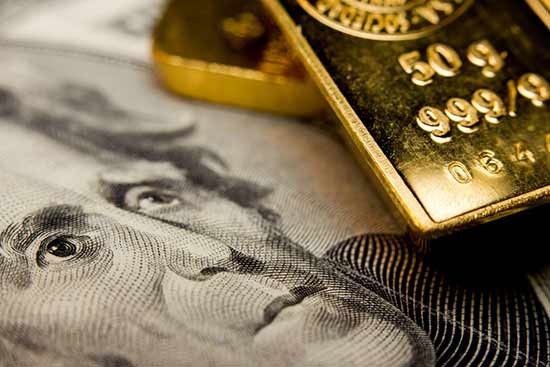 In late February, newly installed Fed Chair Jerome Powell laid the groundwork for hiking rates up to four times this year, up from earlier estimates of three rate hikes. It's no surprise, then, that the CME FedWatch Tool shows a 91.6% probability of a rate hike Wednesday.
And if the price of gold responds to the rate hike like it has in the past, we could see the precious metal to rally and break above its resistance level near $1,370.
Plus, gold prices have been showing a consistently bullish pattern over the last year, which means a new catalyst could trigger even higher gold prices.
I'll show you my gold price target and the bullish pattern I'm following in just a bit, but let's take a look at what moved gold prices last week first...
Gold Prices Traded in a Narrow Range Thanks to the Dollar
Gold opened the week on Monday (March 12) at $1,315. The lower-than-expected price was clearly in response to the rallying U.S. dollar, whose index had seen an earlier rally that took it from 90 to 90.18.
But that quickly reversed, as headlines reported a record U.S. budget deficit in February of $215 billion, the largest in six years. As the dollar pulled back - the U.S. Dollar Index (DXY) fell to 89.9 by the afternoon - gold rose to $1,323 by the close.
You Must Act Now: America is headed for an economic disaster bigger than anything since the Great Depression. If you lost out when the markets crashed in 2008, then you are going to want to see this special presentation...
A similar pattern emerged on Tuesday (March 13). The dollar rallied right up to 8:00 a.m., with the DXY reaching 90.05. But that was again short-lived, as a reversal took hold and pushed the DXY to 89.70. Gold opened at $1,319, then rallied to $1,327 before closing at $1,326.
On Wednesday (March 14), the dollar rallied again in the first half of the day, from 89.60 to 89.85. But by the afternoon it retreated back to the 89.75 range.
In response, gold opened at $1,326, then, after some mostly narrow trading, settled at $1,324 by 5:00 p.m.
On Thursday (March 15), traders began looking forward to next week's Fed meeting and pricing in the likely rate hike. That helped the DXY run up from 89.65 to 90.10 by late afternoon.
Check out the dramatic jump in the DXY on Thursday...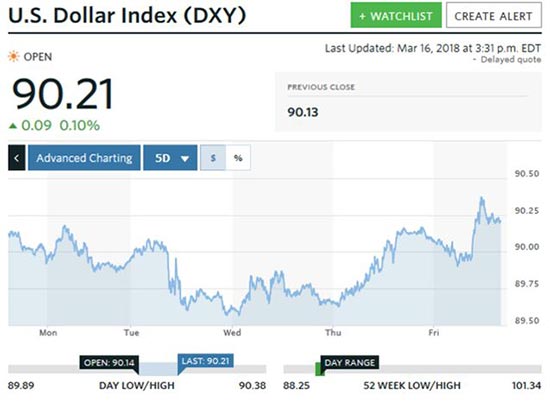 Of course, the DXY's gain wreaked havoc on gold prices, which opened lower at $1,319 and sold down to $1,316 by the end of NY trading.
Then, on Friday (March 16), the DXY initially dipped back below 90 before 9:00 a.m., lifting gold to $1,319 at the open.
But the dollar then surged higher. That pushed the DXY from 89.95 to 90.35 before noon. Gold sold off, bouncing back from a low of $1,310 around 11:00 a.m. It then recuperated slightly, to $1,312 by late afternoon.
Gold typically sells off slightly ahead of a Fed rate hike, but the sell-off ends soon after, sending gold prices even higher.
Here's my gold price prediction after the March rate hike, including the bullish pattern I'm seeing...
How High Gold Prices in 2018 Can Rise
Join the conversation. Click here to jump to comments…
About the Author
Peter Krauth is the Resource Specialist for Money Map Press and has contributed some of the most popular and highly regarded investing articles on Money Morning. Peter is headquartered in resource-rich Canada, but he travels around the world to dig up the very best profit opportunity, whether it's in gold, silver, oil, coal, or even potash.