Spotify is preparing for an IPO, and investors have been asking us if they should try and get their hands on Spotify stock.
That's a great question. However, instead of focusing just on Spotify, we have a better profit play in the IPO market for readers today.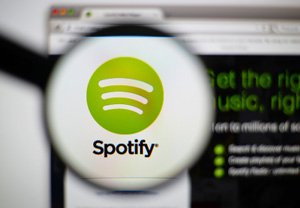 More on that in just a bit...
Ahead of the public offering, Spotify released important financial details in February 2018 about its operations.
Spotify had 159 million unique listeners as of December 2017, and it has 71 million paid subscribers.
Spotify's revenue from advertisers and subscribers in 2017 was $5 billion.
But that's still not enough to make it profitable...
In 2017, Spotify's net loss was $1.5 billion. Spotify struggles to turn a profit because its royalty expenses are astronomical: 79% of revenue has to be paid out in royalties.
Plus, investing in just one IPO is a risky strategy. Spotify could find a way to become more profitable, but its losses could just keep climbing and send share prices plummeting.
Don't Miss This Shot at a $78,000 Windfall: This tiny firm is about to make the entire world wire-free. As its game-changing technology revolutionizes the global power structure, its stock could hand investors a massive return. Learn more...
So for risk-averse investors, we've found a safer way to own the newest publicly traded companies. This play will let you capitalize on profits, while limiting risks.
Over the last 12 months, this investment has netted shareholders gains of 20.12%, and more could be on the way...
Should I Buy Spotify Stock When It Goes Public?
[mmpazkzone name="in-story" network="9794" site="307044" id="137008" type="4"]
Money Morning Director of Technology & Venture Capital Research Michael A. Robinson recommends investors look at the First Trust IPOX-100 Index Fund (NYSE Arca: FPX).
FPX is an exchange-traded fund (ETF) that tracks the IPO market.
FPX is an ETF, meaning retail investors can buy and sell it just like a stock. According to FTPPortfolios.com, FPX's holdings include the 100 largest and most recent U.S. public offerings.
And because FPX holds a mix of recent IPOs, it's diversified. That makes it less risky than owning just one stock.
FPX owns more of PayPal Holdings Inc. (Nasdaq: PYPL) (8.39% of its holdings) than Snap Inc. (NYSE: SNAP) (1.72% of its holdings), so it balances out the risk of IPOs. For example, SNAP is down 25.20% in the last 12 months. But the PYPL stock price is up 84.78% over the last 12 months, and it accounts for a much larger position than Snapchat.
It currently holds IPOs that rolled out over the last several years, including Snap Inc. (NYSE: SNAP), Match Group Inc. (Nasdaq: MTCH), and Blue Buffalo Pet Products Inc. (Nasdaq: BUFF).
And it also holds newly spun-off companies like AbbVie Inc. (NYSE: ABBV).
This structure lets you profit from IPOs and newly public companies without the risk of owning just one stock. And for investors looking to outperform the market with safe investments, FPX is beating the Dow right now.
Over the last 12 months, the Dow Jones has climbed 19.83%. In comparison, FPX has climbed 20.12%.
And because, in the fund's summary, it says it typically holds the "best-performing and most liquid U.S. public offerings," it takes away the guesswork of trying to time IPO price swings. FPX simply aims to own the best-performing companies.
That could lead to more future gains.
Critical: FCC Approves Revolutionary Device (This Changes Everything)
A tiny company's game-changing device has just been approved by the FCC... and it's set to spark the most monumental technological transformation you'll ever see.
This is the only device of its kind to receive this historic approval, and the floodgates are set to open any minute.
With one tiny company at the heart of this revolution, even a small stake could reward you with astronomical gains.
You need to hurry if you want to find out how to take advantage of this ground-floor profit opportunity...