With Facebook Inc. (Nasdaq: FB) dragging down the tech sector this week, savvy investors aren't standing by waiting for a turnaround. They are seeking out the most promising sectors to move their money into immediately.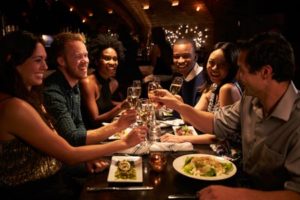 And we've uncovered three of the hottest stocks in this surprising, breakout sector...
It may sound surprising, but the restaurant industry is on the verge of a banner year. That's thanks to rising consumer spending habits and an aggressive push within the industry to capture this spending.
Here's exactly why this industry is poised to break out, and how you can turn this trend into profits with three of the best stocks we've found...
Why Consumer Spending Is Boosting the Restaurant Industry
When the economy is doing well, Americans have more money to spend and the confidence to spend it. When Americans are optimistic, they are more likely to spend their money on luxuries, like dining out.
With the unemployment rate at 4.1%, its lowest level in nearly two decades, employers are raising wages to attract and keep their employees.
Wages are up 2.9% since this time last year, the fastest jump in wages since the end of the Great Recession. Plus, the U.S. Federal Reserve is even projecting 3% wage growth this year.
And more Americans are willing to spend that money instead of hoarding it, thanks to rising optimism about the economy.
Don't Miss This Shot at a $78,000 Windfall: This tiny firm is about to make the entire world wire-free. As its game-changing technology revolutionizes the global power structure, its stock could hand investors a massive return. Learn more...
Consumer confidence is at its highest level since 2000, The Conference Board found in its monthly Consumer Confidence Survey. That means consumers believe the economy is doing well, jobs are easier to come by, and they even expect business conditions will continue improving.
Optimistic consumers are more willing to spend their money, since they don't need to stash it in expectations of the economy turning sour.
It's no surprise, then, that retail spending, a key metric for restaurants, is up 4% year over year, according to the Census Bureau's February report, marking the eighth consecutive year of real sales gains in the restaurant industry.
And that's not the only reason the restaurant sector is heating up...
According to a report from Fidelity Investments, Americans are spending more of their discretionary money on experiences instead of products, like clothes or electronics, an emerging trend benefitting restaurants.
Fidelity's research shows that since 2010, Americans are dedicating more of their spending on food services. At the same time, they're spending less on clothing, footwear, and gasoline. Spending on big-ticket items, like furniture or vehicles, has remained stagnant.
Restaurants offer customers the experience of trying new foods, going out in a social setting, having a drink, or even catching up with a group of friends. As consumers trend more toward seeking experiences over traditional products, restaurants will continue to benefit.
Sign up for SMS so you never miss special events, exclusive offers, and weekly bonus trades.
"This trend is likely to continue through 2018 and beyond," according to Fidelity, "and companies that can deliver unique travel and experiences to consumers stand to benefit most."
Discovering these trends is how you can beat Wall Street and bank serious profits...
But that doesn't mean every restaurant stock is going to be a winner. The competition is going to be fierce, and some companies are simply better managed and better positioned to harness the trend.
Thankfully, we've done the hard work for you. We have three restaurant stocks that just hit perfect Money Morning Stock VQScores™. The VQScore is our proprietary stock analysis tool, and it's your key to unlocking huge profit potential.
Here are the top restaurant stocks we've found, with one-year price targets showing gains as high as 74%...
Restaurant Stocks to Buy, No. 1: Chuy's Holdings Inc. (Nasdaq: CHUY)
Chuy's Holdings Inc. (Nasdaq: CHUY) is a Texas-based chain of casual Tex-Mex restaurants.
But don't let the "chain" label of its 90 restaurants across the United States let you think this is generic establishment.
Each Chuy's location is completely customized, from the external signage, building design, and décor, giving consumers a distinctly unique experience at each location. Chuy's motto is "If you've seen one Chuy's...you've seen one Chuy's."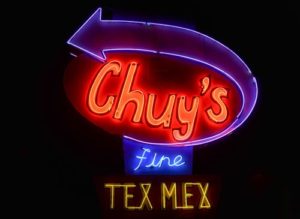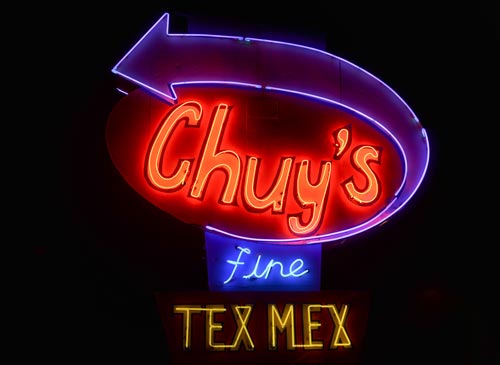 That distinguishes it from its boilerplate competitors, who focus on replicating identical stores across the country.
And its tailor-made style doesn't stop at the appearance. Its food is completely made from scratch, including hand-rolled tortillas, a process customers are encouraged to watch through a glass wall.
In a trend where consumers want to spend their money on experiences, going to a unique, convenient restaurant with made from scratch food and cocktails is going to win out over generic, bland rivals serving warmed-over frozen meals.
So it's no surprise how explosive Chuy's growth has been.
Revenue surged 35% between 2014 and 2016, according the last annual report available. More importantly, as revenue grew, profits soared. Between 2014 and 2016, profits jumped 50%.
It's no surprise, since Chuy's sports a profit margin of nearly 8%, well clear of the industry's average margin of 6%.
Plus, more growth is coming. Chuy's management has an aggressive agenda to double its restaurant base by 2021.
CHUY currently trades at $24.95, and analysts at Raymond James are giving it a target price of $30, a 20% jump.
But with a VQScore of 4, our top score, this company is one of the best stocks you can buy right now, which means the Raymond James rating might be too conservative. Not only are you getting a company with growth potential, you're getting it at an excellent price.
Restaurant Stocks to Buy, No. 2: Fogo de Chao Inc. (Nasdaq: FOGO)
Fogo de Chao Inc. (Nasdaq: FOGO) is upscale Brazilian steakhouse, originally opened in Brazil in 1979. Fogo de Chao currently has 47 restaurants across the world.
What makes Fogo de Chao so unique is its "espeto corrido," or continuous service. Instead of placing a set order, customers are continuously offered a variety of meats - from steak to lamb to seafood - all cooked in a southern Brazilian style called "churrasco."
But Fogo de Chao doesn't just offer guests hand-carved churrasco meats, it prides itself on bringing Brazilian hospitality to its restaurants, too. "Gaucho chefs" hand carve each cut of meat directly at the table, while servers bring drinks and cocktails as part of an interactive experience.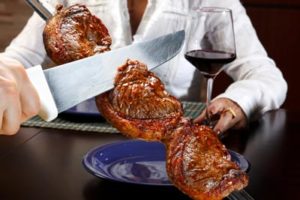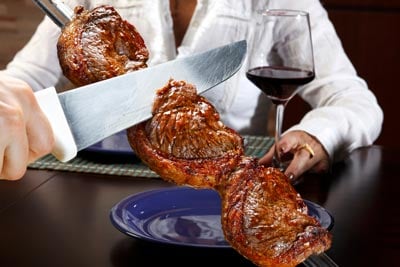 This unique style of service gives guests the opportunity to see the meats before ordering, and watching their host carve the meat directly at the table. New varieties of meats are continuously brought to the table to try, giving each guest a one-of-a-kind experience.
It's no wonder Consumer Reports rated Fogo de Chao the "Top Steakhouse" in 2016.
With American consumers ready to spend money on unique experiences, Fogo de Chao's authentic Brazilian cuisine, traditional Brazilian service style, and hospitality makes it an alluring option.
While FOGO is clearly an attractive destination for consumers, it's an extremely well-managed company, too.
Its 9.16% profit margin is the envy of a traditionally thin-margined industry, where the average margin sits at 6%.
The well-managed approach is also how the company's revenue soared last year, growing 16% in 2017 alone.
And the company's growth isn't stopping there.
FOGO has plans to open over 100 restaurants in the United States alone, more than triple its current offering of 33. On top of that, the company is planning to expand its international locations as well, with a restaurant in the Middle East in development, and targeting new markets in Asia, Australia, and Europe.
FOGO is currently trading at $15.73, which is a steal right now. You're paying 15 times FOGO's earnings, while investors buying the average S&P 500 stock are forking over 25 times earnings. Many of them aren't getting anything like this company's growth potential, either.
That's part of the reason FOGO topped our VQScore list with a 4, meaning this stock is prepared to launch.
And the last company on our list could grow even more explosively, with some analysts projecting a 74% spike in share price over the next year...