The Dow Jones Industrial Average (DJIA) plunged 700 points on Thursday, March 22, after the Trump administration announced more tariffs on China.
The market's recent volatility after reaching record highs combined with the looming trade war have investors wondering if there could be a stock market crash in April.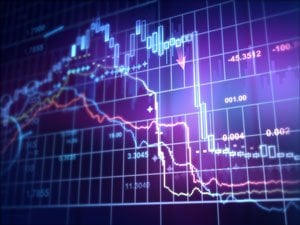 While we aren't predicting an April stock market crash, the recent turbulence is a welcome reminder for investors that they need to have a plan in case of one.
We're currently in the second-longest bull market in history, starting in March 2009, with the DJIA rocketing over 260% since then. Even with the recent plummet, it's up 30% over the last year alone.
But the soaring highs – and soaring valuations – have investors concerned a serious market correction could be around the corner. After all, every bull market has eventually ended.
You Must Act Now: America is headed for an economic disaster bigger than anything since the Great Depression. If you lost out when the markets crashed in 2008, then you are going to want to see this special presentation…
And now that volatility is rising, we want to show our readers why the possibility of a market crash in April 2018 is one worth preparing for.
Money Morning is still bullish, and we fully expect the market to head even higher, but smart investors always have a plan in place.
Here's what can cause a stock market crash in April, and what you can do to protect your money…
How the Fed Could Cause a Stock Market Crash in April
One of the reasons for the stock market's recent volatility has been the U.S. Federal Reserve's hawkish policies.
Last Wednesday, the Fed announced it was hiking interest rates again. While traders anticipated the rate hike, it was Fed Chair Jerome Powell's press conference in the afternoon that really spooked Wall Street.
Powell's comments indicated he felt the economy was doing even better than expected, and he projected the economy's strength would only grow. And a strong economy means the Fed has more room to hike interest rates even more.
You see, higher interest rates will lead to less liquidity in the stock market, and that could take the wind out of Wall Street's sails.
That's not surprising, since the Fed's loose monetary policies helped stimulate the bull market to begin with.
When the financial crisis happened in 2008, the Fed drastically cut interest rates. The idea was to make money cheap and borrowing easy in order to jumpstart business growth.
In 2007, rates stood above 5%. In 2008, they were cut down to 0.25%, the lowest-ever rate.
And businesses took advantage of rock-bottom interest rates. But they used borrowed money to repurchase the shares of their companies. Between 2009 and 2016, public companies borrowed $1.9 trillion while buying back $2.1 trillion in stock.
That infusion of cash has helped the stock market boom. The DJIA has soared more than 260% since March 2009.
But the boom has also resulted in valuations at historically lofty levels.
The Cyclically Adjusted Price Earnings (CAPE) ratio, one of the best stock market valuation measures, currently stands at 31.42. That level is a whopping 87% higher than its historical average.
And that means current valuations are in rare territory.
Only twice before in U.S. history have valuations risen any higher: prior to the 1929 stock market crash and the 2000 dot-com bubble.
While no one can forecast a stock market crash or correction, these soaring valuations are a cause for concern, especially as the Fed plans to continue hiking rates.
The Fed began hiking rates in December 2015, and now interest rates will rise above 2% for the first time since 2008 if the Fed hikes them twice more in 2018, which it's expected to do.
That could pull money out of the market just as valuations hit record highs.
But investors can be prepared for anything the market throws at them without sacrificing profit potential.
By owning resilient, must-have stocks, you can ride out the bad times knowing you own shares of companies that simply aren't going anywhere. And if the good times keep rolling, so will your profits, as these stocks are projected to make double-digit gains in 2018 alone.
Here are two of the best stocks you can own…
How to Protect Your Money in April 2018