As members of Congress burned the midnight oil to pass a $1.3 trillion budget bill by their March 23 deadline, they attached a recurring "rider" that bans the U.S. Department of Justice from using funds to interfere with medical marijuana in states that have legalized it.
U.S. President Donald Trump went on to sign that $1.3 trillion spending measure, which protects medical marijuana businesses through at least Sept. 30. And this time he didn't include a signing statement reserving his right to ignore that rider, which he did last May.
In other words, we just got another "green light" from Washington.
Now, this isn't exactly a slam dunk for the industry: Some lawmakers wanted to extend these protections to cover recreational marijuana as well, but the U.S. House Rules Committee blocked that effort along a party-line vote on March 21.
Still, these moves by federal lawmakers give you a sense of their seriousness here...
[mmpazkzone name="in-story" network="9794" site="307044" id="137008" type="4"]
This Has to Have Jeff Sessions Steaming Mad
In a letter to House Appropriations Committee leaders last week, 62 lawmakers explained their support of the medical marijuana rider, officially known as the "Rohrabacher-Blumenauer (or Rohrabacher-Farr) Amendment."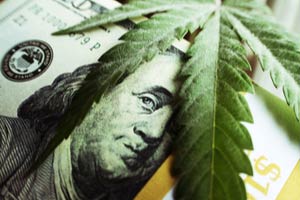 "We respectfully request that you include language barring the Department of Justice from prosecuting those who comply with their state's medical marijuana laws," they wrote. "We believe such a policy is not only consistent with the wishes of a bipartisan majority of the members of the House, but also with the wishes of the American people."
Now that the budget bill has passed with the medical marijuana rider intact, Sessions is likely not a happy camper.
But there can be little doubt: This is a huge relief for the companies that were thrown into legal limbo in January, when Sessions rescinded portions of the Cole Memo and opened up legal marijuana in several states to federal prosecution.
There's encouraging news on another front in the fight, too...
Broad, Bipartisan Support for a Banking Solution
A bipartisan bill introduced this month into the U.S. Senate would lift some of the clouds surrounding the issue of legal cannabis banking on the federal bill.
O, Canada! An earth-shattering weed announcement in Ottawa could help turn everyday Americans into pot stock millionaires. Watch this for details...
According to the bill, which is cosponsored by Sen. Lisa Murkowski (R- AL) and Sen. Jeff Merkley (D-OR), a depository institution would not be liable or subject to forfeiture under federal law for providing a loan or other financial services to a legitimate marijuana-related business.
The SAFE Banking Act, as the Senate bill is known, now has 15 cosponsors, while a House version has 89.
The legislation would also prohibit federal banking regulators from encouraging or recommending a depository institution not to offer financial services to account holders just because they are affiliated with a legal cannabis company.
Whether or not this specific bill gets signed in to law, it shows that lawmakers and their backers in the industry are making moves to set legal cannabis on a fully legitimate footing.
Now, Sessions' weakening of the Cole Memo didn't exactly deal directly with the banking issue, but it certainly did make some banks question whether they'd soon be on the receiving end of money-laundering charges, effectively making many legal cannabis companies consider once again working only in cash.
That's an intolerable situation that leads to unnecessary safety and fraud risks.
Indeed, senators sponsoring the SAFE Banking Act wrote in January to the U.S. Treasury's Financial Crimes Enforcement Network (FinCEN) about seeking guidance on financing in the legal weed industry that doesn't punish banks for providing capital to cannabis firms that are legitimate under state law.
"FinCEN's stated priorities have allowed such businesses to conduct commerce more safely through financial institutions which reduces the use of all cash, improves public safety, and reduces fraud," the Senators wrote in a letter to FinCEN. "This guidance must remain intact because the risks involved in removing it are too great."
Top Five: These tiny Canadian pot stocks are set to skyrocket. Click here...
And they weren't the only ones in the federal government to see the problem here.
Earlier this month, I wrote about how the Federal Reserve Bank of Kansas City gave conditional approval to Colorado-based Fourth Corner Credit Union to launch its business catering to cannabis-related companies, as long as it didn't directly "touch the plant."
The banking/cannabis issue is also clearly top of mind for U.S. Treasury Secretary Steven Mnuchin, who has told lawmakers on the House Financial Services Committee that he doesn't want to keep seeing "bags of cash" from cannabis companies floating around without being fully taxed.
This is all building toward a more favorable regulatory situation where, as states legalizing marijuana continue their advance, like Massachusetts is set to do later this summer, the coffers of pot businesses will rapidly rise in tandem.
Anything at all that clears the air around legal marijuana businesses is great news for pot stocks, too. I'm expecting these and some other developments I'm watching to push the "Marijuana Millions" shares in the Nova-X Report model portfolio even higher in the next few months.
Nothing Jeff Sessions Can Do Will Stop These $5 Pot Stocks from Exploding
Canada is expected to take marijuana fully legal this July, and there's not a damn thing the notoriously anti-weed attorney general can do about it. It might make him furious, but investors who park a few hundred bucks in these tiny "north of the border" companies could potentially turn a small stake into $100,000 fast. Michael Robinson has the details for you - click here to hear what he has to say...
Follow Michael on Facebook and Twitter.
About the Author
Michael A. Robinson is a 36-year Silicon Valley veteran and one of the top tech and biotech financial analysts working today. That's because, as a consultant, senior adviser, and board member for Silicon Valley venture capital firms, Michael enjoys privileged access to pioneering CEOs, scientists, and high-profile players. And he brings this entire world of Silicon Valley "insiders" right to you...
He was one of five people involved in early meetings for the $160 billion "cloud" computing phenomenon.
He was there as Lee Iacocca and Roger Smith, the CEOs of Chrysler and GM, led the robotics revolution that saved the U.S. automotive industry.
As cyber-security was becoming a focus of national security, Michael was with Dave DeWalt, the CEO of McAfee, right before Intel acquired his company for $7.8 billion.
This all means the entire world is constantly seeking Michael's insight.
In addition to being a regular guest and panelist on CNBC and Fox Business, he is also a Pulitzer Prize-nominated writer and reporter. His first book Overdrawn: The Bailout of American Savings warned people about the coming financial collapse - years before the word "bailout" became a household word.
Silicon Valley defense publications vie for his analysis. He's worked for Defense Media Network and Signal Magazine, as well as The New York Times, American Enterprise, and The Wall Street Journal.
And even with decades of experience, Michael believes there has never been a moment in time quite like this.
Right now, medical breakthroughs that once took years to develop are moving at a record speed. And that means we are going to see highly lucrative biotech investment opportunities come in fast and furious.
To help you navigate the historic opportunity in biotech, Michael launched the Bio-Tech Profit Alliance.
His other publications include: Strategic Tech Investor, The Nova-X Report, Bio-Technology Profit Alliance and Nexus-9 Network.