In 2017, Litecoin rose 1,400%. With such explosive gains on the books, we're looking at the most ambitious 2018 Litecoin price predictions from Finder.com.
These predictions come from all areas of the cryptocurrency community and provide a diverse range of opinion on the future performance of the currency.
However, everyone on this list agrees – Litecoin has nowhere to go but up in 2018.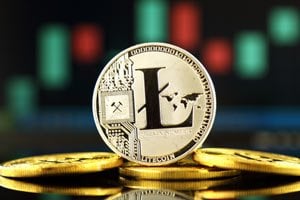 In fact, one Litecoin price prediction says that the cryptocurrency will gain 205% by the end of 2018.
We'll take a close look at this bold prediction. But first, here are six other 2018 Litecoin price predictions from crypto analysts across the crypto community…
| | | | |
| --- | --- | --- | --- |
| Analyst | Background | Price Prediction | Profit Potential |
| Clayton Daniel | Fintech Investor | $150 | 14% |
| Joseph Raczynski | Tech consultant | $160 | 22% |
| Kunal Patel | Fintech Writer | $180 | 37% |
| Tim Lea | CEO of REFFIND | $200 | 52% |
| Fred Schebesta | Co-founder of Finder.com | $225 | 71% |
| Samson Williams | CSO SeedUps | $290 | 121% |
If You're Not Making Millions of Dollars with Cryptocurrencies… You could be. Click here to discover the tiny coin that will soon be BIGGER THAN BITCOIN… and how to claim YOUR cryptocurrency fortune while you still can.
As you can see, there is a wide range of opinions on price movement of Litecoin in the next year. Here are a few excerpts of the rationale behind their price points.
Kunal Patel 2018 Litecoin Price Prediction
"We may see some growth with Litecoin, as it's proving to be a good alternative against the likes of Bitcoin, Bitcoin Cash, Ethereum, and Ripple."
Fred Schebesta 2018 Litecoin Price Prediction
"Litecoin will go up in value, but is currently put on hold due to the bearish nature that is the market right now. Watch this space."
Tim Lea 2018 Litecoin Price Prediction
"I was extremely bullish on Litecoin, given their commitment to support Litepay – their retail offering for accepting Litecoin payments – a chance to provide Litecoin with definitive value. Having met the CEO of Litepay for breakfast around a month ago, I was very impressed and highly bullish on their commitment to compliance for their retail product. 2018 will be the year of compliance and regulation for the whole cryptocurrency space, and Litepay is positioning itself right at the very forefront."
While these analysists are very bullish on the future of price of Litecoin, no one honed in on this 217% price prediction.
Here's the intriguing rationale behind this expert's call – and how high Litecoin will go by the end of the year.
Alisa Gus's 2018 Litecoin Price Prediction