Editor's Note: This one pick paid 100% in seven days, then 205% the next day, and 410% by the next week. You've got to see how it's done...
Everyone already knows healthcare real estate investment trusts (REITs) can be consistent income generators, with REITs required to distribute 90% of their taxable income to shareholders.
In exchange, these trusts are exempt from federal income tax.
Also, global healthcare spending is projected to reach $8.7 trillion by 2020, which will benefit healthcare REITs. The more money they make, the more demand there is for REITs, which sends share prices higher.
For savvy investors, this is a great source of consistent, alternative income.
But not everyone knows the best healthcare REIT to buy in 2018.
That's why I turned to Money Morning Special Situation Strategist Tim Melvin.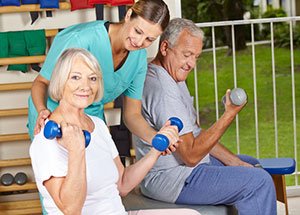 "There are a bunch of listed real estate operating companies and REITs available for investors to consider. Picking which one to buy is a simple matter of bargain hunting," Melvin told me.
Melvin is a 27-year veteran of the financial services and portfolio management industries, serving as a broker for millionaires for more than two decades.
He's also a top authority on private equity and value investing, and he's constantly on the lookout for stocks trading for less than they're worth.
And he's found one in the healthcare market...
You see, the number of Americans ages 65 and older is projected to skyrocket 113.04%, from 46 million in 2016 to 98 million by 2060.
More and more seniors will move into healthcare facilities and need to visit physicians, which means healthcare REITs will generate more revenue.
And Melvin's found a diamond in the rough...
In the next 12 months, investment bank B. Riley FBR Inc. expects the price of this healthcare REIT to climb 56.25%.
On top of that, this company pays a dividend of $0.80, which is a massive yield of 11.05%.
But if you want to potentially make those double-digit returns, you have to invest right now...
In a Volatile Market, You Have to Own This Healthcare REIT