The $10 billion cannabis industry is fueling stocks like Canopy Growth Corp. (OTCMKTS: TWMJF), which soared 182.35% in the last year alone.
But most marijuana stocks are penny stocks, and penny stock prices are notorious for volatile price swings.
That's why we found a way for risk-averse investors to make money in the marijuana industry through what we like to call a "pick-and-shovel" strategy.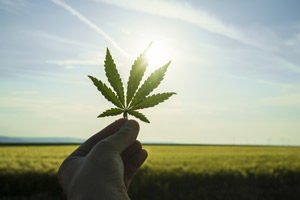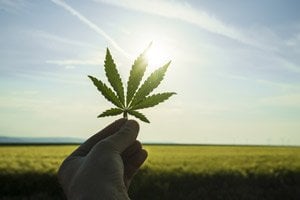 The term "pick and shovel" derives from the entrepreneurs during the 1848 to 1855 California Gold Rush who sold supplies to the miners. While only a few miners struck it rich, every miner needed supplies, and these suppliers made a ton of money.
For example, Levi Strauss made durable trousers for the gold miners in 1853, and his estate was worth $6 million when he died in 1902.
That $6 million would be worth $168 million in 2018 terms.
To help Money Morning readers build their own fortune, we've found one of the best pick-and-shovel plays there is in the cannabis industry: banking.
There Aren't Enough Banks in the Cannabis Industry
While some form of medical marijuana is legal in 30 states and the District of Columbia, it's still illegal under federal law.
As a result, major banks don't want to take the risk of working with cannabis companies. Banks that work with the marijuana industry could be charged with money laundering, according to The Economist.
But one bank is taking a calculated risk...
In a small, 39,418-person town, Money Morning Special Situation Strategist Tim Melvin uncovered a bank lending to medical marijuana businesses.
Top Three California Pot Stocks to Watch for the Biggest Gains - Learn How to Cash In Here
"Those that step up to the plate now will have a huge lead in relationships and should see wild profit growth as the industry explodes, and as less forward-thinking banks play catch-up, over the next decade," Melvin said on March 28.
That makes this the perfect way to potentially make market-beating returns from a pick-and-shovel play on the $10 billion cannabis industry...
The Best Banking Play in the $10 Billion Cannabis Industry
[mmpazkzone name="in-story" network="9794" site="307044" id="137008" type="4"]
Severn Bancorp Inc. (Nasdaq: SVBI), located in Annapolis, Md., understands that banking services for medical marijuana growers, processors, and dispensaries could be a huge market.
While the bank told The Washington Post for a Jan. 2 report that it doesn't comment on "specific banking methods or relationship," we did learn about one client from the report.
Sajal Roy is the owner of the Allegany County Medical Marijuana Dispensary, and he paid $3,000 to open an account with Severn in 2016.
He also pays monthly fees of $1,750.
Now, there are still restrictions on what a cannabis business can do with an account at Severn.
It can't accept credit card payments, wire checks from its accounts or accept checks for deposits, and each dispensary must e-mail daily financial and inventory logs to the bank.
These rigorous protocols are to ensure SVBI doesn't become entangled in money laundering or other charges from the federal government.
But medical cannabis businesses are still benefiting from the banking services...
Roy told The Washington Post it does allow him to pay employees and buy supplies from vendors using the bank's automated transfer system.
And it's not just marijuana companies excited about SVBI's services...
Severn executives own over 18% of the institution, and Louis Hyatt, the father of the current president, owns an additional 8.9%.
"Lou is a sharp businessman. He's way too smart to have almost $8 million of his money invested in an enterprise that he did not think was a long-term profit opportunity," Melvin said on March 28.
Along with Severn, we also had to show you a bonus profit opportunity in the cannabis industry today, and you may never see a chance like this again...
Make Millions Thanks to California's Cannabis Explosion
$20.2 billion... that's the amount of money expected to pour into California's cannabis market in just the first year the state goes fully legal.
Mark our words: The savvy investors who know how to get in on the ground floor could see a small stake turn into a million-dollar windfall.
We've narrowed down the pool to three tiny California cannabis companies expected to deliver once-in-a-lifetime fortunes. But once these small stocks go from $1, to $10, to $20, or more... you may never see a chance like this again.
Everything you need to get started is right here.