Spotify stock made its public debut on April 3, but we warned our readers on April 2 not to take the bait.
We were right, as the Spotify Technology SA (NYSE: SPOT) stock price dropped from an intraday high of $169 on April 3 to a closing price of $154.90 on April 10. That's an 8.34% loss in a week.
And that's just the start of how far the SPOT stock price can drop…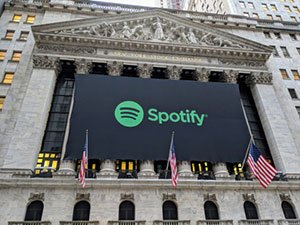 Not only did the company lose $1.5 billion in 2018, it also has a huge problem: royalties.
An astronomical 79% of its revenue has to be paid out in royalties to artists, and there's no clear path to resolve this problem. That doesn't leave a whole lot of money to advertise and attract new users or work on new technology and products.
Spotify is stuck in a difficult spot, with no clear way to improve its financials. It can either increase prices and risk losing customers, or it could try and shrink royalty payouts.
If that happens, the company could lose songs from top artists, which in turn could lose paying customers.
For example, pop star Taylor Swift removed her entire catalogue from Spotify in November 2014, because she felt she wasn't being fairly compensated.
For investors buying into Spotify stock now, they are gambling the company will somehow find a way to make a profit without hiking prices or shaving royalties.
Good luck.
Instead of chasing a trendy new IPO offering, we're sharing all the details about a tech giant in the streaming-music space that could net our readers a 44.3% profit by 2020.
This tech stock climbed 3.24% during the same time Spotify was dropping 8.34%, giving you an early taste of its growth potential.
But before we reveal why it's the better play, we want our readers to understand why trying to cash in on any IPO can be so dangerous…
You Could Lose All Your Money with IPOs
Retail investors are willing to throw their hard-earned money at IPOs they don't know much about in hopes of finding the next Facebook Inc. (Nasdaq: FB).
On May 18, 2012, FB stock opened to the public at $42.05 per share. Since then, it has climbed 292.48%, to $165.04 per share.
But there are more tech failures than success stories…
Take Snap Inc. (NYSE: SNAP) as an example.
SNAP shares opened to the public at $24 on March 2, 2017. It quickly climbed to $28.17 on March 8, for a 17.3% gain.
However, the excitement has died, and the SNAP stock price now trades at just $14.48, a 39.66% loss from its opening price on March 2.
And those losses look minimal compared to what Blue Apron Holdings Inc. (NYSE: APRN) shareholders experienced.
Opening to the public at $10 on June 29, 2017, APRN now trades at a mere $1.84 per share.
That's an 81.6% loss in less than a year.
Video
After an 80% Plunge, Blue Apron Shares May Have More Room to Fall
Now, buying shares in a more established company may not seem as exciting as IPO investing. It also may seem more expensive, because IPO prices may be as low as $10 per share.
But that mindset can get you into trouble, which is why we want to help Money Morning readers avoid that thinking.
Instead of just looking at price, we want you to look at the future value of a company.
Remember, Spotify lost $1.5 billion in 2017, so it's certainly not trading at a discount.
If You're Not Making Millions of Dollars with Cryptocurrencies… You Could Be. Click here to discover the tiny coin that will soon be BIGGER THAN BITCOIN… and how to claim YOUR cryptocurrency fortune while you still can.
If a stock's price target shows double-digit gains and pays a dividend, and if analysts expect revenue could climb 16.5%, from estimates of $261.75 billion in 2018 to $305.12 billion for 2019, that's the kind of real growth potential worth investing in.
That's why, today, we're going to give you all the details about the stock Money Morning Defense and Tech Specialist Michael Robinson believes could be a double-digit winner in the next two years…
Forget Spotify Stock, Own Shares of This $872 Billion Competitor Instead