Earnings season can be one of the most lucrative times of the year for stock traders.
Just take a look at Money Morning Quantitative Specialist Chris Johnson's track record.
He banked a 224% profit on Best Buy Co. (NYSE: BBY) after its May 2017 earnings report, 151% on Deere & Co. (NYSE: DE) in May 2017, and another 100% gainer in only 18 days after Alibaba Group Holding Ltd. (NYSE: BABA) reported earnings in August 2017.
And that's just the beginning of the earnings play potential with Chris' "Share Score."
For untrained investors, options trading can be like placing a bet in a Vegas casino. You think the stock is going to move a certain amount higher or lower, and you put your money behind your prediction.
But that's not the case with Chris' system.
Chris identifies stocks with the potential to pop that hapless traders are betting against. Then he cleans up.
And earnings season is the perfect time to use his strategy.
Stocks tend to move up or down - often drastically - right after each company's earnings reports hit.
Just look at the 732% winnings spilling out of this potential Alphabet Inc. (Nasdaq: GOOGL) earnings play...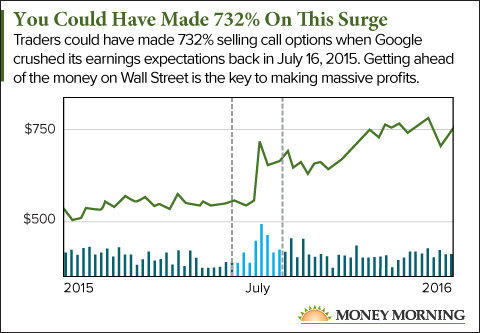 Alphabet demolished earnings expectations on July 16, 2015, and the stock rocketed 32% higher overnight. Bullish traders who bought the right call options ahead of the earnings report could've cashed out up to 732% profits on the trade.
That's an astounding amount of money to make on one trade, and Chris' Sharp Score can help you find even more lucrative opportunities...
Chris' edge has given folks the chance to collect an extra 1,867% in total winning gains in the first three months.
You see, it's a lot like what happens at the casino. In Vegas, the sharps clean up, while the tourists, high-rolling whales, and amateurs fork over their money.
The same thing happens on Wall Street. Amateurs with gut hunches or a fresh tip from a TV pundit, or even overconfident Wall Street big shots, might pile their money on the wrong side of a stock.
That's what we call the "dumb money," and the bigger the dumb money pool, the more confident we are in predicting bigger gains.
All you need to know is where the suckers are placing their bets.
And we've developed an unmatched sharp edge to separate the suckers from the winners.
It's a way to defeat every Wall Street bank, every naïve tipster, and every wannabe guru.
You see, just like Vegas, when all those suckers line up on the wrong side of a bet, it's a thing of beauty.
Right now, there's $3 billion in "dumb money" just sitting on the table, ready for the taking. Sound good? More details here.
Follow Money Morning on Facebook, Twitter, and LinkedIn.
[mmpazkzone name="end-story-hostage" network="9794" site="307044" id="138536" type="4"]