Penny stocks are great opportunities for retail investors to make triple-digit gains in a matter of days, but it can be like finding a needle in a haystack. In order to help Money Morning readers profit, we're bringing you the five top penny stocks to watch in April 2018.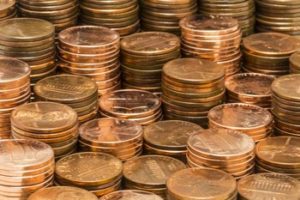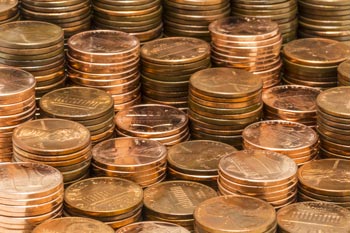 While a few penny stocks have great growth potential, the truth is that many of these low-cost stocks have very little chance of providing investors with a profit. In an effort to avoid losing your investment, it's important to identify penny stocks that have strong financials and a good chance for growth.
In order to protect our investments, we follow five rules for investing in penny stocks - take a look at them on the right.
And based on our analysis, these are the five penny stocks to watch right now...
Top Penny Stock to Watch in April, No. 5: Anworth Mortgage Asset Corp.
 Anworth Mortgage Asset Corp. (NYSE: ANH) is a Santa Monica, Calif.-based mortgage real estate investment trust.
The company's primary business is borrowing money through short-term repurchase agreements and investing in asset and mortgage-backed securities.
Anworth has beat earnings in five of the last six quarters and is on track to do the same again in the first quarter of 2018.
However, the company's real attraction is its revenue - Anworth pays out a massive dividend yield of 12.5%.
This means that, on top of any stock appreciation, investors can collect a hefty 12.5% return from the company's earnings no matter how the stock performs in the market.
Plus, ANH stock currently has a perfect Money Morning VQScore™ of 4.75, which means it's a strong buy right now.
Answorth currently trades for around $4.69. With a strong dividend and low initial investment, Anworth is a sound penny stock investment for the enterprising investor.
Top Penny Stock to Buy in April, No. 4: Rite Aid Corp.
 Rite Aid Corp. (NYSE: RAD) is a national drugstore chain known for providing both over-the-counter medicine and prescription pharmaceuticals.
Shares of the company have dropped over 60% in the last year due to bearish sentiment about the company's odds of holding on to its market share in the face of increasing competition from CVS Health Corp. (NYSE: CVS) and Wal-Mart Stores Inc. (NYSE: WMT).
However, Wall Street leaving Rite Aid out in the cold allows us to pick up the company at bargain prices.
Last month, Rite Aid received federal approval to move forward with a proposed merger with Albertsons Cos. LLC, a privately owned American grocery conglomerate.
Albertsons is currently the second-largest supermarket chain in North America, controlling 1,075 stores under various brands across the United States.
Merging with Albertsons will give Rite Aid access to a far larger system of distribution and resource allocation than the company has had access to previously - a move that is likely to bolster its bottom line once the merger is complete.
In fact, analysts believe Rite Aid's market price is likely to spike to $2.50 after the merger is complete - a gain of over 50%.
Top Penny Stock to Buy in April, No. 3: DHT Holdings Inc.
DHT Holdings Inc. (NYSE: DHT) is an independent crude oil tanker company that currently maintains a fleet of 27 crude oil tankers, which move crude internationally.
The company's stock price has experienced significant volatility in recent months, as the global geopolitical landscape has thrown the oil market into flux.
However, DHT's large tanker fleet is well positioned to take advantage of any significant spike in demand or unexpected shortage in the near future.
And it's increasingly likely that a shortage is imminent. According to the International Energy Agency, oil production growth could stall due to a lack of aggressive investment by 2020.
Right now is an excellent opportunity to buy into DHT, since the stock has a perfect VQScore of 4.75.
If the oil shortage occurs, analysts see the company's stock heading to $6.00 - a gain of over 54% from the stock's current price of $3.38.
Top Penny Stock to Buy in April, No. 2: Fortuna Silver Mines Inc.
Fortuna Silver Mines Inc. (NYSE: FSM) is a Canadian silver mining company based in Vancouver, Canada.
The company operates two mines - one in Mexico and one in Peru - which produce a combined 8.4 million ounces of silver per year.
Over the last month, Fortuna's stock has risen 17.8%, largely in response to increased demand for silver in the face of growing geopolitical uncertainty.
According to Money Morning Resource Specialist Peter Krauth, this instability is a key part to driving up the value of both silver and silver stocks.
"Geopolitics, stock markets, and central planners are helping to provide a floor for silver prices as uncertainties rise, stocks become volatile, and budget deficits explode," he says.
Analysts are calling for Fortuna to hit $9, as geopolitical conflict continues to stoke demand for silver. That's a gain of over 53% from the stock's current price of $5.86.
And with a VQScore of 4.75, you can bet that right now is an excellent time to buy.
But we have an even better penny stock to watch...
This company's return on equity (ROE) - the amount of profit a company brings in based on the amount of money invested in the company - is over 400% higher than its industry's average. This indicates that the company is well managed and has the potential for spectacular growth.
Here's our top undervalued stock to buy in April 2018...[mmpazkzone name="in-story" network="9794" site="307044" id="137008" type="4"]
Top Penny Stock to Buy In April, No. 1: Entravision Communications Co.
Entravision Communications Co. (NYSE: EVC) is a Spanish-language media company based in Santa Monica, Calif.
Entravision's profit potential lies with the nation's rapidly expanding Latino community, which makes up the majority of Entravision's customer base.
From 2000 to 2014, Latino immigration accounted for more than 50% of the nation's total population growth. In the same period, the nation's total Latino population expanded to roughly 55 million people.
Over the next 10 years, the American Latino population is expected to expand by another 24 million Latino Americans - an increase of over 30%
This growing audience is already showing in the company's growth. Over the last year, the company had a return on equity of 49.84%. That's over 350% higher than the industry average of 11.99%.
With an expanding consumer market continually seeking new content from major Hispanic media outlets, it's likely that Entravision will experience sustained growth well into the future.
EVC currently boasts a perfect VQScore, and Wall Street agrees with us. Analysts have put a high price target of $11 on the company's stock - a 119% increase on today's price of $5.02.
But you don't have to stick with small-cap stocks to find explosive profits in the stock market. In fact, we can show you how...
This Easy-to-Follow Blueprint Could Make You $15,000 Richer
 America's No. 1 Pattern Trader used to be an average Joe scraping to get by. He never graduated from college, and he spent most of his career as a Home Depot customer service rep.
He didn't want to be stuck at a job he didn't like until he was 80 - so he taught himself how to trade. He found he had a knack for it, and he became richer than he ever thought possible.
Then he invented his patent-pending "Money Calendar," and he knew it could change people's lives.
Now, for the first time ever, he's revealing all his trading secrets and strategies - so you can amass a fast fortune for yourself.
Step by step, click by click, he'll guide you through setting up your account - and show you how to set up a series of take-it-to-the-bank payouts of $605... $822... $1,190... and $2,830... every single week.
There's no guesswork involved, and the best part is, it'll only take you 10 minutes per day! Click here now to start this once-in-a-lifetime journey...