The Dow Jones Industrial Average is almost down a full point in 2018, but David Tice believes things could get a lot worse in the stock market.
That's why we're going to give Money Morning readers all the details on how to form a protection plan in just a bit.
Tice, who is best known for running his Prudent Bear Fund until he sold it in 2008, told CNBC on April 11 that investors should take their money and run.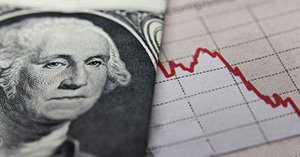 "You guys enjoyed the party. There are a lot of people dancing. But I think that could be pretty dangerous," Tice said on CNBC's "Trading Nation" on April 11.
And according to Tice, there are three reasons why we could be headed toward an economic disaster…
3 Threats That Could Send Stock Prices Plummeting
The first threat investors should worry about is a trade war with China.
U.S. President Donald Trump has been posturing with the Red Dragon on tariffs that could cost billions of dollars and have long-term negative consequences for the U.S. economy.
On March 22, President Trump announced plans to place tariffs on $50 billion worth of Chinese imports.
You Must Act Now: America is headed for an economic disaster bigger than anything since the Great Depression. If you lost out when the markets crashed in 2008, then you are going to want to see this special presentation…
In retaliation, China announced that tariffs on roughly $3 billion worth of U.S. imports would go into effect on April 2.
Without a clear indication whether the United States and China will enter into a full trade war, or its full economic cost, the markets are jumpy.
The second reason that Tice sees potential trouble in the stock market is ongoing fights in Syria.
On April 14, the United States, United Kingdom, and France bombed three government sites in Syria, targeting chemical weapons facilities.
This was in response to a chemical attack attributed to the Syrian Army that killed 70 people in a town called Douma.
Considering Russia is a major Syrian ally, the conflict has become messy. Russia now says that it is "not ruling out" a U.S.-Russia conflict.
Tice believes that President Trump's rhetoric toward Russia is the third reason why we could be heading toward a stock market crash.
The cost of a war and the strain in international relations it can create always worry the market.
On April 11, President Trump threatened Russia on Twitter Inc. (NYSE: TWTR), foreshadowing the April 14 missile strike on Syria.

Of course, there's no way of timing a stock market crash.
But it does make sense to be prepared for any possibility.
This is why we are giving you our stock market crash protection strategy to help safeguard your hard-earned money…
How to Protect Your Money from a Dow Jones Crash
We're recommending two stocks that have a track record of performing even as the broader market declines. Both of these stocks brought positive returns during the tech crash in 2000, even as the overall markets fell more than 10%.
While there's no guarantee these stocks will be immune to the next correction or pullback, they are some of the best companies in the most in-demand industries.
Money Morning Chief Investment Strategist Keith Fitz-Gerald thinks investors should hold on to stocks in the "Unstoppable Trends." The trick to making huge profits is to find "must-have" companies that fall into these six Unstoppable Trends: medicine, technology, demographics, scarcity and allocation, energy, and war, terrorism, and ugliness (also known as "defense").
The Unstoppable Trends are backed by trillions of dollars that Washington cannot derail, the U.S. Federal Reserve cannot meddle with, and Wall Street cannot hijack.
By owning well-run companies in these Unstoppable Trends, you'll own resilient stocks that will charge out of any market downturn, leaving behind anyone who sold off stocks for other assets. And if the market doesn't correct, these stocks are still going up.
That's why we're bringing you two of our favorite stocks from the Unstoppable Trends.
Raytheon Co. (NYSE: RTN) is our play for the trend of war, terrorism, and ugliness.
Raytheon is a leader in the defense industry, with billions in contracts with the U.S. government and other countries across the world. That means if the market falls, Raytheon is going to continue to excel over the long term.
Raytheon has billion-dollar contracts with the U.S. government, but it also has a diverse customer base. International customers make up just under half of its business. That means even if a few countries cut defense spending during an economic downturn, RTN still has plenty of other customers to help it weather the storm.
But RTN's real allure as an Unstoppable Trend pick is the fact that war is a reality of the world. For instance, as tensions rise abroad, the United States is more likely to need more weapons and equipment.
When the United States launched a missile strike on a Syrian airbase on April 7, Raytheon's stock jumped more than 2%, since its missiles were used.
RTN currently trades at $227.67 a share and pays a 1.56% dividend yield.
Becton, Dickinson and Co. (NYSE: BDX) is an example of a play in the Unstoppable Trend of demographics.
BDX is a healthcare company specializing in one-time-use medical products utilized in hospitals and long-term care facilities. That means as populations age, more people will need this type of medical care, and BDX will be in even higher demand.
People will need healthcare whether the market falls or not.
But BDX is also an exceptionally well-managed company.
It has a 10.54% profit margin, even after a $12.2 billion takeover of CareFusion two years ago.
That means the company's capital management is sustainable and will easily survive a market downturn. And that's good news for its shareholders during a stock market crash.
BDX trades at $233.86 and pays a 1.31% dividend yield.
While these stocks are excellent plays, what we've revealed about the Fed is just the tip of the iceberg…
The Scary Details the Fed Didn't Reveal
On Feb. 27, Chair Jerome Powell revealed the Fed would raise interest rates.
What he didn't say is that those rate hikes could send the U.S. economy into a tailspin… and very well might lead to the greatest economic collapse since the Great Depression.
If you are not willing to lose everything in another market crash, then click here.
Because it's possible to protect yourself from the coming economic disaster – but you have to act now.
Follow Money Morning on Facebook, Twitter, and LinkedIn.