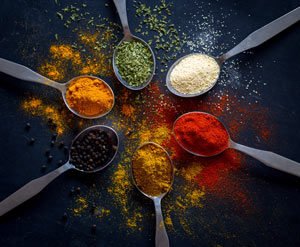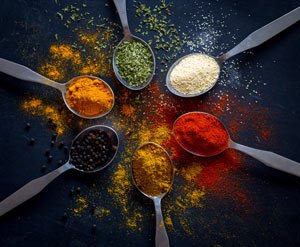 A sector most people never think about is bringing you one of the most reliable wealth-generating stocks you can buy today.
This company controls 20% of the $11 billion global market it operates in - which is projected to reach $14.8 billion by 2020. Its share in the United States is a dominating 40%.
Not only does this company dwarf the competition in market share, but it has a lengthy track record of outstanding performance. Total annual shareholder return has risen an average of 13% over the last 20 years and has been startlingly consistent over that period.
It has produced 1,000% returns since 1994. That doesn't count dividends. This dividend aristocrat has been doling out payments every year since 1925.
And this company is far from peaking...
It continues to make smart acquisitions to expand its portfolio, quietly buying its competitors to position itself as a true global juggernaut. Its latest purchase, for example, added North America's favorite brands of mustard and hot sauce to its already formidable line of products.
It has also been growing its e-commerce presence at a rapid pace. In fact, its fast-track e-commerce strategy resulted in Amazon.com Inc. (Nasdaq: AMZN) picking it as its "Grocery Vendor of the Year" in 2016.
LIVE ON CAMERA: Watch America's No. 1 Pattern Trader officially become $1,050 richer in 15 seconds! His secret to becoming a multimillionaire is so easy that anybody can do it. Click here for details...
Plus, the company has been ranked one of the most sustainable companies in the United States by Barron's and the 23rd most sustainable company in the world by Corporate Knights.
Best of all, it got a top score from our Money Morning Stock VQScore™ system, indicating that you can buy it for a great price right now.
You've probably tasted at least one of this company's products this week whether you know it or not. Now, it's time to take a closer look at this inconspicuous gem while it's still flying under Wall Street's radar...
This Dividend Aristocrat Is the Only Name Brand in Its Market
[mmpazkzone name="in-story" network="9794" site="307044" id="137008" type="4"]
We're talking about the rarely profiled global spice market, and the leader in this space, McCormick & Co. Inc. (NYSE: MKC).
Willoughby McCormick founded the company in Baltimore when he was 25 years old. He initially sold sodas, juices, and fruit flavorings door to door.
A quarter-century later, the company lost nearly all its assets in one of the worst urban fires in American history. But McCormick built a new headquarters on the same site in just 10 months and eventually built itself into the dominant player in the global spice market.
Aside from its signature line of over 75 spices, McCormick has made a series of acquisitions over the decades to boost its global presence. That includes the Lawry's restaurant chain, which from 1922 to 1938 sold its highly sought-after seasoned salt exclusively to diners at the Tam O'Shanter Inn in Los Angeles. Now, the Lawry's brand consists of dozens of top-selling spice blends, seasoning mixes, and dressings available in any supermarket.
It also includes Schwartz, a Canadian spice brand that was McCormick's top competitor in the United Kingdom. Since MKC consolidated its own spices under one name in that market, the big "S" on Schwartz's labels is the most recognized spice brand in the UK.
And last year, McCormick bought RB Foods, which includes French's Mustard and Frank's RedHot - both of which are the top North American sellers in their categories.
Then there's the legendary Old Bay seasoning, a product universally adored in its home state. Back when crabs from the Chesapeake Bay were so plentiful that Baltimore taverns offered them to customers for free, Old Bay emerged as the seasoning of choice to keep patrons happy... and thirsty.
Today, the product is so ubiquitous in the region that it's not unusual to see Marylanders wearing Old Bay-themed apparel, featuring quips such as "I put Old Bay on my Old Bay."
(Disclosure: This author, a Marylander, owns a pair of Old Bay socks.)
That kind of brand loyalty is difficult to match.
The company also has the distinct advantage of having built decades-old relationships with distributors that bring its products to shelves in 150 countries around the world. McCormick makes about 60% of its revenue - roughly $3 billion in 2017 - from consumers.
Breaking: California Marijuana Legislation Sparks the Most Profitable Opportunity of 2018. Click Here for Details...
The rest of McCormick's revenue - about $1.9 billion - comes from the industrial segment. It has partnerships with all of the 10 biggest food and beverage manufacturers, as well as nine of the 10 biggest restaurant chains in the United States.
It's also already selling to the younger generation. McCormick's commitment to natural ingredients and to staying on top of trends - 9% of sales in 2017 came from products introduced in the last three years - has made it a favorite among the millennial market.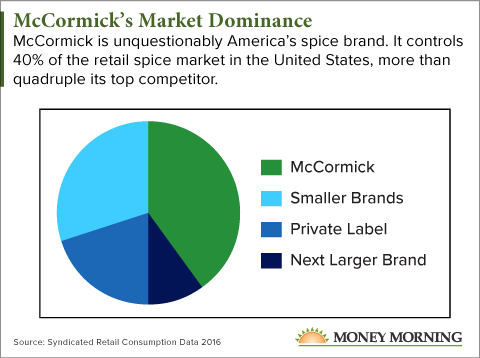 According to research by Lightspeed and Mintel, about 80% of these younger cooking enthusiasts consider McCormick one of the best spice brands. And about one-third of the traffic to McCormick's website, which offers recipes and tips on how to use its products, comes from millennials.
McCormick products, in short, are everywhere. As financial blogger Geoff Gannon put it, "Whether it was in that package of spices you used to cook a meal at home, or in that manufactured food product, or in the dish you ordered at the restaurant, [quite often] you are a consuming a McCormick product."
And because McCormick products cover every price point, from value-priced to gourmet, its stock is better protected from a drop in consumer spending.
As these numbers show, McCormick is a stock that's been great to shareholders over the years and still has room to grow...
Crunching the Numbers: The Time to Buy McCormick Is Now
McCormick has been paying dividends without interruption for close to a century now. It has increased its dividend in each of the last 32 years, for a current yield of 1.96%.
It's not having any trouble increasing earnings to maintain its status as a dividend aristocrat, either.
McCormick's dividend payout ratio - the amount of the dividend compared to earnings per share (EPS) - has been under 50% in five of the last six years. The dividend has jumped 38.6% in that time, while EPS is up 40.1%.
If you had invested in McCormick in 1995, you'd have multiplied your investment sevenfold by now based on share value. But if you reinvested your dividends along the way, you could have turned $10,000 into $151,933.40.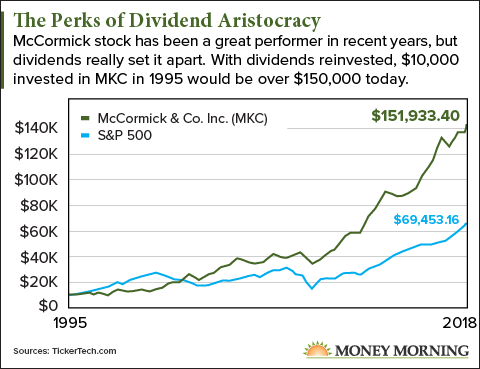 Growth in share price has slowed down recently, as MKC only kicked up 5.9% over the last 12 months. And some analysts are wary of the company's growth potential going forward.
But they've underestimated McCormick's earnings for five straight quarters, missing by 11% on the most recent report.
After earnings growth of 12.7% last year, McCormick posted a 31.6% year-over-year increase in the first quarter of 2018.
Plus, it raised its forecast for the rest of year, now expecting sales growth of 13% to 15%, and earnings growth of 14% to 16%.
The current stock price hasn't priced in the growth that's already happened. MKC's trailing P/E ratio, of 17.2, is 32.5% below the industry average. And its PEG ratio for the last 12 months - a scale on which 1 suggests a fairly priced stock - is an exceedingly low 0.26.
This means you can buy MKC stock today for quite the deal. The market has undervalued its recent performance and is likely underestimating its future performance, too.
The message is clear: McCormick stock is due for a rise. It's a solid foundational holding for the long term, too.
Fast-Cash Paydays - No Matter Where the Market Moves
2018's up-and-down stock market volatility has investors feeling jittery. But market turmoil can create perfect conditions for a different kind of moneymaking strategy - one where you can enter a trade on Monday and take any profits that Friday.
It's fast and it's easy - and Tom Gentile can show you exactly how it works. He's already closed out seven winning recommendations this year for total winning gains of 448%.
To learn how you could pocket $1,000, $1,500, or even $2,000 in four days or less, every single week, just click here now.
Follow Money Morning on Facebook, Twitter, and LinkedIn.
About the Author
Stephen Mack has been writing about economics and finance since 2011. He contributed material for the best-selling books Aftershock and The Aftershock Investor. He lives in Baltimore, Maryland.