The stock markets are in the red so far this year, with the Dow down over 1%, but gold prices continue to gain.
Between geopolitical tensions and the U.S. Federal Reserve's rate hikes, investors are uneasy about the stock market right now. The CBOE Volatility Index (VIX) has nearly doubled this year.
Gold is actually managing to consolidate on the higher side, as bonds are losing their luster. Gold prices have risen to $1,327 from $1,316.10 at the start of the year.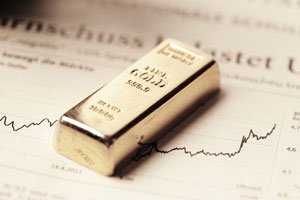 But the gold price catalyst in the near term, though, could be the dollar.
Gold still needs to make a run for $1,370, but that could happen sooner than many think.
Here's what's been moving the price of gold, as well as my next gold price prediction as stock prices continue to slide sideways…
Why the Price of Gold Was Flat Last Week
On the whole, gold had a sideways to slight downward bias for the week, as geopolitical tensions eased a bit.
Monday (April 16) and Tuesday (April 17) were nearly neutral for the metal, which was up slightly by just $4, to $1,347. News of a 1.9% rise in U.S. housing stats in March over February kept the lid mostly on.
LIVE ON CAMERA: Watch America's No. 1 Pattern Trader officially become $1,050 richer in 15 seconds! His secret to becoming a multimillionaire is so easy that anybody can do it. Click here for details…
But on Wednesday (April 18), gold climbed in early morning trading to peak at $1,353 around 9:00 a.m., and from there pulled back slightly to close at $1,349.
The U.S. Dollar Index (DXY) got its second wind on Thursday (April 19) in the late morning, powering up from near 89.5 to break higher and trade in the 89.85 range, likely boosted by oversold conditions.
Check out how the DXY jumped on Thursday and ran higher into the weekend…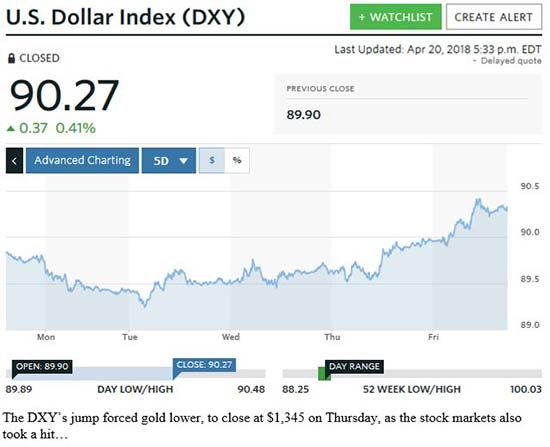 The DXY's jump forced gold lower, to close at $1,345 on Thursday, as the stock markets also took a hit…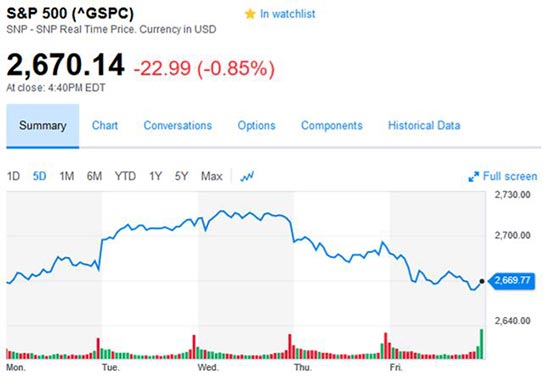 The downturn was a theme that bled into Friday (April 20), with stocks down along with bonds as bond yields pushed higher. Gold gave back $5 to close at $1,335 on the day.
But gold's sneaky performance on the year is an encouraging sign, one that could help push gold prices to my latest gold price target…
Gold Prices Have a Bullish Wind at Their Back
Join the conversation. Click here to jump to comments…
About the Author
Peter Krauth is the Resource Specialist for Money Map Press and has contributed some of the most popular and highly regarded investing articles on Money Morning. Peter is headquartered in resource-rich Canada, but he travels around the world to dig up the very best profit opportunity, whether it's in gold, silver, oil, coal, or even potash.