The price of silver had a volatile week, climbing all the way to $17.31 on Thursday (April 19), before settling back down below $17 yesterday (Monday).
Because of that volatility, I'm going to show you today exactly where I see the price of silver heading in both the short term and the long term.
But first, we need to look at exactly why silver prices reversed course last week.
By all accounts it looks like silver speculators, who were massively short silver futures, were getting squeezed out.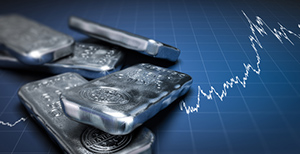 Speculators, who are typically on the wrong side of the bet at extremes, had recently ended up in a net short silver position. That almost never happens, and with essentially no one left to go short silver, buyers stepped in.
That forced short speculators to cover their positions by buying, forcing the silver price rapidly higher. I believe that's what took place last week, allowing silver to spring from $16.60 to $17.20 within a few days.
A "Blueprint to Financial Freedom": America's No. 1 Pattern Trader used this secret to become a millionaire. Now he's sharing it live on camera - and you could learn how to set up a series of $822... $1,190... $2,830 payouts every single week.
Silver has since retreated on a wave of dollar buying that just pushed the U.S. Dollar Index (DXY) back above 90.50.
But barring a strong new rally in the dollar, something I think unlikely, silver's likely testing the waters for a fresh wave of buying to break out from its extended consolidation.
Why the Price of Silver Has Been So Volatile in 2018
Silver enjoyed quite an impressive breakout mid-week that's been a long time in coming.
First, there was a huge leap on Wednesday, April 18, devoid of corresponding weakness in the dollar. More than likely, it was the work of silver speculators simply getting overly short in the metal.
It was exciting to watch, as silver jumped from $16.70 to past $17.20 in just 11 hours, from very early on Wednesday morning to 1:00 p.m. It then settled back to close that day at $17.17, but the heavy lifting had been done.
On Thursday, silver actually managed to rally a bit higher, claiming the $17.31 mark at 10:00 a.m. But the DXY gained momentum and rallied from 89.6 to 89.85 by early afternoon, pushing silver back to close at $17.22.
Here are the DXY and S&P 500 over the past five days.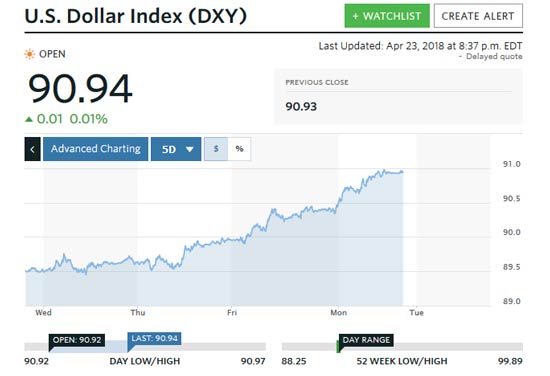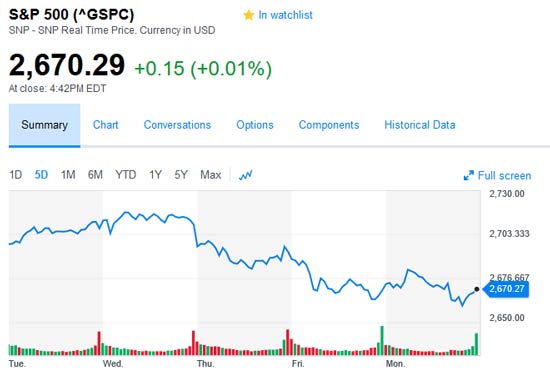 Thanks mainly to dollar strength and some profit-taking, silver backed off overnight Thursday into Friday. That materialized into a low of $17.05 at 6:00 a.m., a small rally to $17.16 at noon, then renewed weakness to end at $17.09.
But Monday's extended dollar rally, which took the DXY to 90.93 by late afternoon, helped quash silver's heady advance of the previous week, pulling it back to a low of $16.55 on the day.
Now that we know why the price of silver has been so volatile, here's why I expect some short-term weakness ahead, followed by a rally to end the year...
Here's My Newest Silver Price Target
Join the conversation. Click here to jump to comments…
About the Author
Peter Krauth is the Resource Specialist for Money Map Press and has contributed some of the most popular and highly regarded investing articles on Money Morning. Peter is headquartered in resource-rich Canada, but he travels around the world to dig up the very best profit opportunity, whether it's in gold, silver, oil, coal, or even potash.