Gold prices had two distinct drivers over the past week, but this latest trend could propel the price of gold even higher in 2018...
The first driver was certainly the U.S. dollar, whose index rose dramatically by nearly 150 basis points from trough to peak. That drove gold prices toward their lower resistance levels.
But the second gold price catalyst was a significant event that all investors should take note of...
It was the U.S. 10-year Treasury hitting the 3% yield level, something it hasn't done since 2014.  That's important because it's a psychological threshold, and the 10-year Treasury is a benchmark for setting prices for debt instruments around the world.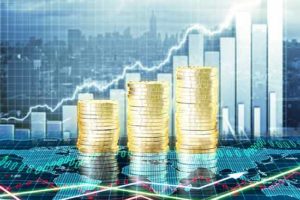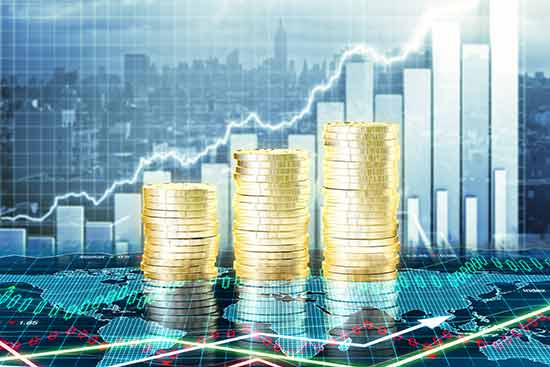 It has market observers expecting central banks to hike their rates, causing everything from mortgages to lines of credit to follow. And that will mean squeezed household budgets hurting consumer spending.
You Must Act Now: America is headed for an economic disaster bigger than anything since the Great Depression. If you lost out when the markets crashed in 2008, then you are going to want to see this special presentation...
Higher bond yields also compete with equities, making the latter a less attractive asset for investors. While higher rates compete with gold, they're also a sign of rising inflation.
Rising inflation supports a higher gold price.
That's why I'm not surprised that both the price of gold and bond yields can continue to rise simultaneously.
I'll show you exactly how high I predict gold will rise, right after we recap last week's gold price performance...
How Rising Bond Yields Boosted Gold Prices
The trading week started out on Monday (April 23) on a weak note. An overnight dollar rally took the U.S. Dollar Index (DXY) from 90.4 to 90.9, pushing gold back from a weaker $1,328 open to a noon bottom at $1,322.
The next day saw dollar profit-taking, with the DXY retreating to 90.75, allowing gold to rise back to close at $1,330, despite the 10-year Treasury testing that crucial 3% mark. The Dow had plunged 2.2% by mid-afternoon, spooked by higher bond yields.
Take a look at just how drastically the Dow plunged...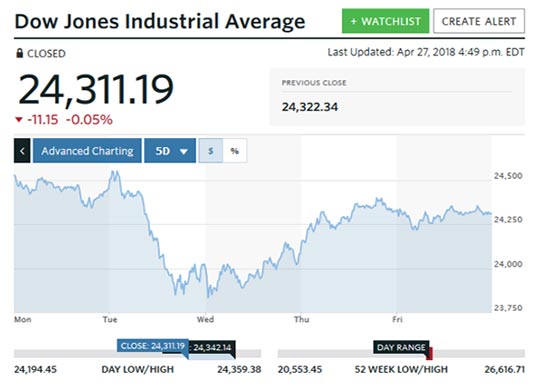 But on Wednesday (April 25), gold opened back down at $1,320 on fresh DXY gains, bringing the index to 91.2 by 10:30 a.m. Gold bottomed at $1,319 at 11:00 a.m., then recuperated to close at $1,323.
A sudden jump in the DXY on Thursday (April 26) morning took it from 91 to 91.5 and pushed gold back from $1,324 to rapidly test $1,316, where it basically stayed into the close.
Here's a look at the DXY's jump on Thursday...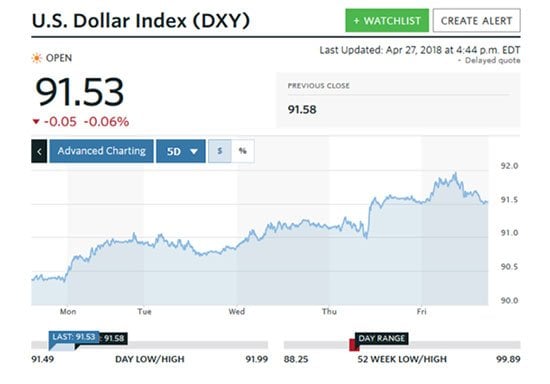 Friday's (April 27) historic joint announcement by North and South Korean leaders of an official end to the Korean War and a commitment to complete denuclearization of the peninsula did not convince gold buyers. The precious metal bounced back even as the DXY tested the 92 level, then retreated. Gold ended the week at $1,323.
But while gold prices were flat last week, I noticed a pattern that could signal a gold price breakout soon...
My Gold Price Prediction as the Dollar and Bond Yields Rise
[mmpazkzone name="in-story" network="9794" site="307044" id="137008" type="4"]
If the dollar is gold's biggest near-term influence, then let's look at it more closely.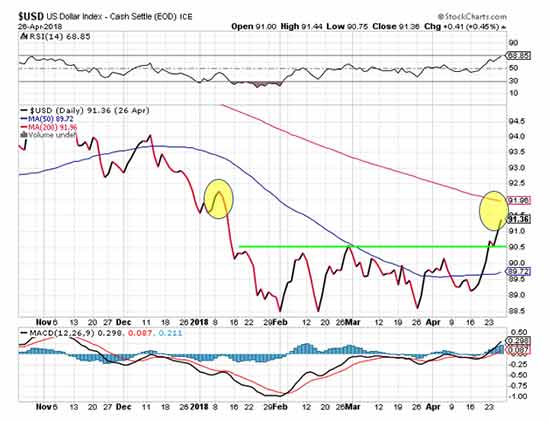 While the DXY has enjoyed quite the surge past its previous resistance around 90.5, it could have a bit more momentum on its side. Both the RSI and MACD do not look like they've topped out yet.
We could see a little weakness before a final push higher. I still think the DXY could make a run for the 92 level (current 200-day moving average), or even 92.5, the previous high.
Of course, that would likely continue to cap any strength in gold, but I don't expect dollar strength to have legs. Once it peaks, gold could be off to the races.
As for gold, it has dipped below its 50-day moving average in the past week, bouncing at the $1,315 mark. If the DXY makes its run to 92 or 92.5, gold could easily test $1,300 to $1,310.
You can see where $1,300 could form a resistance level...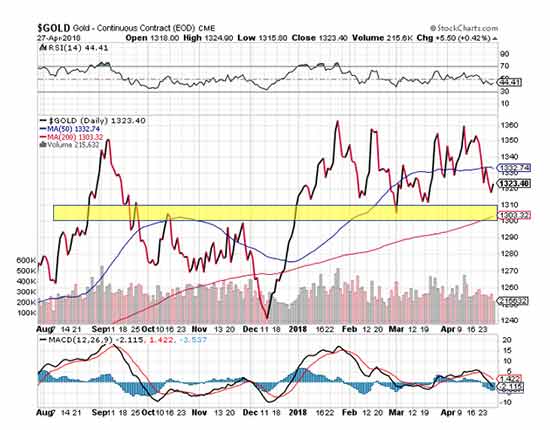 Meanwhile, gold stocks have also retreated from previous resistance.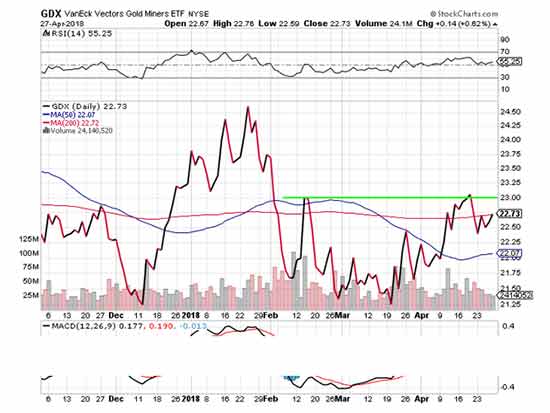 But interestingly, looking at the gold-stocks-to-gold ratio tells another story.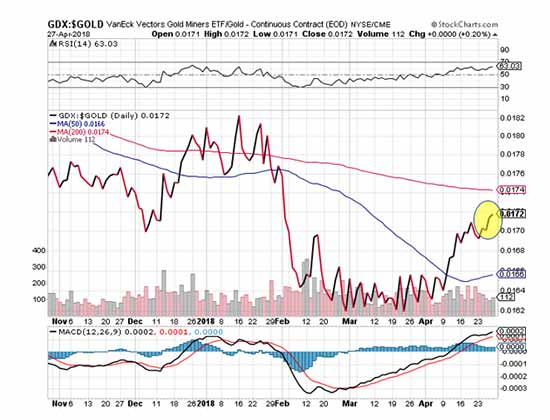 The ratio has managed a new high this week, despite gold's obvious weakness. This strength in gold stocks bodes well for gold. The RSI and MACD have shown incredible ongoing upward momentum since February.
And we are in the sweet spot seasonally for gold stocks right now. During up years since the gold bull began in 2001, gold stocks have managed almost 13% of gains between mid-March and early June. That would mean another 6% to 7% gain from current levels.
But if gold manages to break higher on dollar weakness, we could see considerably more gains.
Once again, bond king Jeffrey Gundlach told his DoubleLine clients recently that gold remains above its 200-day moving average and that the gold market has "explosive potential energy."
Let's see if gold can reach for $1,400 this summer and maybe make a run for $1,500 by year's end.
Your Financial Future Is at Stake (Are You Prepared?)
If you're like most Americans, you've felt a sense of market turmoil ahead. We could be in for another white-knuckle ride... a "Great Reckoning," if you will.
The vast majority of folks don't see this coming, and those few who do are not preparing properly... nor profitably.
So ask yourself, right now: Are you where you want to be financially?
If the answer is yes, that's great.
If the answer is no, then understand that you are not alone - and you need to click here now...