Gold prices had two distinct drivers over the past week, but this latest trend could propel the price of gold even higher in 2018...
The first driver was certainly the U.S. dollar, whose index rose dramatically by nearly 150 basis points from trough to peak. That drove gold prices toward their lower resistance levels.
But the second gold price catalyst was a significant event that all investors should take note of...
It was the U.S. 10-year Treasury hitting the 3% yield level, something it hasn't done since 2014.  That's important because it's a psychological threshold, and the 10-year Treasury is a benchmark for setting prices for debt instruments around the world.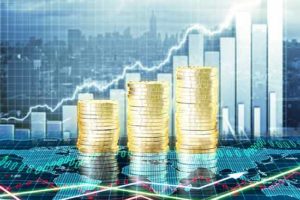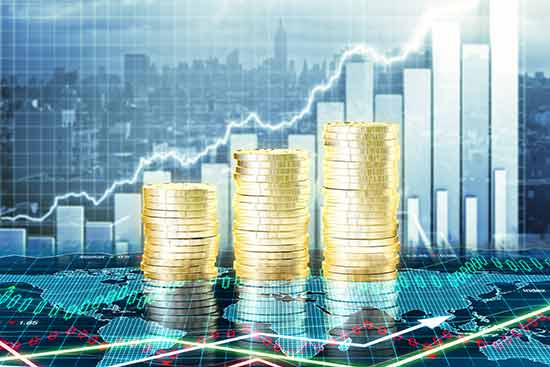 It has market observers expecting central banks to hike their rates, causing everything from mortgages to lines of credit to follow. And that will mean squeezed household budgets hurting consumer spending.
You Must Act Now: America is headed for an economic disaster bigger than anything since the Great Depression. If you lost out when the markets crashed in 2008, then you are going to want to see this special presentation...
Higher bond yields also compete with equities, making the latter a less attractive asset for investors. While higher rates compete with gold, they're also a sign of rising inflation.
Rising inflation supports a higher gold price.
That's why I'm not surprised that both the price of gold and bond yields can continue to rise simultaneously.
I'll show you exactly how high I predict gold will rise, right after we recap last week's gold price performance...
How Rising Bond Yields Boosted Gold Prices
The trading week started out on Monday (April 23) on a weak note. An overnight dollar rally took the U.S. Dollar Index (DXY) from 90.4 to 90.9, pushing gold back from a weaker $1,328 open to a noon bottom at $1,322.
The next day saw dollar profit-taking, with the DXY retreating to 90.75, allowing gold to rise back to close at $1,330, despite the 10-year Treasury testing that crucial 3% mark. The Dow had plunged 2.2% by mid-afternoon, spooked by higher bond yields.
Take a look at just how drastically the Dow plunged...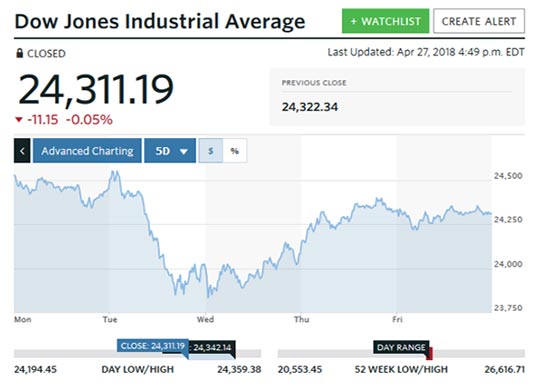 But on Wednesday (April 25), gold opened back down at $1,320 on fresh DXY gains, bringing the index to 91.2 by 10:30 a.m. Gold bottomed at $1,319 at 11:00 a.m., then recuperated to close at $1,323.
A sudden jump in the DXY on Thursday (April 26) morning took it from 91 to 91.5 and pushed gold back from $1,324 to rapidly test $1,316, where it basically stayed into the close.
Here's a look at the DXY's jump on Thursday...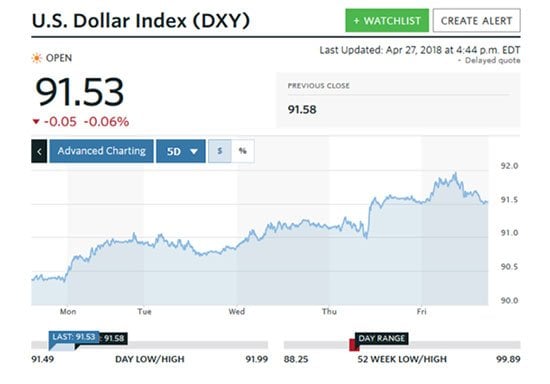 Friday's (April 27) historic joint announcement by North and South Korean leaders of an official end to the Korean War and a commitment to complete denuclearization of the peninsula did not convince gold buyers. The precious metal bounced back even as the DXY tested the 92 level, then retreated. Gold ended the week at $1,323.
But while gold prices were flat last week, I noticed a pattern that could signal a gold price breakout soon...
My Gold Price Prediction as the Dollar and Bond Yields Rise
Join the conversation. Click here to jump to comments…
About the Author
Peter Krauth is the Resource Specialist for Money Map Press and has contributed some of the most popular and highly regarded investing articles on Money Morning. Peter is headquartered in resource-rich Canada, but he travels around the world to dig up the very best profit opportunity, whether it's in gold, silver, oil, coal, or even potash.