When it comes to biotech stocks, it's time to separate the signal from the noise.
It's been a rough year so far for the sector. The iShares Nasdaq Biotechnology ETF (Nasdaq: IBB) is down 12.7% from its peak in late January.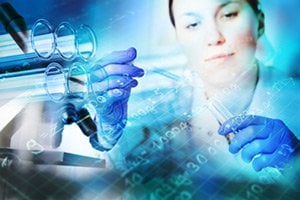 But that has less to do with the value of this sector and more to do with market overreactions to minor setbacks and rumors. As a result, some of the best biotech stocks on the market have been pushed well below their fundamental value based on assets and earnings.
And when you consider the breakout profit potential of some of these companies, the current prices look outrageously low.
So today, we're giving you three undervalued biotech picks, so you can capitalize on the market's blind spot... and one of them could easily soar more than 200%.
When you see why their shares are down, it's clear why it's created such a great buy-in point...
What the Market Gets Wrong About the Biotech Sector
Fears about patents running out, pipeline drugs being delayed, trade war implications, and pressures on high drug prices are among the factors driving biotech down right now.
But a drop in price is not always reflective of a company's health.
In March, for example, AbbVie Inc. (NYSE: ABBV) plunged 14% in two days after it revealed disappointing phase 2 results for Rova-T. It was one of more than 50 drugs in AbbVie's pipeline. But the market treated it like a deal-breaker.
"When it comes to biotech, Wall Street tends to overreact," says Money Morning Defense and Tech Specialist Michael Robinson. "Investors have been conditioned to punish the sector and its stocks whenever the opportunity presents itself."
It won't last.
Michael says three critical factors will drive the value of the industry as a whole: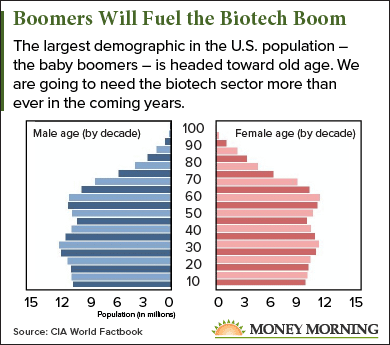 Aging America: The oldest of the 65 million American baby boomers have entered their 70s. The more this demographic enters old age, the more reliant we as a population will become on all kinds of pharmaceuticals developed by biotech firms.
Buyout Bonanza: Mergers and acquisitions in the healthcare sector surged 27%, to $332 billion, in 2017. Analysts at Bain & Co. expect that rising trend to continue in 2018. We've already seen $47 billion in M&A activity in the biotech sector in the first quarter of this year, 16% higher than the same quarter in 2017. And more big deals appear to be on the way, as we'll discuss further down.
Better Politics: Though investors have anxiety over political pressure on drug companies, it appears to be unwarranted. In fact, the most significant move from Washington affecting biotech firms has been the speeding up of the FDA approval process. That's only going to be a positive for the industry.
"The biotech industry is clearly headed for better days," says Michael. "Not just in 2018, but well into the next decade."
With that in mind, we've selected three standout biotech stocks ready to pop.
Top Five: These tiny Canadian pot stocks are set to skyrocket. Click here...
All three of these stocks are growing earnings with remarkable consistency. They're trading well below their market value. And each one of them has earned a top score on our Money Morning Stock VQScore™ system, indicating they are giving us an excellent point to buy in.
Undervalued Biotech Stocks, No. 3
Join the conversation. Click here to jump to comments…
About the Author
Stephen Mack has been writing about economics and finance since 2011. He contributed material for the best-selling books Aftershock and The Aftershock Investor. He lives in Baltimore, Maryland.