Finding specific patterns in stock price movements is one of the best ways to crush the market.
We are talking gains like $1,050, $988, or $1,260 in a matter of seconds.
While hedge funds and big banks on Wall Street have armies of researchers, AI programmers, and $24,000 financial data subscriptions, average investors are left to discover these patterns on their own.
Until now...
Uncovering These Stock Price Patterns Can Make You Rich
Traders everywhere can now harness the power of these stock patterns with the "Money Calendar" trading tool. It can predict a stock's future with at least 90% certainty, and we'll show you how to access it today...
By using the Money Calendar trading strategy, you can turn predictable price movements into incredible payouts, like $1,190, in just seconds.
But before I show you how you can access this tool, I want to make sure you know exactly how powerful these stock patterns can be.
For example, shares of Target Corp. (NYSE: TGT) have risen between July 10 and July 19 every year for the last decade, even during the bear market of 2008.
By using the special type of trade that the Money Calendar can find, you could've made $1,315 on TGT's movement in seconds.
Take a look...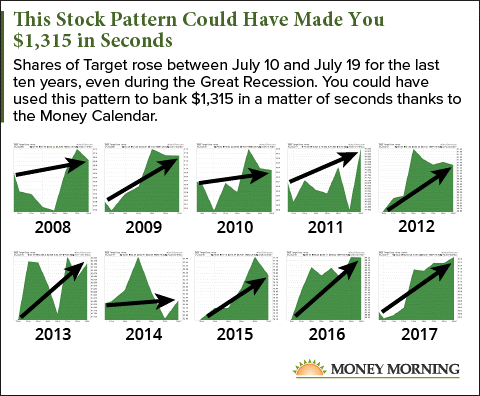 That's an incredibly profitable pattern to uncover. But it gets better.
The Money Calendar is constantly uncovering these patterns - and the profit potential they represent - and sending them straight to you.
You don't have to be some hedge fund billionaire or Silicon Valley whiz to access a tool like this either.
In fact, that's the point...
Tom Gentile, America's No. 1 Trader, used to be an average Joe scraping to get by.
He never worked at a fancy investment bank. And he never graduated from college. In fact, he spent much of his career as a customer service rep at an Atlanta Home Depot.
But he became so good at beating the stock market's top traders, he was paid $20 million to divulge almost all of his secrets.
However, he kept his most powerful secret quiet. And today, live on camera, he's agreed to share it.
Watch him officially become $1,050 richer in 15 seconds! And then $940 richer in 11 seconds... $1,260 richer in eight seconds... and $988 richer in seven seconds!
Even better, you'll discover how you can do this all yourself. It's easy!
Click here to get the details...
Follow Money Morning on Facebook, Twitter, and LinkedIn.