With the recent volatility in the stock market, investors might be wondering, "Will the stock market crash in May?"
While no one can predict the precise time of the next stock market crash, there are some bearish signs investors need to be aware of.
The CBOE Volatility Index (VIX) is up 65% since the start of the year, while the Dow is down 4% on the year.
That's a stark contrast to the stock market's white-hot 2017. The Dow gained 25% last year as the bull market lumbered into its eighth year.
You Must Act Now: America is headed for an economic disaster bigger than anything since the Great Depression. If you lost out when the markets crashed in 2008, then you are going to want to see this special presentation...
But there are two catalysts that could push stocks lower. And with valuations soaring to near-record highs, a correction could be devastating.
While we aren't predicting a market crash, we want Money Morning readers to be fully informed.
Here's what we're keeping an eye on - and what you can do to protect your portfolio...
2 Catalysts for a Stock Market Crash in May
The U.S. Federal Reserve is in hawkish mode. The Fed has hiked rates six times since December 2015 and has signaled it could hike rates at least three times in 2018.
After raising interest rates in March, the Fed only needs to raise rates two more times to reach that mark.
And even though the Fed declined to raise rates during the May FOMC meeting, market watchers and investors are keenly aware that the Fed is planning to tighten monetary policy. In fact, today's (May 4) announcement of 4.1% unemployment rate gives the Fed even more justification to raise rates.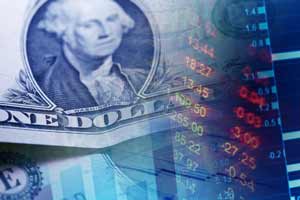 But higher rates alone won't cause a stock market crash.
It's that low interest rates helped boost stocks to some of their highest valuations ever. And if the Fed continues to tighten monetary policy just as the eight-year-long bull market stalls, a correction, or even worse, could follow.
You see, the Fed cut rates from over 5% in 2007 to 0.25% in 2008, the lowest interest rate ever. This was designed to boost the economy by making it easy to borrow money. But public companies used the money to finance share buybacks.
Between 2008 and 2016, public companies borrowed $2.1 trillion thanks to cheap money, then bought back $1.9 trillion of their own shares.
That's helped send stocks surging since the recovery began in March 2008. The Dow is up 230% since then. And so are valuations.
The Shiller P/E ratio - a measure of stock valuations - has ballooned to 31.1. That's 83% above its historical average. The ratio has only gone higher twice: before the 1929 stock market crash, and before the 2000 tech bubble popped.
Now, that doesn't mean a stock market crash is coming, but it is a sign that investors can't take the bull market for granted.
However, you can prepare without sacrificing profit potential.
Check out two stocks with double-digit potential in 2018 with a history of rising in bear markets...
How to Protect Your Portfolio from a Market Crash in 2018