After hitting a distinct bottom early in the last week, silver prices have already bounced back impressively despite ongoing U.S. dollar strength. After starting May near $16.25, the price of silver rallied to a high near $16.47 last week.
The other challenge that silver faced was the news the market awaited from the FOMC meeting on Wednesday, May 2. After the meeting, the committee announced that it would not be hiking interest rates and said inflation continues to move higher.
After peaking on Tuesday, May 1, the gold/silver ratio has quietly begun trending downward once again. I think this is in recognition of silver's underperformance and undervalued state relative to gold.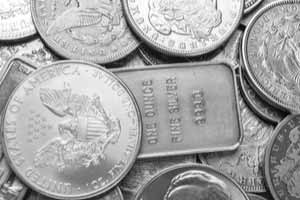 In the near term, the wild card facing silver appears to be the dollar, whose recent rally has weighed on the precious metal.
Despite that stronger dollar headwind, silver appears to be holding pretty steadfast, perhaps gearing up for a seasonal rally of its own…
How the Price of Silver Is Trending Now
Silver took a bit of a beating on Tuesday, May 1, as the market looked ahead to the next day, when the U.S. Federal Reserve would announce any possible rate changes. That fired up the dollar, with the U.S. Dollar Index (DXY) running from 91.85 overnight all the way to 92.55 by 11:00 a.m. That was enough to push the price of silver down to $16.07, but it bounced back to close at $16.14.
MUST SEE: Watch this guy officially become $1,050 richer in 15 seconds… $940 richer in 11 seconds… $1,260 richer in eight seconds… and $988 richer in seven seconds! Then discover how you could do this all yourself. Click here…
By Wednesday, silver was hovering in the $16.35 range, and even the Fed's statement did little to affect it, as it closed at $16.35, while the DXY shot to 92.81 by late afternoon. As the dollar retreated a bit on Thursday, silver prices hit an intraday high of $16.50 before dialing back to $16.39.
Here's a look at the past five days of the DXY and the S&P 500, for perspective.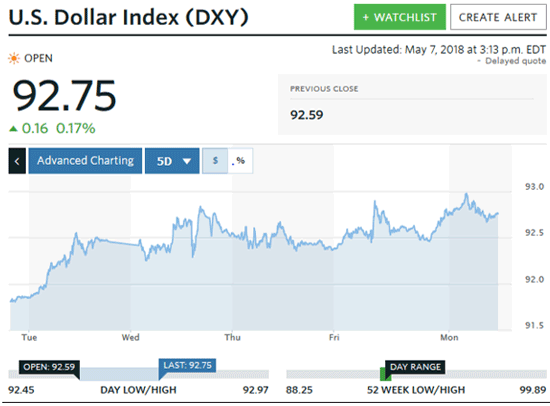 To end the week, the DXY rose to test 92.80 once again, but silver was undaunted and closed at $16.48. And on Monday, May 7, as the DXY temporarily reached for 93, silver dropped to $16.38 before bouncing back to $16.43 by mid-afternoon.
Now that we know what was behind silver's recent rally, here's where I see silver prices heading in both the short and long term…
Here's What's Next for the Price of Silver in 2018
Join the conversation. Click here to jump to comments…
About the Author
Peter Krauth is the Resource Specialist for Money Map Press and has contributed some of the most popular and highly regarded investing articles on Money Morning. Peter is headquartered in resource-rich Canada, but he travels around the world to dig up the very best profit opportunity, whether it's in gold, silver, oil, coal, or even potash.