Later this year, the major carriers will start rolling out their 5G networks – an upgrade that will open the door to new revenue streams and new profit opportunities.
After studying what 5G can do, we've uncovered the best stocks to buy to maximize your profits from this revolutionary technology.
A study last year by Swedish networking equipment maker Ericsson (Nasdaq ADR: ERIC) estimated that new 5G-based opportunities could generate as much as $1.3 trillion in additional annual revenue by 2026 just for the carriers.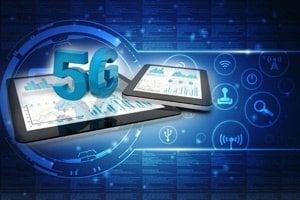 Editor's Pick: The Best Blockchain Stocks to Buy in 2018 May Surprise You
5G is the next generation of mobile network technology, the successor to the 4G/LTE technology that most mobile phones use now. It's a huge leap forward.
Data delivery over 5G is 100 times faster than 4G and 10 times faster than even top-tier home broadband services.
At least as important as the big speed bump is the advance in "latency" or the lag between when you request data from the network and it arrives on your phone. The 5G technology shrinks latency from 50 millisecond to just 1 millisecond.
Given that 50 milliseconds is 50/1,000 of a second (or 5/100 if you prefer), the difference may seem insignificant. But near-instant communication is critical to key new 5G use cases, particularly those that fall under the umbrella of the Internet of Things.
Over the next decade, the arrival of 5G technology will create a lot of winners. In the short term, equipment manufacturers like Cisco Systems Inc. (Nasdaq: CSCO) and chipmakers like Qualcomm Inc. (Nasdaq: QCOM) will benefit the most.
But bigger, longer-term benefits will accrue to the telecom industry…
The Best Stocks to Buy for Long-Term 5G Profits