From the very first episode, I've dug "Mythbusters," the popular Discovery Channel TV series in which special-effects wizards Adam Savage and Jamie Hyneman used the scientific method to prove or "bust" urban legends, myths, rumors, movie scenes, and even current news stories.
Well, there's another sequence of myths making the rounds right now about one of the best stocks you can buy.
So, tongue firmly in cheek, I thought it might be instructive (and fun) for us try our hand at mythbusting, with me as the "host."
So here is the myth, broadly stated...
"Boeing will lose as much as $20 billion in aircraft deals as Trump pulls the United States out of the Iran nuclear pact... and that loss will clobber Boeing."
While I'm having fun "hosting" this "episode," I'm dead serious about a critical examination of these media claims to determine whether they're factual reporting... or yet another cluster of "media myths" aimed at The Boeing Co. (NYSE: BA).
There are three key reasons why this is so important:
Boeing is a longtime Private Briefing favorite and a dynamite outperformer, too. This stock has zoomed as much as 500% since I first recommended it to my subscribers at about $62 back in September 2011. Even after a pullback (before the Iran news broke), the stock is still at $344, a 455% gain - not including dividends.
I've seen these types of scare headlines before - directed at Boeing by journalists who are going for the drama of the disaster du jour, though they clearly don't "get it" in terms of what's really going on. And with each of these - the "Boeing Dreamliner Scare," for instance, and again more recently, with the Southwest Air Flight 1380 incident - those media folks were flat-out wrong.
And most important of all, we believe Boeing continues to be a great long-term growth play - which is why it's on Private Briefing's "Super 10" list of stocks to accumulate when prices go down.
With massive potential future gains on the line, let's investigate whether all the assertions of "catastrophic damage" to Boeing's top-line prospects hold water or not...
[mmpazkzone name="in-story" network="9794" site="307044" id="137008" type="4"]
The easiest way to do this is to run down and address, one by one, the claims currently making the rounds in the media.
MYTH: Boeing Has Orders with Iranian Carriers for $20 Billion in Jetliners
If you study the CNBC/Boeing chart we reproduced below (link to original report), you'll see listed orders for 110 jets from two different Iranian carriers. These were confirmed by Boeing.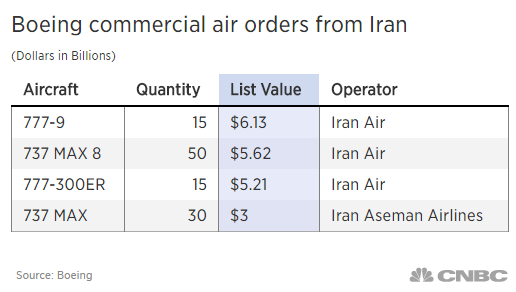 Additional orders for 30 more jets, split between two other carriers, have been reported (bringing the total number of orders to 140) but weren't confirmed by the jetliner giant.
Investing in Drones Will Be Like Investing in Smartphones in 2009: If you've thought of drones in military terms or just as toys, this is a wake-up call. Find out more...
Let's start with one key point: The so-called "List Prices" are just that - the price Boeing is asking for the jets. But that's not necessarily what it's getting.
You see, just like car companies, airplane-makers make deals, offer discounts, and create incentives that can affect the realized price. Also, key here is that we're not talking about $20 billion suddenly being taken away from Boeing: This is revenue that would have rolled in over a period of years, so it won't just clobber a venture that last year made $17.33 billion on sales of $93.4 billion.
MYTH: BUSTED
MYTH: Boeing Added These Iranian Orders to Its "Backlog"
The company ended the first quarter with a backlog of 5,800 jets, including more than 4,600 orders for its Boeing 737. Boeing said the Iranian jet orders were not included in its order book, however, meaning the "loss" of the order doesn't impact its backlog.
And even if it were true - if all 140 orders had been "finalized" - they would be but a percentage of Boeing's total order book.
MYTH: BUSTED
MYTH: Boeing's Defense Unit Can't Offset the Loss of the Jet Orders
We've talked for several years about the company's efforts to rebuild its defense business - an initiative that's getting results. It's getting healthier by the quarter, and those results could more than offset the loss of Iranian jet orders.
For instance, big Trump administration defense boosts and worries about some of the advanced fighter jets in America's arsenal are leading to upgrade contracts for the Boeing F/A-18 Super Hornet. There are 568 of those jets in the U.S. air fleets, so the upgrades could be lucrative - and run over the span of years.
What's more, Saudi Arabia and Boeing set up a defense business that's expected to have revenue of more than $22 billion by 2030 - a move that experts say was designed to help induce Washington to ditch the Iran deal and to soften the blow to Boeing.
MYTH: BUSTED
MYTH: Boeing's Efforts to Build Its Services Businesses Won't Help, Either

In fact, the company is adding some serious muscle to this segment of its operations. Boeing CEO Dennis Muilenburg has been on an epic shopping spree. Muilenburg's goal: triple sales at Boeing's fledgling service business to $50 billion within 10 years.
That initiative will have a huge impact on the company's revenue and profits, and therefore, its ability to buy back shares and boost its impressive dividend - all "triggers," or catalysts, that will boost its stock price.
Drones Are Going to Be Big - "$127-Billion-In-New-Wealth-For-Early-Investors" Big. See The Seven Reasons This Drone Company's Stock Is Set to Explode.
MYTH: BUSTED
MYTH: This Iran Problem Could Hurt Rival Airbus
While Boeing didn't include the Iranian jet orders in its order book, its European nemesis Airbus SE (EPA: AIR) did.
A listing of Airbus orders as of the end of April includes more than 100 airplanes on order by Iran Aseman Airlines and Iran Air. Those deals were worth as much as $18 billion.
Now, the European parties to the nuclear deal have said they'll endeavor to stick with the deal, so it remains to be seen whether Airbus' prospects suffer under any renewed European Union sanctions - or whether there will be "collateral damage" from renewed U.S. sanctions - but from an investment standpoint, the risk is there.
MYTH: NOT BUSTED
This brings us to the final "call" - the final decision on the flurry of media myths floating around that the pullout from the Iranian nuclear deal would have catastrophic implications for Boeing.
And there's only one conclusion to reach: Myth... Busted.
Boeing remains a great "Accumulate" stock for long-term players.
We're Ushering in a Brand-New Era of Moneymaking: A new age of easy money has arrived. And in today's chaotic market, this could be the perfect way to make enormous profits, each and every week. You could collect THOUSANDS of dollars from the markets just by pressing a single button on your computer - without touching a single stock (or stock option). For a limited time, we're revealing all the details with Money Morning readers. Find out more here.
Follow Bill on Facebook and Twitter.
About the Author
Before he moved into the investment-research business in 2005, William (Bill) Patalon III spent 22 years as an award-winning financial reporter, columnist, and editor. Today he is the Executive Editor and Senior Research Analyst for Money Morning at Money Map Press.