Jeff Bezos - CEO of Amazon.com Inc. (Nasdaq: AMZN) and the richest person in the world ($130,000,000,000) - dropped a subtle hint to shareholders about the future of the company.
And the mainstream media completely glazed over it...
On April 18, Bezos released his quarterly memo to AMZN investors. The media only paid attention to the fact that Amazon now has more than 100 million Prime subscribers worldwide.
No doubt, it's a huge deal. It was also the first time Bezos ever revealed Amazon's actual customer count.
But we found another figure hidden deep in the CEO's shareholder letter - one that revealed much more than Amazon's current state of enormity...
This number hints at which sectors Bezos intends to disrupt next...
Jeff Bezos Plans to Disrupt Every Sector
The number that caught our eye pertained to an employee program the company initiated in 2012. That's when Amazon began offering hourly employees with 12 months' work under their belts up to $12,000 in prepaid tuition to pursue certain college degrees.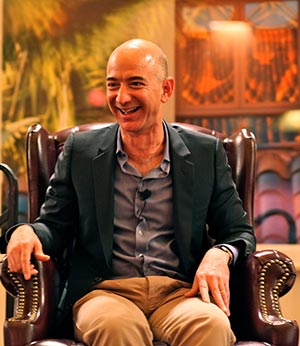 This initiative - called Career Choice - has since benefitted more than 16,000 Amazon associates, Bezos revealed last month.
And it gave workers the opportunity to pursue degrees in one of 40 fields, including:
Nursing
Aircraft mechanics
Dental hygiene
Medical Laboratory Science
Note that these four fields are not sectors in which Amazon is currently invested.
Not yet.
And it shows how Bezos isn't targeting just one industry. He's trying to disrupt every industry.
The specific coursework available to Career Choice enrollees isn't available for the public to see.
But that doesn't mean we can't extrapolate the program's true intent.
Most People Don't Know This About Bitcoin: A systems upgrade expected any day now could send Bitcoin to $100,000. Go here to see why Bitcoin's not dead... and how it could make you millions.
While Career Choice was launched six years ago as a way to "enable employees to follow their passion in other in-demand technical fields," the program doesn't just benefit the employees.
Essentially, it also allows Bezos to create and groom his own expert workforce in sectors his company hasn't yet disrupted.
Now we have an idea of what future markets Bezos has his sights set on.
All of them.
Money Morning Chief Investment Strategist Keith Fitz-Gerald saw this reality coming before Bezos dropped this hint.
And he offered several ways for investors to profit off the company's mass sector disruption.
Have a look...
Investors Can Put Their Money Alongside Amazon's
Keith recently dug deep into the deals Amazon made.
And he made the determination on April 2 - again, before Bezos' latest shareholder letter - that AMZN is indeed looking to disrupt the aviation world.
"Amazon doesn't invest in anything it can't use," Keith told Money Morning readers that day.
And according to strategic partnership deals the corporation has made with certain companies, Amazon apparently needs to use cargo planes.
Which makes these companies stellar "pick-and-shovel" plays, Keith says.
Have a look at each one so that you can, as Keith put it, enjoy the "best and most direct way to put your money alongside Amazon's"...
Breaking: Marijuana Legislation Sparks the Most Profitable Opportunity of 2018
$20.2 billion... that's the amount of money expected to pour into California's cannabis market following the state's Jan. 1 legalization of recreational marijuana.
Forget Nevada, Washington, or Colorado - even the marijuana industry in the entire country of Canada is about to be dwarfed by California's legalization.
In this crucial interview with pot stock expert Michael Robinson, you can learn the ins and outs of California's marijuana markets and get details on three tiny pot stocks expected to hand you the biggest gains.
Follow Money Morning on Facebook, Twitter, and LinkedIn.