The best marijuana penny stocks give you the opportunity to bank huge profits from a new, $10 billion-dollar industry with a small initial investment. Today, we're bringing you one of the best pot penny stocks you can buy right now…
Take Canopy Growth Corp. (OTCMKTS: TWMJF) for example. This Canadian pot stock soared 140.09% in just one year.
But finding stocks like these isn't easy.
Penny stocks are notoriously volatile, and often trade on over-the-counter markets, which are less regulated than the major exchanges. That makes it even more difficult to research the companies.
The good news is that we've done the heavy lifting for you by digging into the universe of marijuana stocks and finding companies with serious profit potential.
Collect a Colossal Payday Thanks to California's Legal Cannabis – Click Here Now to Learn How to Position Yourself for Windfall Profits
While marijuana penny stocks are still risky – Money Morning recommends that you limit your penny stock investments to 2% of your total portfolio – the one we've uncovered could soar.
In fact, this marijuana penny stock to watch is already operating in one of the next states that could legalize marijuana, which will be a major catalyst for the company…
Arizona Is on the Verge of Fully Legalizing Marijuana
Arizona already allows the sale of medical marijuana, but it could be opening up its laws to all forms of marijuana soon. And the company we're about to show you is well positioned to profit.
The company we're watching already has four operating medical marijuana dispensaries in Arizona. Plus, it plans to add four production facilities and 10 more dispensaries in four other U.S. states.
Thanks to sales of its cannabis concentrates and cannabis in March, this company's revenue reached $4 million for the first time.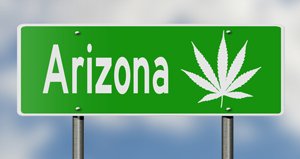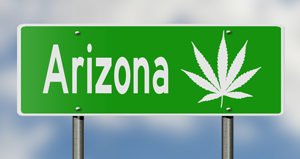 But there are much greater things in store thanks to favorable legislation on the horizon…
You see, there is currently a drive to open up Arizona to fully legalized cannabis. The state has proposed the Arizona Medical Marijuana Expansion Initiative, which could reach the ballot as soon as this coming November. This law would expand medical marijuana in The Grand Canyon State.
That would be great for this company, but it gets even better…
There is also the Arizona Marijuana Legalization Initiative, which proposes full legalization of cannabis use in the state for anyone age 21 or older. This could add another potential law that could end up on the ballot in November 2018.
And while full legalization in Arizona will be a boon to the company we're following, it's also not sitting around waiting for the laws to change.
This company has a 72,342-square-foot facility under production in Ontario, Canada, where marijuana will be fully legalized later this summer.
That ensures this company will benefit from the coming legalization boom whether Arizona votes for it or not.
According to one analyst, this stock could grow as much as 33% over the next year.
But that's way too conservative, especially if Arizona votes to fully legalize marijuana in November.
Full legalization could cause one of the best pot penny stocks to soar even more…
Legalization Makes This One of the Best Marijuana Penny Stocks to Buy