Our new list of best stocks to buy includes a handful of picks that are on track to double their shareholders' money - in three years, or even as little as 18 months.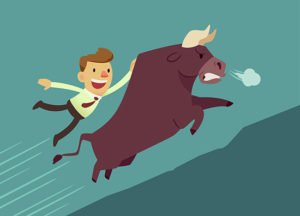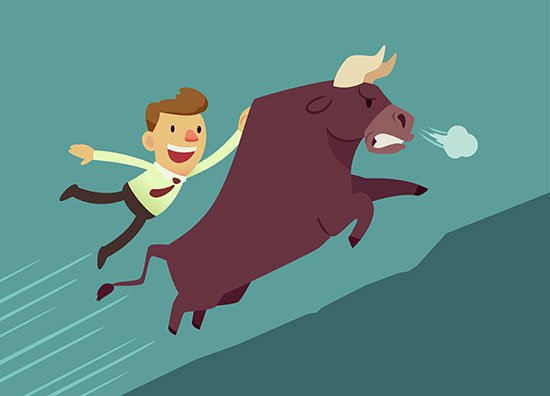 There are five new stocks to buy that we're sharing with you today:
A cloud IT company's share price has already risen 40% since October. But its sales and earnings haven't slowed down, and neither will its stock.
Marijuana legalization has created brand-new categories of in-demand products, and we've got the perfect pick to capitalize on it.
One company offers the reliability of gold combined with the versatility of cryptocurrencies - a great play for the coming gold bull.
We've got a mobile-gaming pick that might have been in the doghouse a couple years ago, but is back with a vengeance and delivering big profits.
Some people might be throwing shade at our last pick, but its performance is still stellar. Grab it before the share price doubles once again.
Now for our five latest best stocks to buy now...
Best Stocks to Buy Now No. 1: This "Profit Powerhouse" Will Double Your Money
Our first pick generates its profits from the simple fact that, in the 21st century, every company is a tech company.
Or at least, in order to be competitive, every company has to have a robust tech platform in its operations. And that platform is going to need IT support.
That's where ServiceNow Inc. (Nasdaq: NOW) comes in.
This Silicon Valley company has moved the IT department to the cloud. It offers low-cost, low-maintenance options to more big companies than anyone would care to count. More than 800 companies from the Fortune Global 2000 use ServiceNow products.
Aside from major corporations like The Hershey Co. (NYSE: HSY) and Diageo Plc. (NYSE: DEO), ServiceNow clients include giant institutions such as CERN, the European physics lab that employs 12,000 scientists, and New York City's 6,000-employee Department of Health.
Money Morning Defense and Tech Specialist Michael Robinson calls ServiceNow a "profit powerhouse." That's a well-earned title, considering its 198% growth in earnings per share (EPS) between 2015 and 2017. Analysts currently project another 94% of EPS growth in 2018 and 423% by 2021.
ServiceNow's cloud sales are growing at a rate 60% faster than those of the world's cloud leader, Amazon.com Inc. (Nasdaq: AMZN), showing just how elite this powerhouse is.
When Michael first recommended the stock in October, he said the share price could double in less than two years. Seven months later, it's already up 40%.
But Michael says there's still plenty of upside ahead for ServiceNow. In fact, now he's "doubling down" on his earlier prediction.
Even assuming a conservative earnings growth rate of 77% - just a third of its current average - Michael says this stock could double in value within the next 12 months.
So don't worry if you've missed its gains up to this point. ServiceNow is still one of today's fastest-growing stocks.
Best Stocks to Buy No. 2: This Company Is a Favorite of the New Generation of Marijuana Users
The gradual legalization of marijuana has had a strange effect among users: they're smoking less.
Specifically, dispensaries in California are pointing to growing demand for varieties of weed that don't involve smoking - especially vape cartridges and edibles.
These ready-made products are easier to come by now that marijuana is legal in some jurisdictions. And even though they cost two or three times as much as the equivalent amount of marijuana buds, customers are willing to pay the price.
That's because 1) these are healthier, more discreet options than smoking, and 2) they offer a "precision dose" for users who want to know exactly what they're getting.
Top Five: These tiny Canadian pot stocks are set to skyrocket. Click here...
A great way to play this trend is CannaRoyalty Corp. (OTCMKTS: CNNRF), which has three brands of marijuana products in the newly legal California market. These include Care by Design, which offers vaping cartridges, chocolate, and sublingual drops, and Soul Sugar Kitchen, which produces confections from gummy candies to peanut butter cups.
Video
Did Jeff Sessions Just Admit He Can't Stop Marijuana Legalization?
CannaRoyalty stock has already gained 120% over the last year. But that could just be the beginning of a long-term growth phase, considering that CannaRoyalty is based in Canada, where weed is set to be legalized in June. Michael says the market for edibles in Canada is expected to explode by 457%, to $5.69 billion, by 2021.
"I think we're ready for another run-up," Michael says about CannaRoyalty's share price.
This is still a speculative play in a budding industry. But analysts expect CannaRoyalty's balance sheet to hit a strong growth phase in the next year.
Between its strong presence in existing markets and the trend moving sharply in its favor, CannaRoyalty is one of the best bets you can make on legal weed.
Best Stocks to Buy No. 3: This Company Brings Gold into the Cryptocurrency Era... Just in Time for the Bull Market
[mmpazkzone name="in-story" network="9794" site="307044" id="137008" type="4"]
While the cryptocurrency craze reached a fever pitch late last year, traders got a heavy dose of reality when Bitcoin fell from its $20,000 peak in December to its current level near $7,500.
There's still value in cryptocurrency trading. But you don't hear much talk about Bitcoin as a "safe-haven" investment any more.
The real safe haven is exactly what it was 5,000 years ago. It's not the most exciting investment to watch on a day-to-day basis - its price is nearly the same as it was five years ago. But in tough times for the market and the economy, it's the place to be.
We're talking about gold.
And it's all the more important to have in your portfolio now that Money Morning Resource Specialist Peter Krauth sees a bull market for the yellow metal on the way.
But while gold's long history is a source of security, the process of buying and owning it can be a hassle.
Thanks to Goldmoney Inc. (TSE: XAU), that's changing.
Goldmoney, based in Canada and the United Kingdom, maintains insured vaults in five different countries holding gold, silver, platinum, and palladium.
Customers can sign up for a Goldmoney account right through its app for iOS and Android phones. From there, they can buy, sell, transfer, and redeem precious metals with a simple swipe.
They can even request a MasterCard to link to their account and make purchases with their gold as if it were cash.
Goldmoney doesn't ignore the cryptocurrency market either. Customers can trade and hold Bitcoin and Ethereum in their accounts, as well.
Goldmoney's sales shot up by 102.6% from 2016 to 2017, reflecting the growing popularity of this type of service. In light of more recent developments with the stock and cryptocurrency markets, the firm is poised for even more growth.
"Goldmoney is positioning itself to become the preeminent 'one-stop' precious-metals-backed savings, storage, and exchange market," Peter says. "This is the right move to make at a time when precious metals are entering a renewed bull market."
Best Stocks to Buy No. 4: This Gaming Company Is Back from the Dead and Ready to Double in Value
Not every great stock was always a great stock. Our next one had a few troubled years when earnings had turned negative. But now it has reestablished itself as a top pick in its field.
The company's misfortune came despite being in one of the most reliable growth industries of our time: mobile gaming.
According to research firm Newzoo, 2.3 billion gamers will spend $137.9 billion on games in 2018. And mobile gaming has crossed the 50% threshold in market share after 10 straight years of double-digit growth.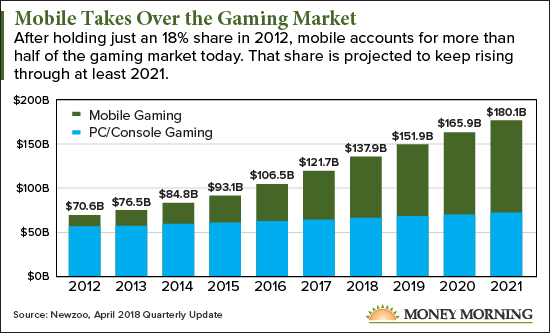 But mobile-gaming company Glu Mobile Inc. (Nasdaq: GLUU) made some bad bets, including the high-profile flop of Katy Perry Pop in 2015.
Earnings plunged. The stock fell more than 75% in 16 months.
To the company's credit, though, it recognized that it needed new leadership. It brought on Nick Earl, formerly of Kabam and Electronic Arts Inc. (Nasdaq: EA), in 2016.
Earl righted the ship almost immediately. Revenue shot up 43% from 2016 to 2017. EPS turned positive again in the most recent quarter, and according to FactSet, are projected to rise 136% between 2018 and 2020.
Since the turnaround, the stock has jumped back, too - not quite to its pre-collapse levels, but it is up nearly 200% since early 2017.
According to Money Morning Chief Investment Strategist Keith Fitz-Gerald, that could be just the beginning.
The First Step on Your Road to Millions Starts Here: All you need is a computer or smartphone and just 10 minutes of "work" to potentially put $1 million in your bank account faster than you ever dreamed. Read more...
Based on its earnings forecasts and P/E ratio, Keith calculates that GLUU's share price could rise to $10.87 - nearly double its current price of about $5.50 - in the next year and a half.
This is another speculative play, given the fickle nature of the industry. But given the new leadership and the strong performance we're seeing from GLUU now, this looks like a great way to capitalize on a gaming industry that captivates a third of the world's population.
"Don't dally, though," Keith says. Institutional investors have started to buy up shares in large bundles. This one might not be a deal for much longer.
Best Stocks to Buy No. 5: This "Fab Five" Tech Stock Is as Good as Ever... Just Like We (Correctly) Predicted Three Years Ago
One of the last stocks you might expect to see on this list is Facebook Inc. (Nasdaq: FB).
The social media giant is facing unprecedented scrutiny regarding its handling - or, potentially, mishandling - of user data. It has understandably caused many investors to shy away.
Michael was skeptical of the stock too in the days before Mark Zuckerberg was set to testify before Congress. "Frankly, I thought the billionaire wunderkind would get hoisted on his own petard," Michael wrote.
But between Zuckerberg's calm, forthright performance in Washington and the fact that Facebook crushed its earnings report in April, Michael has a sober new take: "Facebook stock is going to survive this bout of controversy just fine."
In fact, Michael is going even farther than that. He says Facebook's share price is likely to double in the next three years.
It's not the first time he's made a prediction like this. Back in February 2015, Facebook was being written off by much of Wall Street for its big-money acquisitions and for its seeming lack of seriousness. But Michael said at the time that the stock would double by 2018.
In fact, it hit that target by July 2017.
While the latest round of bad publicity has cost Facebook some users, it appears that it will be a tiny fraction of the platform's 2.2 billion user base - and likely the ones who were the least engaged in the first place.
More importantly, Facebook just boosted sales in its most recent quarter by a stunning 49%, totaling $12 billion.
EPS came in at $1.69, beating expectations by 25% and growing 63% from a year earlier.
With earnings growing faster than sales, Facebook is getting more profits out of its existing user base. In other words, the company is not as dependent as others on a growing user base - though it will likely continue to grow anyway after this news cycle passes.
"Despite all the controversy, Facebook is simply on fire," Michael says. Even if we assume Facebook's earnings growth rate will drop to half its current level, we can still expect the stock to double in 18 months - but he's calling for it to happen in 36 months, to be on the conservative side.
"When the stock does hit my target, you can be sure I'll be boasting about it," says Michael,
"not just here, but with a post on Facebook."
Four Backdoor Plays on the Largest IPO Ever
The world's most profitable company, Saudi Aramco, is about to IPO.
Valued at $2 trillion, it's going to be four times larger than the four previous largest U.S. IPOs combined.
But buying the IPO itself will get you nowhere.
Instead, watch this interview with Money Morning Global Energy Strategist Dr. Kent Moors to see how four backdoor plays on the world's largest IPO could see you make a total of 1,329% before the IPO even lands...
Follow Money Morning on Facebook, Twitter, and LinkedIn.
About the Author
Stephen Mack has been writing about economics and finance since 2011. He contributed material for the best-selling books Aftershock and The Aftershock Investor. He lives in Baltimore, Maryland.