Tech stocks have been having a field day; they helped propel the tech-centric Nasdaq Composite Index to an all-time high this morning. It's up more than 10% for the year, easily outpacing the other major market averages.
With so much really good news, it's easy to get caught up in the headlines that tend to focus on the same mega-cap stocks. You know what I mean: It's all about the Amazons and Googles and Apples of the world.
But there's much more to the tech rally than the bright shiny objects the media is hung up on.
In fact, my "Best in Breed" (BIB) model has identified a segment - and the strongest stocks within that segment - that is outperforming the high-profit broader tech market.
Yet... it's being largely ignored.
I'm going to fill you in today and give you the one-stop way to cash in, plus a way to "juice" what promises to be impressive profits.
And tomorrow, I'm going to give you an even more lucrative way to leverage this incredible performance.
For now, let's take a look...
[mmpazkzone name="in-story" network="9794" site="307044" id="137008" type="4"]
The Numbers Don't Lie - and They're Great
Since the end of 2017, the SPDR S&P Biotech ETF (NYSE Arca: XBI) is up 13.5%, well above the Nasdaq's 10.3% and about four times more than the S&P 500's paltry 3.4%.
XBI's chart clearly reflects that strength. But more importantly, it also reveals why I'm convinced this outperformance will continue.
RULEBREAKER: Chris Johnson, a true "One-Percenter" and insider, just revealed a new strategy for executing night trades that could set you up for potential $850, $2,250, or $6,775 paydays - overnight. Click here.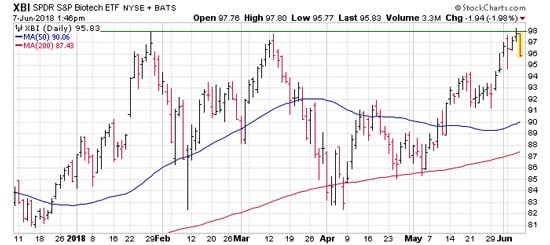 I'm keying in on a couple things in this chart.
First, the 50-day moving average has reversed into an uptrend and continues to stay above the 200-day moving average. The last time a reversal higher happened was at the beginning of the year, when XBI was just starting on a 22% rally.
Second, the ETF hit an all-time high on Wednesday that took out potential double-top resistance at the January and March peaks. Even though XBI is pulling back as I write, establishing a new high above staunch resistance underscores the sector's strength.
Digging down using my BIB model, 70% of XBI's component stocks are trading above their respective 50-day moving averages. This is comparable to what we see for the PowerShares QQQ Trust ETF (NYSE Arca: QQQ), the proxy ETF for the Nasdaq 100.
In contrast, 65% of SPDR S&P 500 ETF (NYSE Arca: SPY) stocks are trading above their 50-days. Also, 18% of XBI stocks are making new annual highs, compared to 25% for QQQ and 15% for SPY.
Finally, and most importantly, XBI is the most shorted group of stocks, according to my proprietary research. This indicates that the sector has a high probability of seeing continued gains from short coverings.
The difference between XBI and QQQ/SPY short interest is... stark.
The XBI weighted ratio stands at 8.4, while it's just 2.4 for QQQ and 2.9 for SPY. As any reading above 6.0 suggests a strong chance for a short squeeze, my model predicts that XBI has a much better chance of continuing its strong performance compared to the broader market.
My BIB model is screaming right now. It indicates that holding XBI now is the best way to sustain gains from the current rally.
For those who want a little more bang for the buck, I suggest taking a LEAPS - that is, buying a "long-term equity anticipation security." I really like the long-term XBI Jan. 18, 2019, $100 call (XBI190118C00100000) to leverage XBI's outperformance.
It's undeniable - XBI fits the bill perfectly as a BIB buy right now. It offers extreme outperformance potential.
But like I said earlier, tomorrow I'm going to name the two powerhouse stocks that are actually helping propel XBI higher - let's call them "Best of the Best in Breed."
Talk to you tomorrow.
A Famous Wall Street Firm Paid This Guy $20 Million to Share His Secrets (but He Kept THIS ONE Under Wraps)
He never worked at a fancy investment bank. And he never graduated from college. In fact, he spent much of his career as a customer service rep at an Atlanta Home Depot.
But he became so good at beating the stock market's top traders, he was paid $20 million to divulge almost all of his secrets.
However, he kept his most powerful secret quiet. And today, live on camera, he's agreed to share it.
Watch him officially become $1,050 richer in 15 seconds! And then $940 richer in 11 seconds... $1,260 richer in eight seconds... and $988 richer in seven seconds!
Even better, you'll discover how you can do this all yourself. It's easy!
Click here to get the details...
Follow Money Morning on Twitter, Facebook, and LinkedIn.
About the Author
Chris Johnson is a highly regarded equity and options analyst who has spent much of his nearly 30-year market career designing and interpreting complex models to help investment firms transform millions of data points into impressive gains for clients.
At heart Chris is a quant - like the "rocket scientists" of investing - with a specialty in applying advanced mathematics like stochastic calculus, linear algebra, differential equations, and statistics to Wall Street's data-rich environment.
He began building his proprietary models in 1998, analyzing about 2,000 records per day. Today, that database, which Chris designed and coded from scratch, analyzes a staggering 700,000 records per day. It's the secret behind his track record.
Chris holds degrees in finance, statistics, and accounting. He worked as a licensed broker for 11 years before taking on the role of Director of Quantitative Analysis at a big-name equity and options research firm for eight years. He recently served as Director of Research of a Cleveland-based investment firm responsible for hundreds of millions in AUM. He is also the Founder/CIO of ETF Advisory Research Partners since 2007, noted for its groundbreaking work in Behavioral Valuation systems. Their research is widely read by leaders in the RIA business.
Chris is ranked in the top 99.3% of financial bloggers and top 98.6% of overall experts by TipRanks, the track record registry of financial analysts dating back to January 2009.
He is a frequent commentator on financial markets for CNBC, Fox, Bloomberg TV, and CBS Radio and has been featured in Barron's, USA Today, Newsweek, and The Wall Street Journal, and numerous books.
Today, Chris is the editor of Night Trader and Penny Hawk. He also contributes to Money Morning as the Quant Analysis Specialist.