Last week, I told you how my "Best in Breed" (BIB) model identifies sectors - and the strongest stocks within those sectors - that may not be on everyone's radar.
It's evident in this "page-view" world that, unless your name is Amazon Inc. (Nasdaq: AMZN), Facebook Inc. (Nasdaq: FB) or Netflix Inc. (Nasdaq: NFLX) or your market cap is heading to the magical $1 trillion level, you're going to have a tough time getting noticed.
I beg to differ.
It's often the overlooked that outperform. And if you can jump aboard before the stock or sector grabs headlines, you can ride the ensuing buying wave to even greater profits.
However, the BIB model takes this process one step further. Using proprietary indicators, it identifies sectors that are up-and-comers. They may not be outperforming the broader market quite yet, but strength is brewing.
My model looks inside the sector at individual company strength trends. When I see several of my indicators pointing in the same direction, I know the sector is on the cusp of breaking out.
And getting aboard at that point - before the outperformance - gives me even greater profit potential.
Last week, I told you how the biotech sector was outperforming the best of the major market averages - the Nasdaq and small caps.
This week's sector can't make such a claim... yet. In fact, it's lagging the performance of the S&P 500 so far this year, which itself is trailing far behind tech and the small caps.
But that doesn't mean we can't still make a killing...
[mmpazkzone name="in-story" network="9794" site="307044" id="137008" type="4"]
When It Comes to This Sector, I Prefer to Look Ahead
The sector in question is healthcare, of course, as represented by the Health Care Select Sector SPDR ETF (NYSE Arca: XLV), a large-cap fund populated with well-known names such as Johnson & Johnson (NYSE: JNJ), Pfizer Inc. (NYSE: PFE), and Merck & Co. Inc. (NYSE: MRK).
Let's get it out of the way up front: XLV hasn't been impressive in 2018. It's up about 3.5% for the year, compared to the S&P 500's 4.3%.
Want to Make Money? Here's how to make over $100,000 starting with a small amount of money... rolling stocks over and over again. Click here for more about this proven investing method...
But that's old news. That's looking backward. My strategy is to look ahead.
Here's why I like XLV in the next month or so.
My BIB model tells me that 73% of its component stocks are now trading above their respective 50-day moving averages, compared to last week's 63%. That was one of the largest increases among the ETFs the model tracks.
Digging further, I looked at XLV stocks making three-month highs. More than a quarter of the ETF's components hit these highs, a number that has been on the rise. That tells me that more stocks are on the verge of or amid intermediate-term breakouts, a sign of technical strength for the overall sector.
Speaking of the technicals, let's take a look at XLV's chart.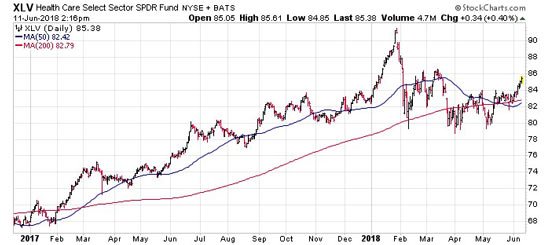 Since May 29, the ETF has enjoyed a strong rally of nearly 5% off the support of its 50-day moving average. In addition, the 50-day is now pointed higher after slumping for two and a half months.
More importantly, the 50-day is poised to cross above the 200-day moving average in a technical formation known as the "golden cross." The last such cross (circled below) occurred in March 2017, after which the XLV outpaced the broader market for six months.
With momentum at its back, the short-term target for XLV is the February/March high just north of $86. Should the component outperformance continue, the all-time high - just below $92, reached in late January - would be in reach.
Those looking to leverage the expected intermediate-term XLV breakout should look at the Sept. 21, 2018, $85 call for $2.75 or less.
Just as I did last week, tomorrow I'll be back with two stocks that my BIB system highlights as the "best of the best" in XLV, along with trade suggestions. Tune in tomorrow.
Five Days in the Life of a Night Trader...
He's rich. He's influential. And his lifestyle is the envy of the investing world...
On Wednesday, after the markets closed, he hit a few buttons on his smartphone.
On Thursday, he went golfing.
On Friday, his entire portfolio was up 83%.
On Saturday and Sunday, he stayed at a five-star resort in the Inner Harbor.
On Monday, he checked his account again and saw 102% additional total gains.
In all, the Night Trader saw 217% total gains in less than a week. And now, he's sharing his strategy for the first time ever. Go here now...
Follow Money Morning on Twitter, Facebook, and LinkedIn.
About the Author
Chris Johnson is a highly regarded equity and options analyst who has spent much of his nearly 30-year market career designing and interpreting complex models to help investment firms transform millions of data points into impressive gains for clients.
At heart Chris is a quant - like the "rocket scientists" of investing - with a specialty in applying advanced mathematics like stochastic calculus, linear algebra, differential equations, and statistics to Wall Street's data-rich environment.
He began building his proprietary models in 1998, analyzing about 2,000 records per day. Today, that database, which Chris designed and coded from scratch, analyzes a staggering 700,000 records per day. It's the secret behind his track record.
Chris holds degrees in finance, statistics, and accounting. He worked as a licensed broker for 11 years before taking on the role of Director of Quantitative Analysis at a big-name equity and options research firm for eight years. He recently served as Director of Research of a Cleveland-based investment firm responsible for hundreds of millions in AUM. He is also the Founder/CIO of ETF Advisory Research Partners since 2007, noted for its groundbreaking work in Behavioral Valuation systems. Their research is widely read by leaders in the RIA business.
Chris is ranked in the top 99.3% of financial bloggers and top 98.6% of overall experts by TipRanks, the track record registry of financial analysts dating back to January 2009.
He is a frequent commentator on financial markets for CNBC, Fox, Bloomberg TV, and CBS Radio and has been featured in Barron's, USA Today, Newsweek, and The Wall Street Journal, and numerous books.
Today, Chris is the editor of Night Trader and Penny Hawk. He also contributes to Money Morning as the Quant Analysis Specialist.