Editor's Note: "It's time to double down - or even triple down - on your cannabis investments!" Read more...
Marijuana stocks are some of the best investments to make, with legal sales in North America expected to skyrocket from $10 billion in 2017 to $24.5 billion by 2021.
That's a 145% increase in just four years.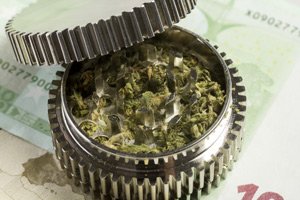 Of course, finding the best cannabis stocks to fit in every portfolio isn't easy...
There are lists out there of up to 227 marijuana stocks to invest in.
We want to make it simpler and only focus on three pot stocks cannabis experts believe should be in your portfolio.
Remember, always do your own research to make sure a stock passes your investment criteria.
Video
Did Jeff Sessions Admit He Can't Stop Marijuana Legalization?
The price swings for cannabis stocks can be volatile because marijuana is still illegal under federal law.
However, U.S. President Donald Trump may support a bill that protects states that legalized marijuana. That means no matter how much Attorney General Jeff Sessions hates marijuana, he can't go against POTUS' wishes.
That's why we had to make sure you saw these three picks today, before sales reach $24.5 billion and the rest of the market drives these prices up...
The Top 3 Marijuana Stocks for Every Portfolio for 2018
[mmpazkzone name="in-story" network="9794" site="307044" id="137008" type="4"]
To help us narrow down the best pot stocks to own, we turned to cannabis expert Wil Ralston.
He is the president of SinglePoint Inc. (OTCMKTS: SING), a cannabis and technology holding company. SinglePoint specializes in acquisitions of small- to mid-sized companies, with an emphasis on mobile technologies and emerging markets.
With that sort of focus on the cannabis industry, it's no wonder Ralston is plugged in to the best profit opportunities.
And it's no wonder he's keying in on two companies we've been recommending as backdoor marijuana plays...
"From Scotts Miracle-Gro Co.'s (NYSE: SMG) investment in cannabis agriculture to Microsoft Corp.'s (Nasdaq: MSFT) partnership with KIND, we're seeing traditional blue-chip companies getting involved in the industry with increasing confidence. As individual states continue to legalize cannabis, we'll likely see this trend continue. Anyone interested in investing in these companies is best served keeping abreast of news developments and watching the almost inevitable growth that occurs for companies willing to take the leap into the cannabis space," Ralston said.
We provided all the details on why SMG and MSFT are the top "pick-and-shovel" plays in the cannabis industry on March 8, and it's good to see Ralston is watching them too.
Pick-and-shovel plays profit from the cannabis industry without selling marijuana directly.
That makes them less risky to own.
The next person we spoke to about backdoor marijuana investments was Frank Lane. He's the president of CFN Media Group, a leading creative agency and media network dedicated to legal cannabis.
And because of upcoming legalization in Canada, you can't afford to miss what he told us...
"Because marijuana is not federally legal in the United States, access to capital remains elusive for U.S. cannabis companies, especially those 'touching the plant.' Many have opted to access capital north of the border, where cannabis is federally legal. Cronos Group Inc. (Nasdaq: CRON), a Canadian-based cannabis producer, through its investments, was able to list on the Nasdaq recently because it's not breaking any U.S. federal laws."
Cronos Group is an investment firm that invests in companies either licensed or seeking a license to produce medical marijuana in Canada.
Because the firm does not "touch" cannabis directly, as Lane pointed out, it was able to list shares to the public on Feb. 27 for $8.24 per share.
And with full marijuana legalization launching in Canada by September 2018, now is the best time to get in before the CRON stock price really takes off.
Cronos owns Peace Naturals, a company that is licensed to sell medical marijuana and cannabis oil in Canada.
It also owns Original BC, another company licensed to sell medical marijuana in Canada.
When the cannabis boom takes off up north, Cronos is ready to profit.
Test Your Wealth-Building IQ
Q: Name the four cannabis stocks that could make you $1 million richer in 2018.
A: Go here to learn how to get the answer...
Believe it or not, cannabis stocks have delivered extremely rare profits of up to 135,000% in previous election years.
That's enough to turn a $1,000 investment into more than $1.3 million.
This free video reveals 16 reasons why cannabis stocks could post incredible profits this election year... plus the stocks destined to lead the pack.