As we've seen, one of the most powerful advantages of my proprietary "Best in Breed" system is that it not only finds hard-charging companies, but entire "under-loved" sectors on the verge of explosive gains as well.
The BiB screen flashed healthcare for yesterday, and I sent everyone a note to let them know to dive in.
But the BiB's not done – not by a long shot.
There's still lots of upside opportunity here, in these two specific buys…
These Companies Are Leading the Sector Much Higher
Eli Lilly and Co. (NYSE: LLY), which has a 2.5% weighting in the XLV ETF I showed you yesterday, is looking really good right now.
Lilly made the newswires this morning, announcing that it was scrapping late-stage trials of an experimental Alzheimer's drug they were co-developing with AstraZeneca Plc. because it wasn't meeting treatment goals.
Yet the stock has hardly suffered, trading near breakeven in early afternoon trading.
Renegade Investment Expert: "It's time to double down – or even triple down – on your cannabis investments!" Read more…
Since dipping to a three-year low on Feb. 9, Lilly has gained an impressive 16%, while the XLV has managed a 7% advance. The move has the stock trading above its 50-day and 200-day moving averages, which are both pointed higher.
What's more, these trendlines are poised to form a bullish "golden cross" in which the 50-day moves above the 200-day. The last time that happened was in February 2017, in the middle of a monster 35% rally that spanned five months.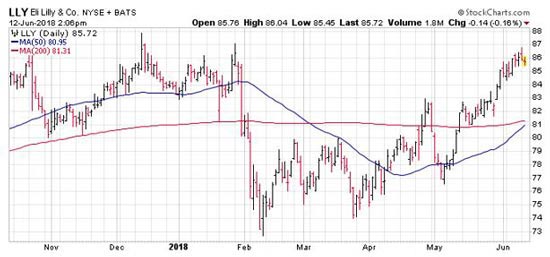 While on the low side, short interest increased 20% last month, indicating that there could be more potential for a short squeeze should the current rally continue.
Taking a longer-term view, the stock has gained ground for four straight months after bouncing off its 50-month moving average, which provided perfect support in late 2016. The last time Lilly closed a month below this trendline was in late 2011.
NINE LITTLE WORDS that could make you up to $1 million richer this election year. Click here…
With all signals pointing toward more upside, I'm targeting a move to $90, just above the October/December highs. Such a move could yield a double by playing the Aug. 17, 2018, $85 call.
Next on our Best in Breed healthcare list is Express Scripts Holding Co. (Nasdaq: ESRX), a St. Louis-based pharmacy-benefits management company. Express Scripts comprises 1.4% of XLV.
Like Lilly, Express Scripts has more than doubled the performance of XLV off the February bottom, rising around 15%. More recently, the stock has advanced 18% in the past five weeks, using the 200-day moving average for support.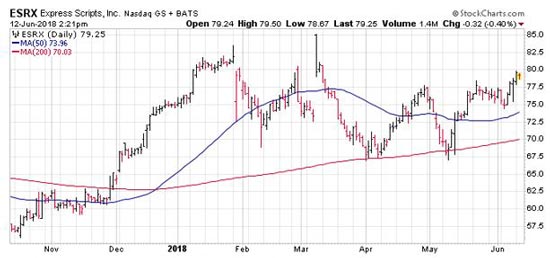 Note in the chart that the 50-day is now riding higher after a two-month slide. The last time the 50-day turned higher was in December, as Express Scripts was in the beginning stages of a two-month rally that covered more than 35%.
As with Lilly, Express Scripts short interest is on the low side. But the number of shorted shares spiked 24% in the latest reporting period after a yearlong decline.
Finally, analysts are cool toward Express Scripts despite its recent chart success. Just seven of 20 covering analysts rate Express Scripts a "Buy," a configuration that should yield upgrades as the stock continues its advance.
My intermediate-term target for Express Scripts is the two-year high at $85, reached in March. You can leverage this expected move with the Aug. 17, 2018, $80 call.
Best in Breed has identified other under-the-radar sectors that you should have on your watch list. Stay tuned for more.
While You Sleep, He Executes Night Trades…
Last Wednesday, the Night Trader infiltrated the markets at 9:30 p.m. The next time he checked his account on Friday, his entire portfolio went up 83%.
He then spent the weekend at a five-star hotel. And on Monday, he saw an additional 102% total gain in his account.
That's 185% total gains in two trading days (all without using a single option).
Once you see how the Night Trader makes money, your life will never be the same again. Go here now.
Follow Money Morning on Facebook, Twitter, and LinkedIn.
Join the conversation. Click here to jump to comments…
About the Author
Chris Johnson is Quantitative Specialist for Money Map Press. He's obsessed with building and perfecting mathematical models that allow him to predict, with startling accuracy, the direction of the markets, entire sectors, and individual securities. For the last year, he's been researching and building a new system that lets him move swiftly in and out of the hottest stocks in the market for life-changing gains - entirely on his own terms. The results of his newly-minted Night Trader system are nothing short of amazing.