Bitcoin prices fell another 4.4% on Wednesday morning after a damning report indicated that prices were artificially inflated in 2017.
A University of Texas professor known for flagging suspicious trading activity argues that Tether was used to fuel Bitcoin's record-high price last year. Tether is a "stable currency" that is supposed to be 100% backed by fiat that's held in reserves.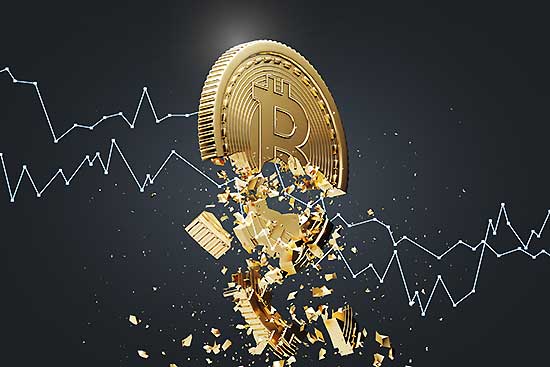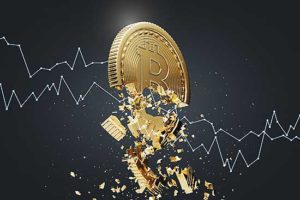 The academic suggests that when Bitcoin prices dropped, entities associated with the crypto exchange Bitfinex used Tether to purchase Bitcoin.
Bitcoin is currently trading at a four-month low.
Here is a recap of the top five cryptocurrencies by market cap as of 11:30 a.m. EST:
| | | | |
| --- | --- | --- | --- |
| Cryptocurrency | Market Cap | Price | Change (24h) |
| Bitcoin (BTC) | $110,866,642,803 | $6,486.82 | -4.40% |
| Ethereum (ETH) | $47,581,109,252 | $475.58 | -9.68% |
| Ripple (XRP) | $20,896,497,620 | $0.53 | -8.31% |
| Bitcoin Cash (BCH) | $14,514,262,728 | $844.77 | -8.85% |
| EOS (EOS) | $8,813,836,370 | $9.84 | -9.39% |
Now, here's a closer look at today's Money Morning cryptocurrency insight, the most important cryptocurrency updates you need to know…
Money Morning Cryptocurrency Insight of the Day
Bitcoin prices have been very volatile in 2018, but a cryptocurrency guru has a bold Bitcoin price prediction.
Most People Don't Know This About Bitcoin: A systems upgrade expected any day now could send Bitcoin to $100,000. Go here to see why Bitcoin's not dead… and how it could make you millions.
From today's prices of $6,486.82, he expects BTC prices could climb to $100,000.
Here's everything you need to know about this bold price prediction.
The Top Cryptocurrency Stories for Monday
Bitcoin is facing a lot of pressure in the wake of the Tether report. This latest factor is a potential hammer to the market, one that could press the price down lower. In fact, Onchain Capital founder Ran Neu-Ner said on CNBC that Bitcoin is likely to fall to roughly $5,900 in the near term. But the executive isn't blaming exchanges or other ongoing regulatory pressures for the potential decline. He believes that Bitcoin is facing demand problems that will eventually balance out.
Think you have what it takes to run a cryptocurrency fund? According to Fidelity, the brokerage is seeking a new manager to run a fund it launched last year. Recently, the personnel operating the fund departed the company. Fidelity has been facing a string of departures as blockchain experts in the firm have been moving on to more lucrative opportunities at startups and other financial firms.
South Korean exchange Coinrail may have had roughly $40 million in cryptocurrency stolen, marking another event that has rattled investor confidence. This morning, a local media outlet in South Korea wrote that several banks had reported suspicious transactions at the exchange months before the hacking event. The firms said that they had stopped providing financial services to Coinrail.
The Crypto Party Is Far from Over: Bitcoin is expected to undergo a massive upgrade – and it could kick off a price surge all the way to $100,000. Cryptocurrency expert Michael Robinson has put together a special report on a unique strategy that could help you pocket one windfall after another not just on Bitcoin, but on all the cryptos he's following now. To get step-by-step instructions on how you could become the next crypto millionaire, click here now…
Follow Money Morning on Twitter, Facebook, and LinkedIn.