One overlooked sector I've been keeping track of – and have been wildly bullish on – for years now is senior housing. So I was hardly surprised to hear about the sector's biggest merger news in years this week…
I'm talking about private equity behemoth KKR & Co. LP (NYSE: KKR) buying Envision Healthcare Corp. (NYSE: EVHC) for $5.7 billion in cash, with the total deal value adding up to $9.9 billion including debt. This marks one of the largest leveraged buyouts of 2018.
Again, this isn't a shock to those of us who pay attention to what the private equity folks are doing with their funds. Despite the bad rep that private equity firms sometimes get, their activity can often point to the direction of profits.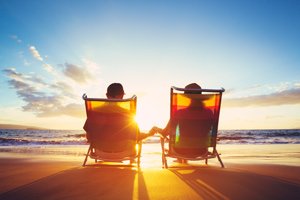 And they're currently pointing to one emerging trend set to hand three of the best real estate investment trusts (REITs) – and their investors – a steady stream of profits over the next two decades.
Before I show you the three best REITs to own today, here's the explosive trend…
We're Going to Get Our Share of Father Time's Income
Included in KKR's shiny new purchase are 25,000 medical professionals across 1,800 clinics in 45 states, but even more relevant for the REITs I'm going to show you is the 264 surgery centers that do what I like to call "in-and-out surgeries."
These centers are becoming increasingly popular for the simple reason that no one wants to spend several days stuck in a depressing hospital room getting bed sores unless they have to.
Must See: This method may be the only way in history to turn a small sum of money into $100,000 without batting an eye. Read more…
At these in-and-out centers, patients can receive minor surgeries and procedures that have them fixed, sewed up, and home by lunchtime. It's more efficient and less expensive for insurance companies, not to mention doctors, and patients don't have to spend as much time eating horrible food and wearing those backward robes with their butts hanging out.
Over the past few years, KKR has been very active in the healthcare sector, because it understands that the aging population trend is key to scoring long-term profits. After all, getting older requires fixing things that break all the time and paying the bills for a lifetime of bad habits.
Right now, almost 50 million Americans are over 65, and that's set to grow to nearly 80 million by 2035, according to the Census Bureau. An aging population will lead to more money spent on doctors, nursing homes, and fun things like dialysis and colonoscopies.
This is a trend that can't be exhausted or stopped by some new invention. Father Time will always make the most money.
Healthcare companies just take a cut of his income.
Of course, there's the overblown concern that the growing senior citizen population will slow economic growth. Fewer people working means less economic productivity, and we've already seen that scenario play out for a couple of decades now in Japan.
What can we do about it? Not one damn thing.
It's not our job to worry about it, either. Our job is to figure out how to make enough money from this trend that we don't need to worry about GDP, CPI, and other boring economic acronyms down the road.
Here are three REITs that could help us get there…
The 3 Best Healthcare REITs to Own Right Now
Join the conversation. Click here to jump to comments…