Solar power's time has come, and Chinese solar stocks could be your ticket to cashing in on these once-in-a-lifetime profits.
That's why we're showing Money Morning readers exactly how to do it by revealing the best Chinese solar stock you can buy.
We'll show you the solar stock to buy in a second, but we want to make sure you also know about the incredible growth ahead for solar energy...
China Leads the World in Renewable Energy Investment
China is dominating the rest of the world when it comes to solar power, and it's not going to let up anytime soon.
In fact, one estimate says China solar energy production could skyrocket 700% by 2035. Not only is that entirely believable, but it might actually be too conservative.
Want to Make Money? Here's how to make over $100,000 starting with a small amount of money... rolling stocks over and over again. Click here for more about this proven investing method...
You see, the Chinese government's investment in renewable energy totals more than that of the other top 10 countries combined. China has invested $126.1 billion in renewable every. The United States, the second-largest renewable investor, has only put $40.5 billion toward renewables.
In other words, China is investing in renewable energy at more than three times the rate of the United States, its next-largest competitor.
Japan, the third-largest renewable investor, has put just $13.4 billion in investment toward renewable energy.
And that level of investment is paying dividends for China's solar industry.
Back in 2016, China committed to creating 105 gigawatts worth of solar energy by 2020 as part of its five-year plan. That ambitious commitment required a 45% yearly growth rate for China to meet its goal.
But China shattered that goal in less than two years.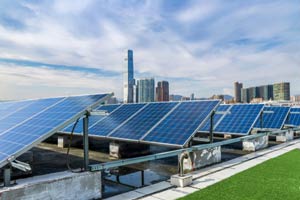 Last year, China produced 112 gigawatts of solar energy. And the country isn't slowing down.
By 2020, the Chinese government has committed to spending $360 billion on renewables. Among the projects being funded are innovative floating solar farms and a plant with solar power that, at $151 million in costs, could provide power to almost 100,000 houses.
China's ambitions are creating a hugely profitable opportunity for investors who know where to look.
China realized it can't remain reliant on coal forever, especially as China's cities are mired in smog and pollution, while solar power is entirely clean and just as cheap as coal.
Considering China is the world's biggest user of electricity, shifting even a small fraction of power generation from coal to solar will create massive demand.
China leads the world in energy consumption, at 5.9 kWh worth of electricity every year. That amount is 50% higher than the United States' 3.9 kWh consumption.
Currently, solar power is responsible for just 5% of China's electricity generation, and as mentioned, coal is responsible for nearly 60%. If half the country's electricity is converted to solar, the Chinese solar industry will skyrocket. That's why Wood Mackenzie is predicting China's solar production will soar 700% by 2035.
It could go even higher if China replaces more of its coal-powered plants with solar energy.
That also means you can invest in the best solar stock on the planet and still be getting in early...
Our Top Pick for Chinese Solar Stocks