The uproar over Facebook Inc.'s (Nasdaq: FB) handling – or mishandling ­– of user data is just the latest in a string of incidents triggering anxieties about data security and privacy protection.
In fact, it's estimated more than $90 billion will be spent on cybersecurity measures in 2018. According to Barron's, that's up 19% from 2017.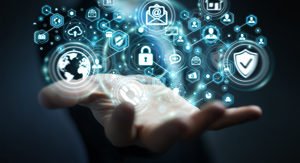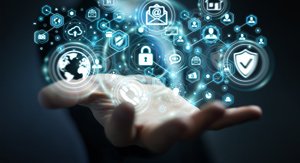 So we've got a data security stock today that's been helping to safeguard valuable assets since 1951 - one that is set for a 540% return in the next three years.
This was one of the first companies in the world to develop strategies to keep records and other valuables secure in the nuclear age.
Today, it's trusted by 95% of the Fortune 1000 to safeguard their records, both physical and digital. That makes it a perfect pick-and-shovel play, as concern for data privacy and security is on the rise.
Between its dividend, its financial growth, and its undervalued share price, this stock could be the prime beneficiary of public scrutiny of the way corporations handle information.
The Rising Urgency of Data Security Is Driving Industry Growth
That concern for privacy has been around since long before the digital age. But the scale of today's problem is unlike anything we've ever seen:
The private information of 143 million people was compromised in the Equifax Inc. (NYSE: EFX) breach last year, including 200,000 records containing credit card information.
In 2014, a cyberattack exposed the names, addresses, birthdates, and passwords of 145 million eBay Inc. (Nasdaq: EBAY) users.
And we now know that a hack on Yahoo! - now Altaba Inc. (Nasdaq: AABA) - that year compromised the data of all 3 billion of its users.
In the case of Facebook, which has 2.2 billion users, there wasn't even a breach. The problem is how the company exposes data to third parties without being hacked.
That set off a wave of demand for tighter data security.
The European Union passed a law in May restricting how companies can collect and handle data from citizens of the EU's 28 member countries.
The law applies no matter where the data is processed, which means even American companies have to fall in line if they cater to European users.
Along with this change, Money Morning Chief Investment Strategist Keith Fitz-Gerald sees the tech world starting to shift away from stocks like Facebook and Twitter Inc. (NYSE: TWTR) and toward companies based on corporate data and security.
That might have happened even without Facebook's high-profile scandal. According to researchers at Cybersecurity Ventures, worldwide cybersecurity spending grew from $3.5 billion in 2004 to an estimated $120 billion in 2017 - a 34-fold increase.
NINE LITTLE WORDS that could make you up to $1 million richer this election year. Click here...
That growth will continue as the price tag of faulty security continues to rise. Cybercrime is expected to cost the world $6 billion annually by 2021. That's a 100% increase since 2015.
That's more than the sale of all the illegal drugs in the world combined.
As nearly every aspect of data and record-keeping moves into the digital realm, the scale of the potential damage only goes up.
The cybersecurity industry provides must-have products and services to combat this phenomenon. And it's only becoming more critical with time.
That's why Money Morning Defense and Tech Specialist Michael A. Robinson says cybersecurity is a "target-rich market that's going to make a lot of companies - and their investors - rich. Very rich."
In other words, this sector is a must-have in your portfolio.
One Easy Way to Profit from the Trend
Before we get to our top pick in the industry, it's worth highlighting the easiest way to get broad exposure to dozens of the top cybersecurity firms in the world.
That's the ETFMG Prime Cybersecurity ETF (NYSE Arca: HACK).
This ETF gives you a healthy mix of large, well-established companies and young startups that are ready to take off. For more risk-averse investors, this is an ideal mix - though it will limit your upside.
The 47 companies in this ETF include big names you've already heard of, such as Cisco Systems Inc. (Nasdaq: CSCO) and Symantec Corp. (Nasdaq: SYMC).
But it also includes smaller companies with breakout potential, such as...
Splunk Inc. (Nasdaq: SPLK), a San Francisco--based company that specializes in protecting machine-generated data - making it a play not only in cybersecurity but on the rise of Big Data. Splunk was founded in 2003 and has rapidly grown to more than $1 billion in annual revenue and a $17 billion market cap.
Qualys Inc. (Nasdaq: QLYS), which runs a cloud-based security platform that integrates with all of the major cloud providers. The platform provides an unblinking assessment of a network's security, with two-second global visibility and a minimal footprint. QLYS is up 215% in the last two years.
FireEye Inc. (Nasdaq: FEYE), which has led investigations into attacks on Target, JP Morgan Chase & Co., Sony Pictures, and Anthem. According to Deloitte, it is the fastest-growing firm in cyber security. FireEye's earnings are only just now reaching positive territory, but EPS is forecasted to grow from $0.02 this year to $0.58 by 2021. This company is now hitting its stride.
Over the last six months, HACK has crushed the market, gaining 24.4%. That's more than five times the return of the S&P 500, which is only up 4.6% in that time.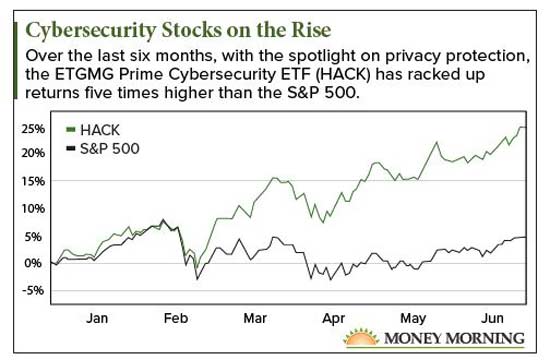 "HACK gives us a great diversified play on a very hot trend," Michael Robinson says, "that should continue to crush the overall market for years to come."
As good a play as that is, we've got an even better pick in this space - one that you won't find among HACK's components.
This is a company that practically wrote the book on keeping records secure, which is why it's trusted by more than 230,000 organizations on five continents...
After 67 Years Protecting the World's Information, This Company Is Still the Best of the Best
Join the conversation. Click here to jump to comments…
About the Author
Stephen Mack has been writing about economics and finance since 2011. He contributed material for the best-selling books Aftershock and The Aftershock Investor. He lives in Baltimore, Maryland.