Our new list of best stocks to buy includes a couple returning All-Stars that are still excellent opportunities, plus new picks set to capitalize on big profit trends we're excited about now.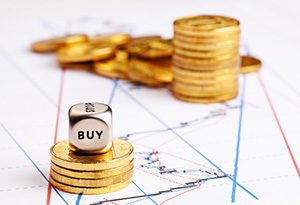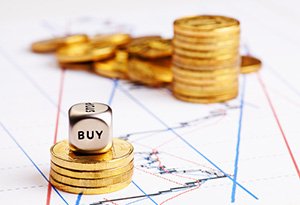 There are five new stocks to buy we're sharing with you today:
A tech stock the experts wrote off years ago is still one of the most profitable picks out there, and it's ready to double once again.
The need for new infrastructure is approaching critical mass. Find out the best play for when government funds start flowing.
A top-performing cannabis pick now gets the benefit of legalization in Canada and the world's most recognizable stock exchange.
Shifting demographics are creating windfalls in one overlooked sector, and we've got one of the best picks to reap the benefits.
If you missed Priceline's 4,500% rise over the last dozen years, there's a new online travel leader that may be in for an even bigger rise.
Now for our five latest best stocks to buy now...
Best Stocks to Buy Now No. 1: Another Strong Move from This Desktop Publishing Giant Brings In a $150 Billion Business
Our first pick is a Money Morning All-Star, a tech pick that's already delivered nearly 475% gains since Money Morning Defense and Tech Specialist Michael Robinson first recommended it in June 2013.
The S&P 500, by comparison, has only gained 68% in that time.
While Wall Street was writing Adobe Systems Inc. (Nasdaq: ADBE) off as a desktop publishing dinosaur, Michael correctly saw that its move into cloud computing was going to pay off in a big way.
Now he says Adobe's share price is set to double again in two and a half years.
That's due in part to the $1.68 billion acquisition of Magento Inc. completed in June. But before we get to that, let's look at how attractive this stock was to begin with.
Fortune has named Adobe one of the best companies to work for in each of the past 18 years. Its CEO, Shantanu Narayen, has appeared on Barron's list of the world's best CEOs in each of the last two years.
That's not surprising given that Adobe's sales have been growing at an average annual rate of 20.8% over the last three years. What's even more impressive is that earnings per share (EPS) has grown at more than twice that pace: 52% per year. According to FactSet, Adobe's EPS is projected to grow another 154% by 2021.
Sign up for SMS so you never miss special events, exclusive offers, and weekly bonus trades.
On top of that, with a $2.5 billion stock buyback program set to wind down at the end of the year, Adobe announced in May that it would snatch up another $8 billion of its own stock by the end of 2021.
All of that shows that this stock has plenty of pop to offer investors. Now the addition of Magento adds even more reason to be excited.
Magento, an example of what Michael calls a "stealth" company, has quietly built an empire developing software for clients such as Canon Inc. (NYSE ADR: CAJ) and Rosetta Stone Inc. (NYSE: RST) to run their online stores. Through these platforms, Magento handles more than $150 billion in gross merchandise volume per year - almost double the figure for eBay Inc. (Nasdaq: EBAY).
Adobe, of course, still produces the go-to suite of digital artistic tools for consumers and professionals alike. Now, in addition to its successful move into cloud software, it has positioned itself as one of the world's e-commerce leaders.
Combine everything the stock already had in its favor with this move, and Michael sees ADBE doubling once again in as little as 30 months.
"No matter what you're trying to do - build up your retirement account... save up for a boat... or finance your kids' education," he says, "it will only take a few stocks like Adobe to get you there."
Best Stocks to Buy No. 2: This Infrastructure Stock Is Set to Double, and That's Before a Major Catalyst Kicks In
Infrastructure in the United States is a rare issue that garners widespread agreement: Our highways, bridges, and facilities are literally falling to pieces.
A 2017 report card from the American Society of Civil Engineers (ASCE) gave the country's infrastructure a D+ overall. Out of 16 categories we were graded on, only one of them (rail) came out better than a C+.
Life-Changing Profit Potential: One tiny firm is rapidly developing the parts for a game-changing technology - and the gains from its stock, trading for less than $10, could turn every $1,000 invested into $4,719. Learn more...
This isn't just embarrassing. It's life-threatening.
A total of 56,000 American bridges are structurally deficient. And 15,500 dams are in hazardous condition. Last year there were 240,000 water main breaks, which can contaminate the water supply with debris.
And that's why, as much as politicians have been kicking the infrastructure can down the road, we're nearing the point when they literally cannot delay any longer. The ASCE report put American infrastructure needs at $4.59 trillion by 2025.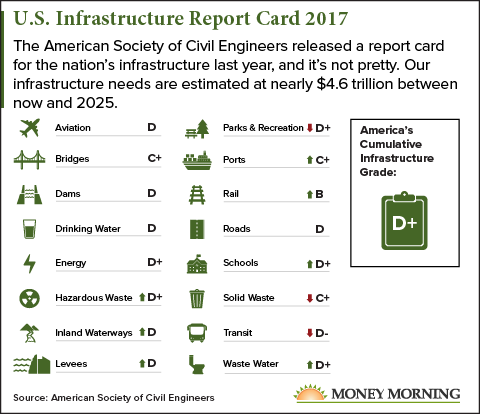 Infrastructure spending got a $21.2 billion boost in March's omnibus spending bill. That's a start, but much more will be on the way, no matter what parties control Washington after the midterm elections.
Even before that happens, our next pick has plenty of work to keep it busy.
Construction powerhouse Tutor Perini Corp. (NYSE: TPC) is currently working on projects to expand Newark Liberty International Airport, build a light rail system in Minneapolis, and help with the high-speed rail system in California.
It currently has a backlog of $8 billion worth of contracts to be completed.
FactSet projects a 60% rise in Tutor Perini's earnings per share over the next two years, and reports 100% of analysts rating the stock a "Buy." Analyst price targets go as high as $38 - nearly 100% higher than its current share price.
In other words, Tutor Perini is doing well already and is one of the best infrastructure stocks you can own.
But when governments at the federal, state, and local levels finally turn on the infrastructure spending faucet to make up for decades of neglect, that's when Tutor Perini will be swimming in revenue.
And its shareholders will be raking in the profits.
Money Morning Special Situation Strategist Tim Melvin says buying Tutor Perini means getting a "potential bonanza of profits at a bargain price."
"And last time I checked," he says, "that was a pretty good way to get rich as a stock investor."
Best Stocks to Buy No. 3: After Legalization, Canada's Biggest Weed Grower Will See Profits Soar
Join the conversation. Click here to jump to comments…
About the Author
Stephen Mack has been writing about economics and finance since 2011. He contributed material for the best-selling books Aftershock and The Aftershock Investor. He lives in Baltimore, Maryland.