Yesterday, I talked about the incredible strength in consumer-discretionary stocks, as represented by the Consumer Discretionary Select SPDR ETF (NYSE Arca: XLY) – that's the best "one-stop shop" play on the power of the U.S. economy.
And, even better, I gave you an easy trade to "juice" what should be already impressive gains there.  
But I also hinted that I was wrapping up some "Best in Breed" analysis on two overlooked stars.
They've been eclipsed by XLY heavyweights like Amazon.com Inc. (Nasdaq: AMZN) and Netflix Inc. (Nasdaq: NFLX), but only because the companies that put the "F" and "N" in "FANG stocks" get all the attention.
Trust me: The stocks I'm about to name are not shy in the profit-making department. In fact, one of them just threw off a quick 67% profit for my Night Trader subscribers who were following along.
But we're nowhere near done…
This Is Doing More Than 6x Better Than XLY Itself
TripAdvisor Inc. (Nasdaq: TRIP), the online travel review and booking site, is the company that treated my subscribers so well. And I think it'll do the same for you, too.
Yesterday, I showed a relative-strength chart of XLY blowing away the S&P 500.
MARKETS TANKED but Chris' readers got the chance to score winning 40.42% gains on CSCO and 32.93% on SKT – on top of last week's double- and triple-digit wins. Click here to learn more…
In the same vein, the chart below shows TripAdvisor crushing XLY's impressive performance in 2018. The stock is up a whopping 65% (much better than Amazon, by the way) so far this year, compared to the XLY's 10.5%.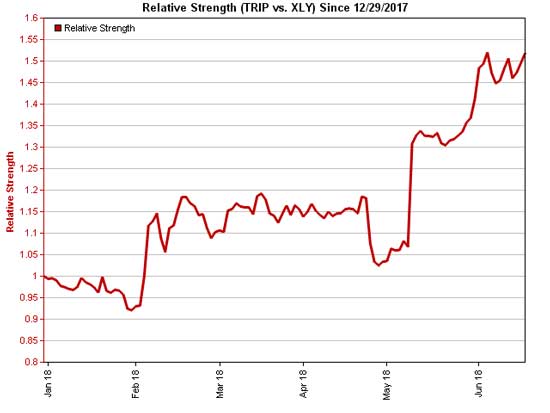 Currently, the shares are rebounding after pulling back from an all-time high reached last week. The 20-day moving average is in play as support, while the 50-day moving average is rapidly ascending to lend a hand should the shares weaken.
Interestingly, TripAdvisor experienced a similar pullback in May before racing higher to hit a succession of new highs nearly every day.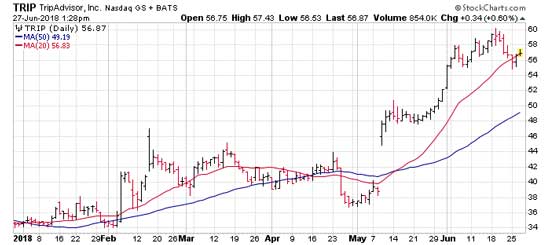 The thing I really love about TripAdvisor, though? You guessed it: short interest.
TRIP shares are absolutely coated with (unwarranted, misplaced) skepticism.
Short interest increased 5% last reporting period, raising the stock's short-interest ratio to 9.0.
Not only is that above my threshold for a short squeeze kicking in, it also is the highest ratio among all XLY stocks. And we're talking about the second-best performer in XLY in 2018, behind only Netflix.
Negativity is also seen on the Street, as just one of 25 covering analysts rate TRIP a "Buy" – just one.
I don't know what chart those guys are looking at. Maybe they've been on vacation (booked through TripAdvisor). But, whatever the reason, analyst upgrades have to start flowing in at some point, which will give the stock even more of a boost.
It's an immediate buy.
TripAdvisor reports earnings on Aug. 1, so I'd consider buying the TRIP Sept. 21, 2018 $57.50 call (TRIP180921C00057500) to allow plenty of time for the shorts to unwind and the upgrades to come pouring in.
We're Playing This Star for Double-Digit Profits
My second play is on a stock that is currently open in Seismic Profits Alert. It's on apparel manufacturer Hanesbrands Inc. (NYSE: HBI). Unlike TRIP, Hanes is lagging XLY in 2018 performance, having gained less than 5% this year.
But I'm not looking at the whole year; I'm focused on the past two months, during which the stock has rallied as much as 38%.
In the process, the shares have raced past all potential moving average support and are now set to challenge their 2018 high above the $23 level. More importantly, the 50-day moving average is now in a strong uptrend, a signal my "Best in Breed" system keys on for bullish plays.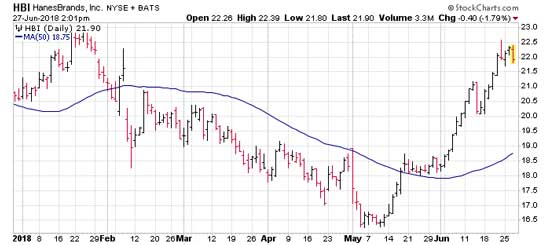 Hanes is facing similar skepticism to TripAdvisor, with the short-interest ratio registering a robust 8.0. This clearly makes Hanes vulnerable to a short-covering rally. And fewer than half the covering analysts consider Hanes a "Buy," leaving ample room for upgrades.
Hanes also reports earnings on Aug. 1, so it's smart to buy before then. But I prefer to go beyond the report with a call option. But Hanes doesn't have a September series, so we'll go with the in-the-money HBI Aug. 17, 2018 $21 call (HBI180817C00021000) to leverage the expected upside.
This has been a great week to be a "Best in Breed" investor; we've seen it identify weak stocks to short and incredibly strong stocks in strong sectors to get long on.
And, even better, the system doesn't give a damn about the headlines, either, so it's great at uncovering under-loved and overlooked stocks that do as well (or better) than the marquee names.
Way Too Many People Missed Out on This
U.S. stocks took a vicious beating on Monday – indices were slammed with the biggest one-day drops for months – double- and triple-digit losses across the board, as the VIX "fear gauge" rocketed 25%. Of course, this much was on the news…
What didn't make headlines were the two urgent alerts Chris Johnson sent to a small group of subscribers that day, with precise instructions for scoring a winning 40.42% on CSCO and 36.92% on SKT. This is in addition to last week's 50.60% and 560.40% on SPRT and 45.45% on NDLS.
If you got those alerts, there's nothing you need to do. You're set. But… if you missed out, you'll want to click here to learn more about how Chris' system works…
Follow Money Morning on Facebook, Twitter, and LinkedIn.
[mmpazkzone name="end-story-hostage" network="9794" site="307044" id="138536" type="4"]
About the Author
Chris Johnson is a highly regarded equity and options analyst who has spent much of his nearly 30-year market career designing and interpreting complex models to help investment firms transform millions of data points into impressive gains for clients.
At heart Chris is a quant - like the "rocket scientists" of investing - with a specialty in applying advanced mathematics like stochastic calculus, linear algebra, differential equations, and statistics to Wall Street's data-rich environment.
He began building his proprietary models in 1998, analyzing about 2,000 records per day. Today, that database, which Chris designed and coded from scratch, analyzes a staggering 700,000 records per day. It's the secret behind his track record.
Chris holds degrees in finance, statistics, and accounting. He worked as a licensed broker for 11 years before taking on the role of Director of Quantitative Analysis at a big-name equity and options research firm for eight years. He recently served as Director of Research of a Cleveland-based investment firm responsible for hundreds of millions in AUM. He is also the Founder/CIO of ETF Advisory Research Partners since 2007, noted for its groundbreaking work in Behavioral Valuation systems. Their research is widely read by leaders in the RIA business.
Chris is ranked in the top 99.3% of financial bloggers and top 98.6% of overall experts by TipRanks, the track record registry of financial analysts dating back to January 2009.
He is a frequent commentator on financial markets for CNBC, Fox, Bloomberg TV, and CBS Radio and has been featured in Barron's, USA Today, Newsweek, and The Wall Street Journal, and numerous books.
Today, Chris is the editor of Night Trader and Penny Hawk. He also contributes to Money Morning as the Quant Analysis Specialist.