Editor's Note: D.R. Barton, Jr., is a regular contributor to our new Fast Profits video trading service. His last quick, 5-minute video showed viewers how to pull in 100%, 205%, and 53% in peak gains in no time flat. You can get this totally free service for yourself just by clicking here. (The next hot trade drops in just a few days.) Now, D.R. will give you the context you need to understand why these opportunities are so frequent right now...
Here are a few things markets don't like:
Geopolitical leadership that doesn't follow a logical path...
Uncertainty of any kind...
The prospect of contracting economies...
On Monday, we got truckloads of all three. And they all came from the trade war news headlines.
The effect was self-reinforcing - and profound.
There was no shortage of illogical geopolitical leadership on display: The U.S. and Chinese presidents (with some European Union officials thrown into the fray for good measure) exchanged barbs about tariffs that sounded more like pregame locker-room posturing than international statesmanship.
And, as we've seen, when emotion enters the process, traders and investors get worried that it could add to the uncertainty.
And one pithy quote sums up the uncertainty the markets felt yesterday.
The Wall Street Journal reported a quote from President Xi Jinping of China: "In the West, you have the notion that if somebody hits you on the left cheek, you turn the other cheek," Xi said in the report, according to people briefed on his remarks. "In our culture, we punch back."
A biblical analogy: Check.
Open-ended, ominous threat: Check.
That's the height of uncertainty.
Of course, at the root of all this is the prospect of contracting economies. That's the ultimate goal of a trade war, after all - to do such damage to the "other guy's" economy that they blink first.
If tariffs stick (and tens of billions of dollars' worth are already in force), we'll see the real economic slowdown. Goods will become more expensive for consumers, so they'll buy less of them. Pretty simple stuff from that perspective.
And so, with that triumvirate of market-rocking news, the major U.S. indexes had their biggest down day since...
...The last tariff tantrum on May 29th.
So the big question before every investor this week is: Is this all coincidence? Or is the "Trump growth" narrative asserting its dominance?
I think it's the latter, and I'll show you why that's important with a few charts here...
[mmpazkzone name="in-story" network="9794" site="307044" id="137008" type="4"]
Remember: The Controlling Narrative Determines the Market's Reaction
We've seen this time and again in the Trump growth narrative: Any news that supports an expanding economy will drive the market up, and news that threatens the economy drives markets down.
This seems obvious, but believe me, the polar opposite will be true when the Fed-driven "Great Unwind" narrative takes over as the Fed sells off assets it accumulated after the crisis. You'll recall we got a taste of that "bad news is good news" effect in the middle part of this decade, during the Fed's multitrillion-dollar quantitative easing program. Any "good" news that suggested the economy was improving sent stocks tumbling for fear that the Fed would turn off the money tap.
BIG, FAST PROFITS: This one pick paid 100% in seven days, then 205% the next day, and 410% by the next week. You've got to see how it's done...
In any case, the volatility chart looks strangely similar to the last tariff tantrum in the market: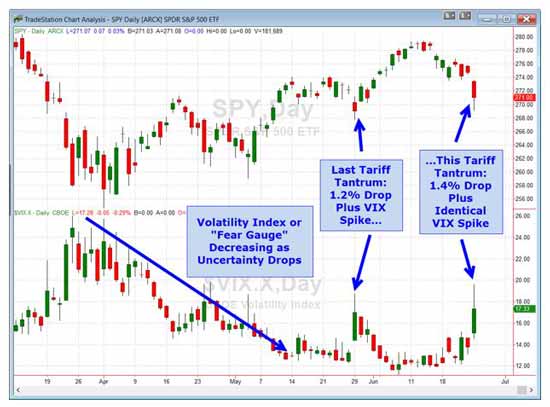 And tariffs, both real and prospective, are one of the few forces with the juice to disrupt the formidable upward price momentum of the last few months.
Okay - now that we have some context - how will we make some money here?
By using our tried and true method of finding quality stocks that have hit extremes - in this case, lows brought on by market forces as opposed to poor fundamentals - and playing the snapbacks.
This "play the extremes" approach brought folks following along with my Fast Profits recommendations peak gains of 100% on LLNW, 205% on BAC, and 53% on EBAY. My Stealth Profits Trader readers get even more opportunities to play these extremes for triple-digit gains each and every week. We took down an "extreme" 100% profit on the Russell 2000 small-cap index in just two and a half days!
So, it might not surprise you to learn that my expectation is still for more upside.
As I told FOX Business' Neil Cavuto on "Cavuto Coast to Coast," if the traders and investors were seriously concerned about a global economic contraction from a trade war, the market would be down more than a few percentage points.
Let's look at where we are for some (valuable) perspective: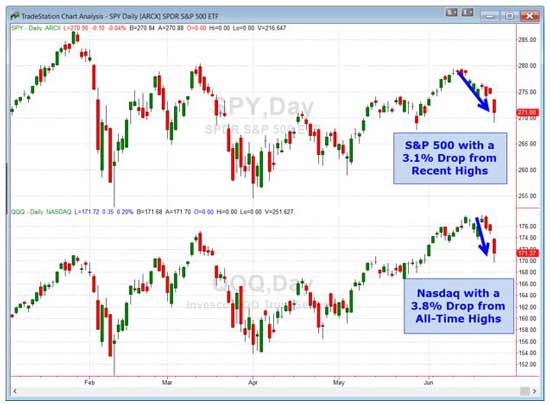 From where I'm standing, this certainly doesn't look like "financial Armageddon." Rather, it looks more like a dip to be bought - with confidence - until some serious support levels are broken.
Technical Trading Specialist D.R. Barton's paid-up subscribers are getting the chance to play the market for big, fast gains. One of his recent recommendations on a chipmaker shot past 100% gains in barely six days. Click here to learn how to get his picks. Subscribe, and he'll send you his book, The 10-Minute Millionaire, at no extra charge.
Follow Money Morning on Facebook, Twitter, and LinkedIn.
About the Author
D.R. Barton, Jr., Technical Trading Specialist for Money Map Press, is a world-renowned authority on technical trading with 25 years of experience. He spent the first part of his career as a chemical engineer with DuPont. During this time, he researched and developed the trading secrets that led to his first successful research service. Thanks to the wealth he was able to create for himself and his followers, D.R. retired early to pursue his passion for investing and showing fellow investors how to build toward financial freedom.