Apple stock is widely considered the gold standard of the high-tech era.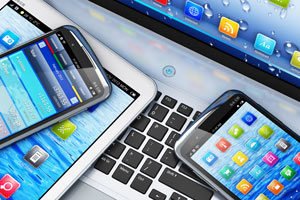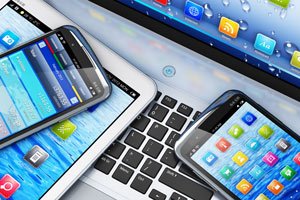 Thanks to the iPhone and several other innovations, Apple Inc. (Nasdaq: AAPL) has gone from a $4.8 billion market cap in December 2000 to $890 billion today - an 18,400% rise in less than 18 years.
Unfortunately, that success does come with one drawback: It's difficult to repeat.
No matter how successful its next gadget is, Apple stock is probably not going to double or triple in the next couple years.
But that's where today's stock comes in.
You can still get those big returns from investing in Apple's hardware. But instead of looking at, say, the iPhone X itself, we're looking at the company behind the smartphone's OLED screen technology.
If you grab that stock now, you could be seeing gains of 200% by 2021.
OLED stands for "organic light-emitting diode," and it is hands-down a higher-quality option than the LCD screens that once dominated smartphones, tablets, computers, and TVs. Now that the production costs are coming down, OLED is starting to become the standard for all those devices.
So for the company that's been developing this technology since the mid-1990s, the profits are rolling in.
NINE LITTLE WORDS that could make you up to $1 million richer this election year. Click here...
According to ResearchAndMarkets.com, the global OLED market is set to expand from $16.58 billion in 2016 to $48.81 billion by 2023. That's a 194% jump.
We'll tell you how to join in on the fun below. But first, let's look at what makes this technology so much better.
OLED vs. LCD: One Crystal-Clear Winner
Last year CNET did a side-by side comparison of existing LCD TV screens and the upstart OLED screens. The newer technology proved superior in a number of ways:
True blacks: The darkest pixels on an OLED screen show up as more truly black than an LCD screen. That's because OLED screens control each pixel independently and therefore can shut down light emission altogether to black pixels. LED screens are illuminated by a single backlight, so black pixels end up in more of a dark gray area of the spectrum.
Viewing angle: Unlike with LCDs, you don't have to watch an OLED from dead center to get a good viewing experience. So the family can spread out while you watch.
Uniformity: OLEDs solve the common problem with LCD screens in which the light tends to leak toward the edges, making the image appear dimmer in certain parts. OLED screens provide a more consistent look at every pixel.
Contrast ratio: Again, because of the independently lit pixels, OLED screens can display the whitest whites, the blackest blacks, and everything in between. That means you're getting more of the true picture the creators saw in the original product without compromising it as much as an LCD screen does. Contrast ratio is the single most important aspect of picture quality, and OLED's "incredible" contrast ratio (as CNET called it) is what really sets it apart.
Those are the key advantages when it comes to viewing quality, but OLED is also considerably thinner than LCD: a 15-mm LCD screen can be replaced by an OLED screen of just 4 mm, making your phone or tablet that much smaller and lighter for it.
OLED also emits less UV light. Excessive exposure to UV light can accelerate age-related macular degeneration and other vision problems. That's something we don't think about now, but it could become a major issue for heavy device users in the next couple of decades.
Thanks to new phosphorescent technology (PHOLED), OLED is energy-efficient, too. When the developer of PHOLED licensed the technology to Samsung Display Corp. Ltd., it increased the efficiency of the OLED display in Samsung's Galaxy S4 smartphone by 25%.
That developer, based in New Jersey, is the company that's been able to bring OLED technology into the mainstream. And now that OLED's time in the sun has come, its leading developer has become a top pick for big profits over the next few years.
To Profit from OLED Technology, Go Right to Its Source
[mmpazkzone name="in-story" network="9794" site="307044" id="137008" type="4"]
The forward-thinking Universal Display Corp. (Nasdaq: OLED) started back in 1994, and first discovered its energy-saving PHOLED technology in its research labs at Princeton University and University of Southern California in 1998.
That would ultimately lead to recognition by the U.S. Department of Energy in 2009 for UDC's excellence in research.
(In order to avoid confusion with OLED technology itself, we'll refer to the company here as either UDC or its full name, rather than the ticker symbol OLED.)
This process will look familiar to anyone who has invested in biotech: UDC dedicated itself to one promising technology and kept at it until the moment for big profits came.
Now that moment has arrived.
In addition to the iPhone X, Universal Display Corp. technology can be found in many of Samsung's Galaxy phones and tablets. The OLED-equipped S3 and the Galaxy Note, for example, each sold more than 10 million units.
You'll also find UDC technology in the microdisplays on Sony Corp.'s latest virtual reality headsets, and in TV sets from Samsung, LG Electronics Inc., Sony, and Seiko Epson Corp.
CNET called the OLED screen on the LG 55EC9300 television, quite simply, the "Best. Screen. Ever."
You often won't hear Universal Display's name in connection with these devices, but that's a good thing. UDC develops the technology and licenses it. That means that it doesn't matter who the manufacturer is for a specific device or component. If they want the tech, they have to go the source to get it.
In other words, UDC is not just a play on Apple, but on potentially any tech company that uses screen technology.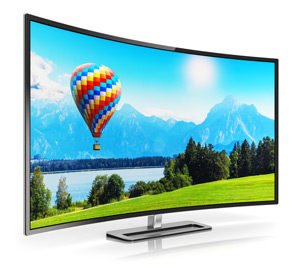 If you count the screens in your life - on your phone, computer, TV, and so on - and then consider how many other people there are like you, you start to get an idea of UDC's profit potential.
That being said, it's not just screens that make this stock attractive. Though less noticeable, OLED's use in lighting is also loaded with profit potential.
In addition to being highly energy-efficient, OLED light panels are as thin as paper, and as flexible too. That allows for all kinds of possibilities for installation that can make home lighting as conspicuous or inconspicuous as you want, while providing uniform light that is closer to natural sunlight than anything you're used to.
The market for OLED lighting remains below $200 million currently, but as costs come down and designers start to incorporate it more and more, research firm IDTechEx projects it to grow by 1,150% over the next nine years.
With projections like that, you would do well to take any OLED detractors with a grain of salt...
Don't Buy What the Naysayers Are Selling
After a steady rise over the last few years, investors panicked in early 2018 when some of the big manufacturers - such as Apple - waffled over whether they would be expanding their lineup of OLED-equipped models in the immediate future.
Obviously it's a big plus if Apple offers more models with OLED screens this year. But the markets are drastically overestimating the impact of Apple's decision.
Considering its superior technology and falling production costs, manufacturers are inevitably going to gravitate toward OLED over the next few years.
Even if they don't, missing out on a smartphone model here or there wouldn't be nearly as bad for the company as you might think. From UDC's perspective, a single 55-inch TV is the equivalent of 100 5.5-inch smartphones.
LIVE ON CAMERA: Watch America's No. 1 Pattern Trader officially become $1,050 richer in 15 seconds! His secret to becoming a multimillionaire is so easy that anybody can do it. Click here for details...
And when it comes to TV screens, there simply is no serious competition for OLED.
But the market is biting its nails over this, too, largely because of the hype over the misleadingly named "QLED" technology.
QLED, or "quantum dot light-emitting diode," is actually not an emissive-display technology like OLED in its current state. And it's definitely not ready for prime time. The "quantum dots" required for this technology are extremely difficult to produce in large quantities, and some of the materials needed to produce them are restricted in many countries because they are known carcinogens.
Someone might figure out a way around these obstacles sooner or later. But don't hold your breath.
For the next several years, it is OLED's time to shine.
Crunching the Numbers: Now's the Time to Buy UDC
According to FactSet, nine out 10 analysts rate UDC a Buy, with a target price as high as $148.22. That would be a 79% rise from its current value.
For those who are paying attention, the stock's recent drop is clearly an overcorrection.
As an indication of rising demand, UDC's sales rocketed to $335.6 million last year, up from $198.9 million in 2016.
It's more than 21 times what the company was generating in 2009.
Net income was up 116% in 2017 from the year before, and up nearly 600% from two years earlier.
Earnings growth has been equally impressive. UDC's earnings per share more than doubled from $1.02 to $2.43 last year, and it's projected to shoot up to $6.18 by 2021.
In other words, after years of perfecting this technology, this company is hitting its stride.
Best of all, looking at its forward price/earnings to growth ratio, this stock is due for a 67% climb before we factor in its long-term growth ahead.
So with UDC, you've got the developer of a technology that's about to take off in a big way, and you can grab it now at a steep discount.
You can go ahead and buy shares in Apple if you want. We wouldn't discourage it. It's one of the most solid tech stocks you can invest in.
But if you really want to see some supercharged growth, and get in on some of the hottest tech gadgets along the way, this backdoor play is set to deliver.
The Gains on This One $10 Stock Alone Could Earn You Enough to Retire
A paradigm-shifting technology could disrupt every major industry, and one tiny company is at the center of it all.
It recently inked four major deals... BlackRock has snatched up 29 million shares... and its technology could be adopted by millions around the globe.
Best of all, this stock trading for less than $10 could deliver a 471.9% gain for early investors.
Follow Money Morning on Facebook, Twitter, and LinkedIn.
About the Author
Stephen Mack has been writing about economics and finance since 2011. He contributed material for the best-selling books Aftershock and The Aftershock Investor. He lives in Baltimore, Maryland.