Generating $1 billion in 2017, anxious investors want to know if Coinbase will go public in 2018 so they can play the booming $245 billion crypto market.
Coinbase President Asiff Hirji suggested the company could have an IPO soon but was vague about the timing in a December 2017 CNBC interview.
"The most obvious path of Coinbase is to go public at some point, but there's a lot for us to do between now and then, whenever that date is," he said in the 2017 CNBC interview.
But even if the crypto exchange does go public, it might not be as good of an investment as it sounds...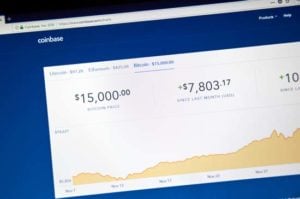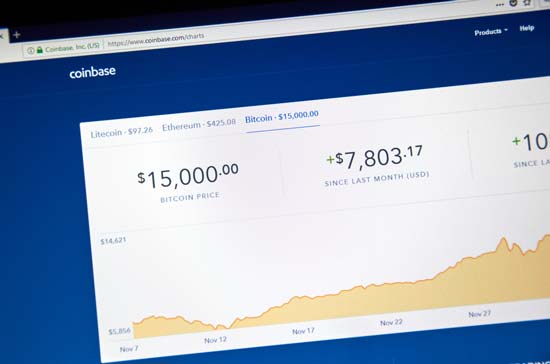 You see, all IPOs can be subject to volatile price swings, no matter the company.
For example, when Snap Inc. (NYSE: SNAP) went public on March 2, 2017, SNAP shares opened at an all-time high of $28.17 on March 6.
Unfortunately, retail investors who bought at those prices hoping Snap would be the next Facebook Inc. (Nadsaq: FB) lost money...
If You're Not Making Millions of Dollars with Cryptocurrencies... You Could Be. Click here to discover the coin that will soon be BIGGER THAN BITCOIN... and how to claim YOUR cryptocurrency fortune while you still can.
From yesterday's (June 27) closing price of $12.82, some early investors have now lost 54.49% of their original investment.
However, we found a different way to profit from the cryptocurrency market without having to invest in a risky IPO or even buy a cryptocurrency.
Best of all, our readers can invest in it today.
Here's everything you need to know about the best way to play the $245 billion crypto market...
Forget Coinbase - This Is How to Make Real Money
[mmpazkzone name="in-story" network="9794" site="307044" id="137008" type="4"]
Metropolitan Bank Holding Corp. (NYSE: MCB) is headquartered in New York and provides commercial- and retail-banking products and services.
It offers checking and savings accounts like most banks, but what really has us interested in MCB is its partnership with Coinbase.
Yes, Coinbase could be a risky investment by itself, as IPO prices can be highly inflated.
But MCB, serving crypto and traditional markets, is a lot less risky.
And to make sure wire transfers are successfully completed for Coinbase users, the crypto exchange looked to Metropolitan for help.
The bank says no assets or liabilities are denominated in cryptocurrencies, which means it's generating its income from cryptocurrencies in fiat transaction fees.
That's important, as crypto prices can fluctuate wildly from day to day.
In Q4 2017, MCB had $309 million in cryptocurrency deposits in its settlement and operating accounts, according to its March 31 investor presentation.
The deposits climbed 23.62%, to $382 million, in Q1 2018.
Metropolitan also launched a cryptocurrency debit card, Shift, with Coinbase in 2015. It's accepted everywhere Visa cards are accepted and is one of the few solutions for BTC holders to make everyday purchases.
When making a fiat purchase, the equivalent in Bitcoin will be debited from the user's Coinbase account.
Coinbase and Metropolitan handle all the conversion, meaning you just have to swipe your card.
While this isn't a pure bitcoin-to-bitcoin transaction, it provides a way for some of the 17 million bitcoins out there to flow into society and to be used for purchases.
This is an early start that will help attract even more people to buy and sell Bitcoin, since they know a Shift card will be accepted across the globe.
It costs $20 for card issuance, $2.50 for domestic ATM withdrawals, 3% for international transactions, and $10 for card replacements, according to ShiftPayments.com.
And because of Metropolitan's involvement in the crypto industry, analysts are bullish on the MCB stock price...
Financial firm Keefe, Bruyette, & Woods expects the MCB stock price to climb to $63 per share in the next 12 months.
From yesterday's closing price of $51.63, that's a potential profit of 22%.
But remember, that's just in the next 12 months. And that could be too conservative of an estimate...
Forward-thinking companies like Metropolitan Bank understand cryptocurrencies will disrupt the traditional finance industry.
Instead of fighting it, these companies are bringing the banking industry into the future.
Thanks to its expertise and experience with Coinbase, other crypto exchanges could seek out MCB for its wire transfers and debit card issuances.
As we start seeing more and more Bitcoin users, transactions will accelerate.
Remember that there may only be 20 million Bitcoin users out there right now, but that's expected to jump to 200 million by 2024.
And with more transactions, Metropolitan Bank is in a prime position to profit.
Finding the Next Crypto 10-Bagger
We've spent the last few months developing a series of special, comprehensive videos and reports that we want to share with you.
Altogether, they'll give you an even stronger crypto "insider's edge."
We hope you'll take advantage of all the great research on this breakout digital coin.