Gold prices are nearing a six-month low, the culmination of a downtrend kicked off by the latest Fed rate hike on June 13, but that's creating the best buying opportunity of any asset class right now...
That's when the U.S. dollar began to rally, in part thanks to higher rates, but also because of a weaker euro.
In the last two weeks, gold has only enjoyed one up day, the result of historic selling pressure.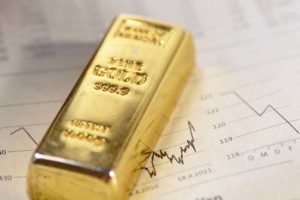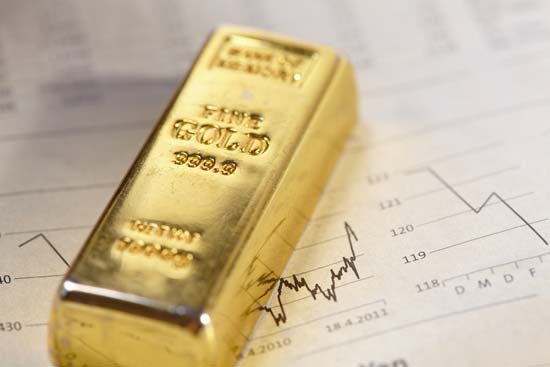 We can search high and low, and we'll find plenty of reasons why the price of gold is dropping. But the fact remains that it's still in a long-term bull market, and it has just become dramatically oversold.
That doesn't mean it will turn tomorrow and start rallying, but the risk associated with buying now is low.
In fact, I'd challenge anyone to find another sector that is currently more undervalued.
Gold's sell-off since mid-June is unwarranted. Short- and even medium-term vagaries shouldn't distract from the bigger picture.
The precious metal remains a natural hedge and all-around safe haven. And for now, it remains abnormally cheap.
I simply don't expect gold prices to remain this cheap for long...
Why Gold Prices Continued to Fall Last Week
Gold spent last week doing pretty much the same thing it did the week before.
It headed south, all the way down from $1,269 to $1,247. That was a drop of $22, or 1.7%, in just four days, before a possible reversal started to emerge.
Stunning: New innovation will be like "adding twin turbos to the Bitcoin engine" - and could send its price to $100,000. Learn more...
Sentiment went from lousy to downright awful as the week wore on. The rally in the U.S. Dollar Index (DXY) also rubbed salt into gold's wounds.
Take a look at how the DXY rallied on Wednesday (June 27)...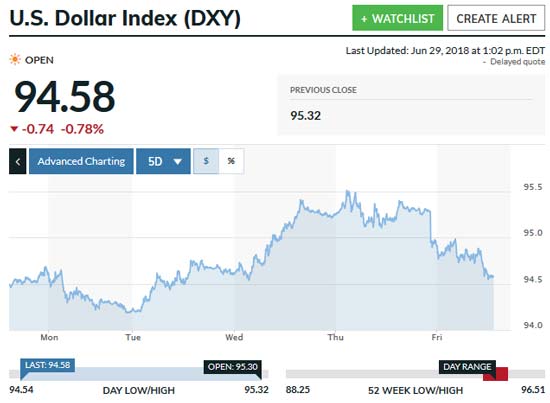 By Thursday (June 28) gold touched an intraday low of $1,246.60 before closing at $1,248.
But a turnaround was forming...
That same day, the VanEck Vectors Gold Miners ETF (NYSE Arca: GDX) ended higher, even rallying into the close, even though gold prices ended lower than their open of $1,252.
But on Friday, something impressive happened. The DXY retreated nearly 100 basis points from its early Thursday highs near 95.5. By midday, gold was a bit higher, trading near $1,254. Yet the GDX had rallied impressively, gaining over 2% on strong buying by early afternoon.
Later in the trading day, gold was holding on to $1,252, potentially having seen an interim bottom the previous day.
Here's what that means for my latest gold price target for July...
My Gold Price Prediction for July
[mmpazkzone name="in-story" network="9794" site="307044" id="137008" type="4"]
Before we get to my gold price target, we need to take a look at a few technical indicators.
First, let's examine what the dollar index has been up to.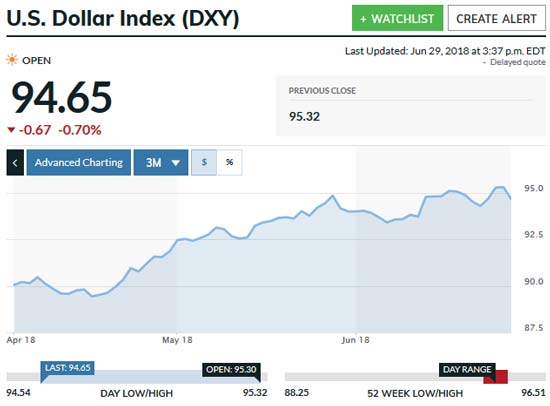 The DXY has been back in rally mode, pressuring gold downward. But it's back near overbought status, and this rally could well have run its course.
As for gold, the selloff has been brutal, and sentiment has reached outright disgust.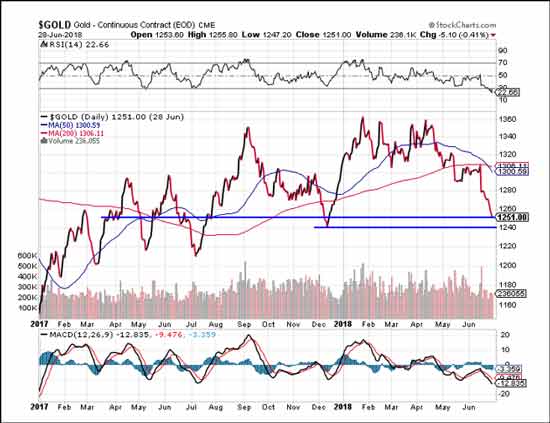 Of course, it's possible gold needs to work its way even lower, with the next target near $1,240.
But technically, there's possible support at $1,250. It's already become oversold based on the relative strength index and moving average convergence divergence, which are both lower than at any point in the last year and a half.
So technically, I think gold is setting up to reverse and rally.
In a recent report from Sentiment Trader, we know that going back to 1975, when gold had only one up day in two weeks, it tended to rise about 7% over the next three months.
Looking at the action of GDX in the past three months, amazingly, it has held up much better than gold, gaining 1.5% while the metal lost 6%. That tells us investors see value in gold stocks, and the strong rebound of the last couple of days demonstrates that.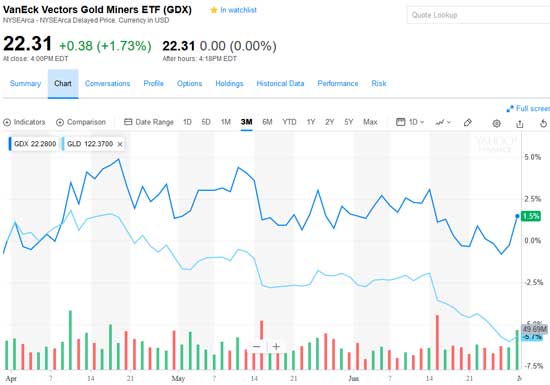 And finally, look at the gold-stocks-to-gold ratio.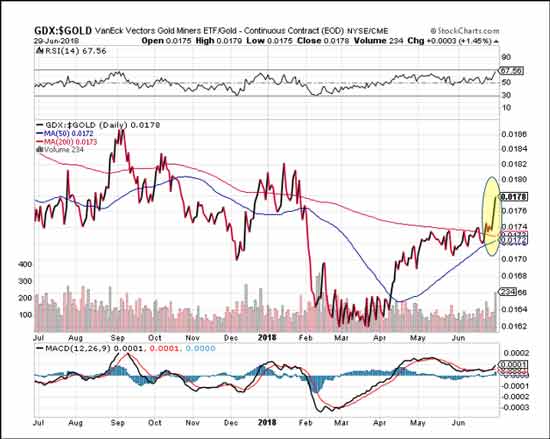 Notice the surge in the ratio in the last two trading days, and notice also that it happened on higher than normal volume.
Gold does tend to make a distinct seasonal low before rallying over the next three months. I think that could lead gold to regain $1,300 by the end of summer.
The Crypto Party Is Far from Over: Bitcoin is expected to undergo a massive upgrade - and it could kick off a price surge all the way to $100,000. Cryptocurrency expert Michael Robinson has put together a special report on a unique strategy that could help you pocket one windfall after another not just on Bitcoin, but on all the cryptos he's following now. To get step-by-step instructions on how you could become the next crypto millionaire, click here now...