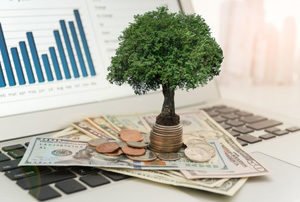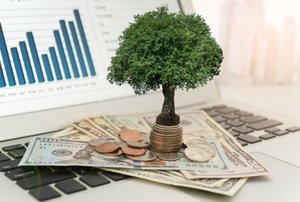 The U.S. Federal Reserve may be pushing short-term interest rates higher, but the fact remains that these rates are still incredibly low. Parking money in the bank yields almost nothing. And bond yields are not much better. The benchmark 10-year Treasury note only offers a stingy 2.84%.
Nobody gets rich on 2.84%.
That's why divided stocks are in such demand.
And the three we're going to show you today are some of the best dividend stocks you can buy in 2018...
The problem is that not all dividend-paying stocks are the same. Most people think about utility stocks as steady income producers. While they can pay decent yields, you don't want to load up on utilities when interest rates are rising.
When rates rise, there is little growth in most of these stocks. And that means they act more like bonds than stocks. When interest rates go up, bonds become more attractive and that means utility stock prices tend to be weak.
The question is how investors can find both growth and income in one package. Money Morning Special Situation Strategist Tim Melvin has the answer.
Don't Miss: This secret stock-picking method has uncovered 217 double- and triple-digit peak-gain winners since 2011. Find out how it's done...
He's been following demographic trends for years, and he's found incredible profit opportunities from the United States' aging population. In fact, he says he is wildly bullish on housing and care for seniors.
Almost 50 million Americans are over 65, and that's set to grow to nearly 80 million by 2035, according to the U.S. Census Bureau. An aging population will lead to more money spent on doctors, nursing homes, and medical services such as dialysis and colonoscopies.
Now, as the last of the baby-boom generation approaches retirement, there is a great opportunity in healthcare stocks.
This was not overlooked by Wall Street, either, as the giant private equity firm KKR & Co. LP (NYSE: KKR) bought Envision Healthcare Corp. (NYSE: EVHC) for $5.7 billion in cash, with the total deal value adding up to $9.9 billion including debt. It was one of the largest leveraged buyouts so far in 2018.
Melvin thinks an even better way to profit from the aging population is through healthcare-centered real estate investment trusts (REITs). These are similar to exchange-traded funds because they give the holder exposure to a portfolio of income-producing real estate. And you can buy them just like regular stocks in the brokerage account you already have.
We won't bore you with the details, but REITs have special tax considerations, including having to pay out their income stream to investors as dividends. But it is better than that. REITs must distribute at least 90% of their taxable income to shareholders. Most even pay out 100%.
That's why you see dividend yields of 6%, 7%, and even 8%. Again, a 10-year Treasury note pays 2.84%. The dividend yield for the S&P 500 is only 1.83%.
Here are the top three REITs on Tim Melvin's list today...
The 3 Best Dividend Stocks to Buy Today
[mmpazkzone name="in-story" network="9794" site="307044" id="137008" type="4"]
Senior Housing Properties Trust (Nasdaq: SNH) is one of the largest senior-housing REITs in the United States. It owns more than 400 properties and should do very well over the long run.
The best part? It offers an 8.45% dividend yield, and the share price should show unreasonably high appreciation as demand begins to surpass supply.
The next two REITs own medical facilities. That includes hospitals, surgery centers, diagnostic centers, and medical office buildings. With the aging population, medical offices should see high occupancy levels and rising rents for decades.
The first of these two medical REITs is Global Medical REIT Inc. (NYSE: GMRE). It is a good buy at current levels. And while you wait for the stock to appreciate, it makes it worth your while with an 8.89% dividend yield.
The second medical REIT is Medical Properties Trust Inc. (NYSE: MPW), and we'll get right to it - a fat dividend yield of 7.01%.
Again, we want to ride a strong trend, but in this case, we can still get in at bargain prices. All it takes is a little patience, made easier by a nice dividend check every quarter.
We are all indeed getting older. We might as well profit from it.
This Tiny Stock Could Turn Every $1,000 Invested into $4,719
The biggest tech breakthrough of the decade could be game-changing - and life-changing.
One tiny firm is rapidly developing the parts needed for this new technology, and it recently inked four deals with major players.
Its stock is trading for less than $10 now... but estimates show it could climb to $57.19 by 2025 - a 471.9% gain for those who get in now.