"Silver is in a bull market."
Admittedly, given the past year's price action, you might think I'm crazy for saying that.
But the (much) bigger picture is rather bullish from here. I say that because global silver mine production has been in decline since 2016. Some analysts expect a minute increase this year of just 0.2% over 2017.
Retail silver demand was down last year, but solar panel production is set for a massive increase. And silver jewelry, which has become trendy once again, could see as much as a 9% bump in demand this year.
On top of that, it's still a preferred safe haven - just like it's been for thousands of years. It likely always will be. Geopolitics and economic uncertainties, especially with currency and trade wars ever-present, make silver an appealing hedge.
Remember: Despite silver being readily available, inventories can and do deplete quickly, throwing the supply and demand equation off balance in short order.
It's that fragile balance that's the key to my favorite silver plays...
[mmpazkzone name="in-story" network="9794" site="307044" id="137008" type="4"]
The Demand for Silver Is on the Rise
We know from the Silver Institute's World Silver Survey 2018 that last year marked the fifth consecutive annual silver deficit. Demand was outpaced by supply to the tune of 26 million ounces. Once again, existing inventories were sourced to balance demand.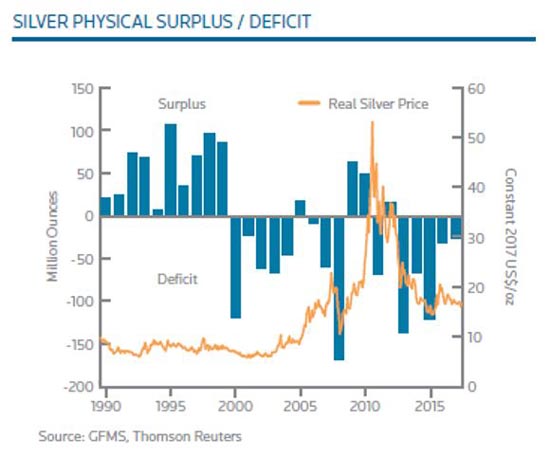 According to CPM Group, silver ETPs (exchange-traded products, including exchange-traded funds) have held steady, close to their highs set in 2016.
Stunning: New innovation will be like "adding twin turbos to the Bitcoin engine" - and could send its price to $100,000. Learn more...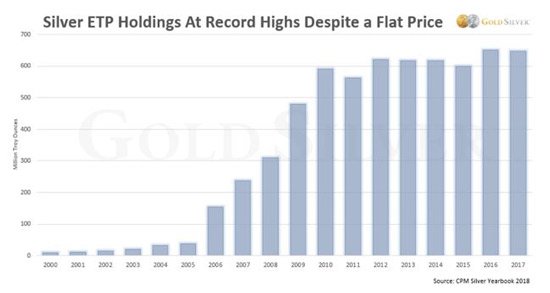 This tells us that owners of these silver ETPs tend to buy and then hold on, despite silver price weakness and lighter overall investment demand.
Fabricated silver means essentially anything made from raw silver that's used in some practical application or product. Adding up all of these uses, like coins and bars, jewelry, solar paste, and even medical applications, we get a demand number that's growing at a healthy pace. Total fabrication demand is ahead some 15% in the last six years, close to eclipsing its all-time highs of 2006.
Silver's Upside Is in This Wedge-Pattern Break
Looking at silver from a technical chart perspective, it's easy to see why sentiment has been so weak.
The metal burst out from its lows of $13.50 back in late 2015, peaking near $20.70 just over seven months later. Then silver prices corrected down to $16, and they've been in a range between $16 and $18.50 ever since.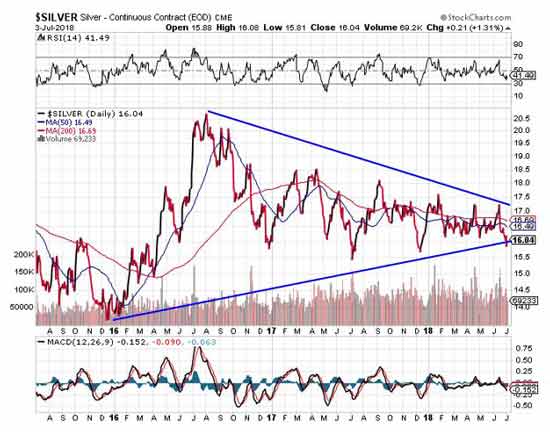 But silver's also been forming a consolidating wedge pattern. And as we move ahead, silver will inevitably break out of that wedge as it narrows further. I expect the break will be to the upside.
When that happens, junior silver miners should soar as their production and reserves suddenly become more valuable.
"Millionaire-Maker": A potential upgrade taking place behind the scenes could send the Bitcoin price to unprecedented highs. Few people even know about this game-changer. Click here to learn how you could make millions...
And if you own the companies I'm about to recommend, you could find your profits suddenly increasing when that happens...
Three Plays for One Event: Rising Silver Prices
Fortuna Silver Mines Inc. (NYSE: FSM) is a precious metals mining company with growing silver and gold production in Peru and Mexico and a gold-development project in Argentina.
In March, the company announced its 2017 consolidated financial results, and it was a success by all accounts. Sales were up by $58 million, from $210.3 million in 2016 to $268.1 million in 2017. Net income leapt from $17.9 million in 2016 to $66.3 million last year. Cash was $212.6 million, and all-in sustaining costs to produce an ounce of silver, accounting for by-products like gold, lead, and zinc, were $6.4. That provides for a very healthy profit margin indeed.
Then in April, Fortuna announced that Q1 silver production was a full 18% higher than in 2017. For gold, that number was up 14%.
And since they're always thinking ahead, in May, Fortuna announced that it had acquired 5.3 million shares of Prospero Silver Corp., pushing its total ownership to 10.7 million shares representing 22.74% of outstanding Prospero common shares. The investment is a tactical one, since Prospero is a Mexico-focused prospect generator of gold-silver projects.
Fortuna has done an outstanding job over the past decade of growing its reserve and resource base through exploration of existing projects and acquiring others.
Look for Fortuna to keep beating its recent production targets and fuel growth through expansion and exploration.
MAG Silver Corp. (NYSE: MAG) owns 44% of the flagship Juanicipio property in Mexico along with Fresnillo Plc., which owns the remaining 56%. Juanicipio is something of a freak of nature, with exceptionally high-grade ore at a whopping 600 grams of silver per ton, plus gold, lead, and zinc.
MAG continues to develop toward production on Juanicipio, with ventilation, access ramps, and underground development, along with mill procurement and construction to be completed by H1 2020.
There are now a total of twelve analysts covering MAG, and their average target price is about $17.70, while shares currently trade around $10.90, implying a target gain of about 62%.
Progress remains on track, with one of the richest silver mines approaching production. Exploration could also provide a real kicker as silver prices rise.
SilverCrest Metals Inc. (TSXV: SIL) is my moonshot play. That of course means more risk, but it also means a much higher potential return. And so far, we haven't been disappointed.
In February, I told you that a maiden resource estimate for the Las Chispas project was not far off. Well, we now have that - and it's a doozy. Las Chispas is estimated to contain an inferred 402,000 ounces gold and 32,650,000 ounces silver, or 62,800,000 ounces of silver equivalent (AgEq), using a 150 gpt AgEq cut-off grade and minimum true vein width of 1.5 meters.
Then in April, SilverCrest announced its first set of phase 3 drill results on Las Chispas. The Babicanora Vein return 4 meter sat 22.83 gpt gold and 1,718.8 gpt silver.
In May, the company raised $17.2 million Canadian. The funds will now be used to update the resource estimate and prepare a preliminary economic assessment on Las Chispas - and further drilling to expand and infill the resource. The funds will be used to acquire additional surface rights, water exploration, permitting on Las Chispas, etc.
Yet another new high-grade vein was discovered back in May. Recent Norte Vein drilling generated an intersection of 1.5 meters at 23.96 gpt gold and 2,081 gpt silver. And in June, drilling on the Granaditas Vein intersected 1.8 meters of 2,350 gpt silver equivalent, including a high-grade footprint averaging 1.5 meters at 1,02 gpt silver equivalent.
Since I recommended SilverCrest in February, shares are up 16%, and that's while silver has actually gone down by 3.6%. I think SilverCrest will continue to surprise to the upside. So if you want the potential to multiply your investment many times over in the silver space, this explorer can deliver.
With the silver demand picture remaining bullish and silver deficits likely to provide support, these three junior silver companies are great options to gain a foothold in this market.
See Why Bitcoin Is Far from Dead (and How It Could Make You a Millionaire)
At our recent Bitcoin 20x Summit, we uncovered information that left many folks stunned - and re-evaluating everything they thought they knew about the crypto market.
You see, while Wall Street and Fortune 500 companies continue to badmouth Bitcoin, they're diving headfirst into this craze... and I'd bet not one in 10,000 people know the reason behind it.
Go here to see why Bitcoin's not dead... and how it could make you millions.