What is the Airbnb stock price? That's a question we've received a lot lately from Money Morning readers.
Right now, there isn't an official Airbnb IPO date, so you won't be able to buy the stock yet. But according to a June 29 TechCrunch.com report, we do know CEO Brian Chesky said Airbnb wants to be ready to go public by June 30, 2019.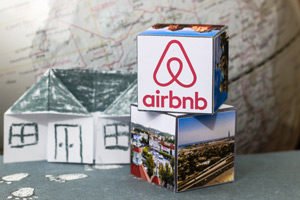 Because Airbnb was founded in 2008, some investors are wondering why the company is waiting so long to go public.
In a 2017 CNBC report, Chesky said companies fail because they rush an IPO.
And because of plummeting stock prices from other highly anticipated IPOs, waiting to go public could be a smart move...
Why Airbnb Is Waiting to Go Public
Sign up for SMS so you never miss special events, exclusive offers, and weekly bonus trades.
The stock prices of highly anticipated IPOs like Blue Apron Holdings Inc. (NYSE: APRN) and Snap Inc. (NYSE: SNAP) plummeted shortly after going public in 2017.
On June 29, 2017, the APRN stock price opened to the public at $10 per share. From yesterday's (July 10) opening price of $3.44, the APRN stock price has plummeted 65.6% since the Blue Apron IPO date.
The performance of SNAP stock has been almost as bad.
SNAP shares opened to the public at $24 per share on March 2. From yesterday's opening price of $13.73, the SNAP stock price has crashed 42.79% since the company went public.
The Greatest Stock Track Record We've Ever Seen... If you want proof that you can make $100,000 starting with a small amount of money - then take a look at this elite method of picking stocks we're uncovering. It's led to an astounding track record averaging 2.5 double- or triple-digit peak-gain winners every month for eight straight years. The simplicity of what we discovered was astounding. Click here to learn more...
These losses could scare away potential shareholders of Airbnb stock.
But by waiting to go public, Chesky could protect his company from a disastrous public offering until it's ready.
We still don't have a specific date for when Airbnb will go public.
But before the Airbnb IPO date, we wanted to make sure Money Morning readers were prepared.
In this free and exclusive guide, you'll get the most important information about the company, including how Airbnb makes money, how much it's worth, and if you should buy Airbnb stock.
You can access this free and exclusive guide right here.
The World's Greatest Stock Picker Recently Revealed His Latest Play