Drinkable water makes up only 2.5% of all the water on earth. And of that drinkable water, only 1% is readily accessible.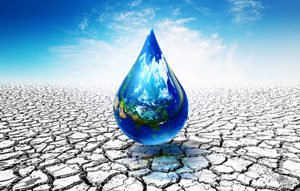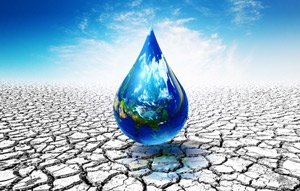 So it's not surprising that the world is in a water crisis.
A full 4 billion people live in conditions of extreme water scarcity. That's more than half the world's population.
But the pick we're bringing you today is helping to solve that problem. It allows communities to take the water that covers 70% of the earth's surface and make it both drinkable and affordable.
This desalination technology is revolutionary, especially when you look at how dire the water shortage situation has become...
There's Cape Town, South Africa, which is bracing for a potential "Day Zero," when residential taps are turned off and water is dispensed in rations.
Or there's Perth, Australia, whose residents brought European water-use habits to a much drier climate and have found their reservoirs and aquifers dangerously depleted as a result.
In the Middle East, Israel has faced four straight years of drought. The nation's Water Authority warned of a long-term water shortage earlier this year.
And of course, in the United States, Southern California combines a desert climate with a population glut. That leads to water supply issues whenever the weather is drier than usual.
The shortages faced by these areas are unsettling, and they can be frightening for those who live there. But one advantage the communities above have is that they are near the ocean. That means there's a solution.
But that solution - desalination - requires a lot of energy (and therefore a lot of money). That's why it hasn't always been a viable option, especially in communities that aren't wealthy.
Our pick today has been a major force in reducing the energy needs for desalination. It recaptures energy that would normally be wasted in the process and recycles it back into the system.
The company's flagship product can reduce desalination-plant costs by 60%, for a total savings in plants around the world of $1.4 billion every year.
For water-starved communities on the coast, a previously unworkable solution suddenly becomes a no-brainer.
For this company's growth prospects, the math is pretty simple. The world's population is growing, and the freshwater supply is not. So desalination becomes more and more indispensable with time.
The 4 Cannabis Stocks to Buy Now - Profits of Up to 1,000% Could Be Likely This Election Year!
According to Grand View Research, the global water desalination equipment market is set to grow from $11.6 billion in 2016 to $23.3 billion by 2025.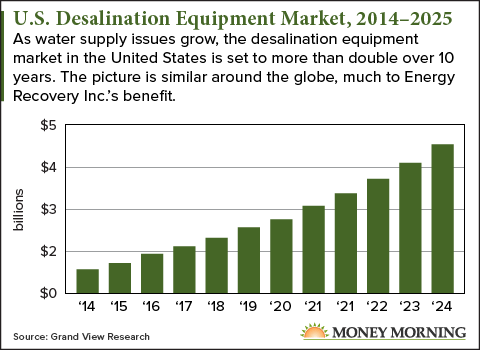 Between the unstoppable rise of desalination and the 90% market share of this company's products, our pick today is a must-have in your portfolio.
The Ingenious Device Generating Billion-Dollar Savings
Join the conversation. Click here to jump to comments…
About the Author
Stephen Mack has been writing about economics and finance since 2011. He contributed material for the best-selling books Aftershock and The Aftershock Investor. He lives in Baltimore, Maryland.