Faced with an escalating trade war, investors need to start paying attention to which stocks will take a hit from the tariffs – and which won't.
That's why we've put together a list of the 10 best stocks to buy not just to defend your portfolio, but to make money while others are panicking.
Related: What the Trump Trade War Will Cost You – and How to Protect Yourself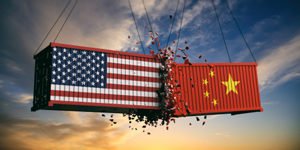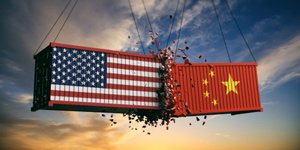 But before we get to that list, you need to know how the trade war is likely to affect different types of stocks.
This trade war started in March when U.S. President Donald Trump imposed tariffs on imported steel and aluminum. Shortly afterward, he placed tariffs on $34 billion worth of goods from China.
These countries (particularly China) retaliated by placing tariffs on billions of dollars' worth of U.S. goods.
President Trump raised the stakes a few weeks ago with another round of tariffs on $200 billion worth of Chinese products. Again, China responded in kind.
The tariffs affect a broad range of U.S. products from textiles and food to electronics and machinery.
Free Book: The secrets in this book helped one Money Morning reader make a $185,253 profit in just eight days. Learn how to claim your copy here…
The UK-based research firm Oxford Economics said in a report earlier this month that the Trump trade war could chop as much as 0.1 percentage points off the U.S. gross domestic product (about $21 billion).
Here are the sectors and companies that will get hit the hardest…
Stocks to Avoid in the Trump Trade War
The U.S. companies most vulnerable to trade war trouble are those that derive a significant chunk of their revenue from abroad. That's not to say all of these stocks will do badly in the long run, but for as long as the trade war rages, they'll remain under pressure.
Tech stocks are perhaps the most exposed, semiconductors in particular. Trump's $200 billion salvo on Chinese goods in July cut 12.9% off both Intel Corp. (Nasdaq: INTC) and Micron Technology Inc. (Nasdaq: MU) stock.
Meanwhile, Qualcomm Inc. (Nasdaq: QCOM) turned up on Morgan Stanley's top 10 list of stocks likely to get hit the hardest in the trade war.
Another sector at risk is autos. The U.S. tariffs on steel and aluminum will raise manufacturing costs by thousands of dollars per vehicle. Automakers will need to either eat those costs or raise the prices they charge customers. Chinese tariffs will add even more to the cost of imported U.S. autos, which will hurt sales there.
Finally, investors need to be cautious with multinational stocks. Companies vulnerable to trade war issues include Caterpillar Inc. (NYSE: CAT), 3M Co. (NYSE: MMM), Deere & Co. (NYSE: DE), and Tiffany & Co. (NYSE: TIF).
Meanwhile, companies that derive most or all of their revenue domestically will have some insulation from the trade wars.
That's where we started when compiling our list of the top 10 stocks to buy to beat the trade wars. We then screened those stocks for those with the highest Money Morning Stock VQScore™ of 4.75, indicating they're a strong buy with above-average growth potential.
With these stocks, you'll do more than survive the Trump trade war – you'll come out ahead…
The 10 Best Stocks to Buy To Pile Up Gains Despite the Trade War