Must-have stocks are not always the flashiest. Instead, they provide essential services that never go out of fashion.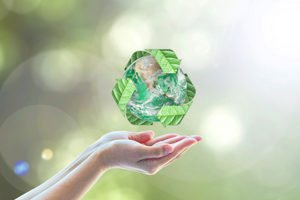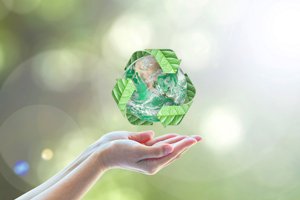 The stock we have today is definitely not flashy. But it's a stock to buy and hold for the rest of your life.
After all, you're not going to stop throwing out your trash any time soon. And neither is anybody else.
That trash is this company's treasure.
We're talking about the largest provider of waste management and residential recycling services in North America, with more than 21 million customers. If you're reading this, there's a decent chance you're a customer too, even if you don't know it.
That's exactly why this stock is worth your attention. While the rest of the market is busy speculating on the next tech gadget or miracle drug, this company keeps delivering steady gains.
Those gains don't just grow along with the trash we produce, but also on the company's innovations - such as converting landfill gas into usable energy.
We might take these kinds of services for granted, but the world relies on them - no matter what else is happening...
If taxes go up or go down, we still need someone to collect our trash.
If there's a trade war, we still need someone to collect our trash.
If there's a recession, we still need someone to collect our trash.
That's why, once you grab this must-have­ stock, you can hold onto it indefinitely...
This Buy-and-Hold Stock Has Already Delivered High-Velocity Profits
Before we get to the stock, we should let you know that just because a stock delivers steady profits doesn't mean you can't also have fast profits.
In fact, subscribers to Money Morning Chief Investment Strategist Keith Fitz-Gerald's High Velocity Profits service were able to do that with our pick back in late 2017 and early 2018.
In early November, Keith recommended a Jan. 19 call option. He recognized that it was a great stock, and an option trade allowed subscribers to put up a relatively small amount of money and enjoy big, fast gains if it did well.
That's exactly what happened.
By early December, subscribers closed out half of their position with 100% gains.
Massive Bet: Keith Fitz-Gerald is wagering nearly $10 million that he can show you how to make 350% average gains every week for a year. Learn how to get started right away...
About a week later, they closed out half of the remainder with 200% gains.
And by the time the options expired, about two and a half months after the initial recommendation, they had gained 275% in value.
Don't worry. There's plenty more fuel to propel this stock upward in the coming months and years. And if you want to go for truly quick profits, a call option may be the way to go.
If you want a stock to hold on to for the long term - and collect a solid dividend along the way - buying shares outright is also a great choice.
And as we'll see, you'll very likely be looking at fast profits even if you go the traditional route...
The Company That Literally Turns Trash Into Treasure  
[mmpazkzone name="in-story" network="9794" site="307044" id="137008" type="4"]
Houston-based Waste Management Inc. (NYSE: WM) has been in business since 1968. Today it operates a network of 367 trash collection operations, 346 transfer stations, 293 landfills, and 146 recycling plants.
The type of waste doesn't matter: trash, recycling, compost, electronics, hazardous materials, or wastewater. For residential, business, and industrial customers, WM does it all. It even handles medical waste by mail.
According to CSIMarket, Waste Management Inc. holds the largest market share in the United States for every major segment of environmental services, and a 37% share overall. That's compared with a 22% share for its top competitor.
WM is also a leader in single-stream recycling service. That's where consumers don't have to separate out their glass, plastic, aluminum, and paper. That wasn't always the case, and because of the lower hassle, single-stream boosts consumer recycling habits. The recycled materials then become commodities for Waste Management to sell to manufacturers.
But Waste Management has found ways to get even more out of its operations. In 2009, the company started using its landfill in Livermore, Calif., to produce 13,000 gallons a day of clean-burning LNG fuel to power its truck fleet.
Funded by the state, which has dealt with some of the worst pollution in the country, the gas plant was the largest facility to convert landfill gas to vehicle fuel ever built.
Today, Waste Management has 136 gas-to-energy facilities that capture methane gas produced by trash and use it not just to fuel vehicle fleets but to divert to electric utility companies and natural gas pipelines.
The next step in this process, one that's still developing, is the conversion of organic materials into biogas. Americans waste about 40% of the all the food produced in the country. Combine that with yard trimmings, wastewater, and other organic waste, and you've got a significant source of energy.
Fast Money: This powerful secret made one man a millionaire. Now he's sharing it live on camera - find out how you could use it to become $2,918 richer in less than a minute. Click here...
Waste Management currently has 43 organic processing plants, featuring a patented recycling process to produce biogas that can be converted into fuel or electricity. The company currently collects the material from restaurants, schools, food processing plants, and grocery stores, and it hopes to expand the practice in the near future.
In other words, with WM stock you don't just get a trash company, but also an energy company.
That's a major advantage for investors, and not just because it diversifies the company's business. The population grows, but space doesn't. So a company that finds ways to maximize its space while providing services we can't live without gives you an unbeatable one-two punch to add to your portfolio.
And, as it turns out, now is the perfect time to buy.
Crunching the Numbers: Why WM's Share Price Is a Bargain Today
To start with, Waste Management offers a strong dividend: its 2.21% yield is an even 20% above the industry average.
The company has also managed to keep its dividend payout ratio at just 37% while raising the dividend for 14 consecutive years. It's now double what it was in 2007.
But that stable income generation hasn't kept WM from being a growth stock. The stock has risen 93.5% over the last five years, compared to 66.2% for the S&P 500.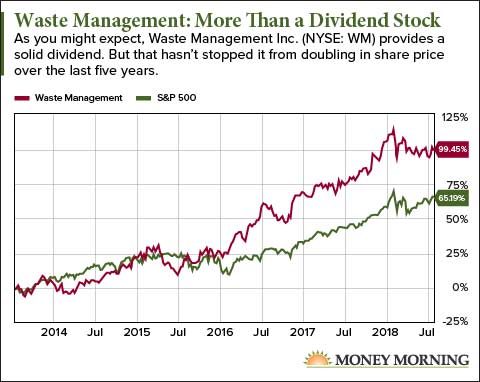 Even with that growth in share price, the market has undervalued WM.
Earnings per share (EPS) in the most recent quarter was 127% higher than the same quarter five years ago, and according to FactSet, EPS is projected to grow another 50% by 2020.
Analysts have noticed. Seven out of nine analysts tracked by FactSet rated the stock "Overweight" or  "Buy," with price targets as much as 36% over its current price.
Click here to see all of our top-rated stocks, and you'll automatically get free updates on our top stocks, based on our proprietary rating system, the Money Morning Stock VQScore™.
But its trailing price-to-earnings growth (PEG) ratio of 0.2604 suggests a bigger climb.
Given that a fairly priced stock should score a 1, WM's PEG ratio means we could see a 284% rise in share price even before we account for future earnings growth or dividend income.
You could multiply those gains by choosing call options. But don't forget that this stock is one that you can pretty much hold onto forever.
That's probably why none other than Bill Gates has made it a foundational holding for the Bill & Melinda Gates Foundation Trust, currently representing about 6.5% of the organization's portfolio.
That puts it among a handful of the most recognizable, most trusted stocks around, including Berkshire Hathaway Inc. (NYSE: BRK.A) and Caterpillar Inc. (NYSE: CAT).
But when you combine Waste Management's reliability, its innovative potential, and its current bargain price, it may just be the best of the lot.
Now it's easy to make everyone's trash your treasure.
The Gains on This One $10 Stock Alone Could Earn You Enough to Retire
A paradigm-shifting technology could disrupt every major industry, and one tiny company is at the center of it all.
It recently inked four major deals... BlackRock has snatched up 29 million shares... and its technology could be adopted by millions around the globe.
Best of all, this stock trading for less than $10 could deliver a 471.9% gain for early investors.
Follow Money Morning on Facebook, Twitter, and LinkedIn.
About the Author
Stephen Mack has been writing about economics and finance since 2011. He contributed material for the best-selling books Aftershock and The Aftershock Investor. He lives in Baltimore, Maryland.